You are here
Mobile money initiative launched for refugees, low-income Jordanians
Project by CBJ with support of Bill and Melinda Gates Foundation to provide access to mobile financial services for vulnerable populations
By Ana V. Ibáñez Prieto - Feb 28,2018 - Last updated at Feb 28,2018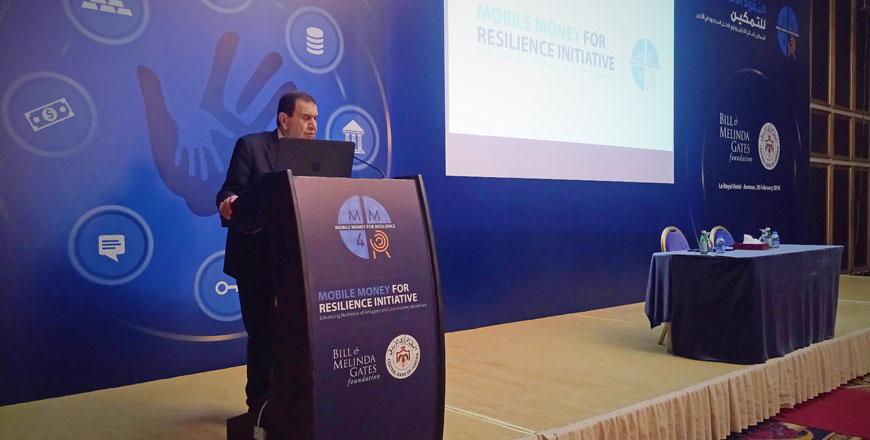 CBJ Governor Ziad Fariz presents the Mobile Money for Resilience initiative in Amman on Wednesday (Photo by Ana V. Ibáñez Prieto)
AMMAN — The Central Bank of Jordan (CBJ) on Wednesday launched the Mobile Money for Resilience (MM4R) initiative for refugees and host communities, which aims at using electronic money for cash assistance in order to strengthen the digital financial services industry while supporting local economic development.
The first of its kind in the Middle East, according to CBJ sources, the project will provide refugees and low-income Jordanians with access to mobile financial services, including money transfers, digital payments, savings and credit.
"Jordan has always suffered from an imbalance between the population and the amount of resources, and the refugee crisis has only aggravated the problem," CBJ Governor Ziad Fariz said during the launching ceremony, pointing out that "only 25 per cent of the Jordanian population has access to financial services as per now, and this is why we need to get the mechanisms in the right direction".
"People are turning to non-financial institutions to get financed and we shall address this issue," Fariz continued, stressing that "technology is the tool that will help us in tackling this problem, enabling other segments of the population to become financially sound".
CBJ Executive Manager Maha Bashou added that "Jordan has a strong foundation for financial services and a good ground for implementation, but, until now, refugees have only been provided with money withdrawal services," noting that "what we [CBJ] are offering today is a huge mobile solution that will make all financial services provided by banks available for refugees in a professional manner".
The MM4R initiative is a component of Jordan's 2018-2020 National Financial Integration Strategy focused on empowering the underprivileged segments of the population across the Kingdom.
"We started this strategy because we acknowledge that economic development and growth cannot be achieved without financial inclusion," Fariz said, stressing that "we are still at an initial stage, with 75 per cent of the adult population still un-banked."
Launched with an initial $3 million contribution from the Bill and Melinda Gates Foundation, the initiative plans to expand to $10 million over the next five years in order to scale up mobile services in both governmental and humanitarian cash transfer programmes.
At the event, Fariz thanked the Bill and Melinda Gates Foundation "for their efforts and their confidence in the project", adding that "this initiative is excellent not only in terms of investment, but as an opportunity to expand our collaboration".
For his part, Global Policy and Advocacy Director at the Bill and Melinda Gates Foundation Joe Cerrell commended Jordan for "its efforts to support financial inclusion, and its leadership and disposition to make the idea of mobile money a reality", stressing that "the foundation sides with Jordan in its hospitality to welcome and support the refugee influx".
"The Bill and Melinda Gates Foundation cannot wait to see the impact of this partnership," Cerrell concluded, noting that the initiative will "catalyse positive changes within the refugee community by expanding their access to finance".
Related Articles
Nov 20,2016
AMMAN — Central Bank of Jordan (CBJ) Governor Ziad Fariz on Sunday said Jordan has been able to avoid many economic risks, thanks to the CBJ
Jun 13,2017
AMMAN — The Jordan Mobile Payment platform (JoMoPay) registered 13,498 transactions worth JD258,000 in the first five months of 2017, the Ce
Apr 02,2018
AMMAN — Over 100 policymakers and regulators from around the globe on Monday gathered in Amman for the inauguration of the Financial Technol
Newsletter
Get top stories and blog posts emailed to you each day.