You are here
Monitor says government met only 15.7% of its pledges, 55.4% under way
By JT - Jan 09,2019 - Last updated at Jan 09,2019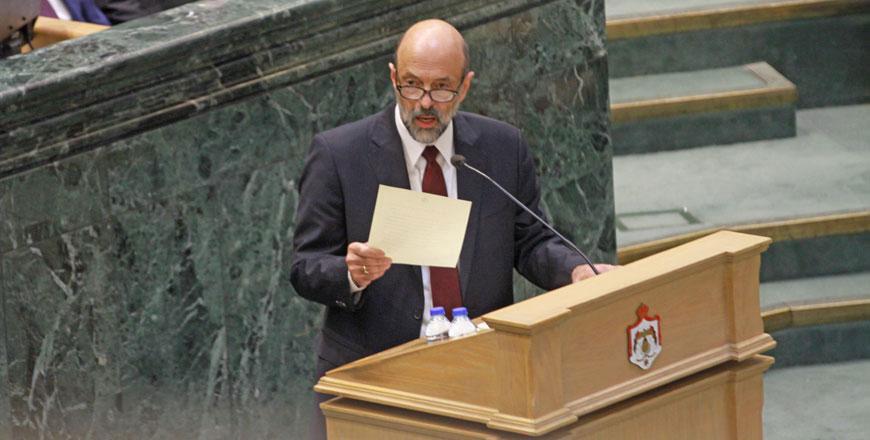 In this undated file photo, Prime Minister Omar Razzaz addresses the Lower House before his government won a vote of confidence in July of last year (JT file photo)
AMMAN — Government performance monitor Rased on Wednesday said that the government met only 15.7 per cent of its 114 pledges, while 55.4 per cent are under way.
Meanwhile, 28.9 per cent of the government's pledges remain unimplemented, according to Rased's report, which covers the period between June 14 and December 14, 2018.
The government, in its first six months, took 189 decisions, 60 per cent of which were new, and held 1,007 ministerial activities, 67 per cent of which entailed field work, the Jordan News Agency, Petra, reported.
Tracking field activities in the second quarter of the government's term, the report showed that ICT Minister Muthana Gharaibeh was the most active in the field, carrying out 40 visits, followed by Minister of Foreign Affairs and Expatriates Ayman Safadi with 37 visits and Labour Minister Samir Murad, 22 visits.
Agriculture Minister Ibrahim Shahahdeh carried out 20 and Culture and Youth Minister Mohammad Abu Rumman, 19.
In terms of oversees travel, 66 ministerial trips were made in total.
Rased also reviewed the ministries' performance on social media, noting that all the ministries have pages on Facebook, with 1,330,096 followers in total, and 79 per cent of the ministries have Twitter accounts.
To evaluate the response on social media platforms, Rased sent a total of 98 messages to the ministries' Facebook pages, receiving 50 answers, of which 16 were automated messaging bots and 18 were unrelated replies.
Commenting on the government's plan for the years 2019-2020, the report said that 78 per cent of the commitments announced were not measurable within a specific timeframe, as they were not pinned to any deadlines. Additionally, 74 per cent of the tasks were not entrusted to any authorities.
The report added that clear procedures have been attached to 58 per cent of the plans' commitments, of which 74 per cent were measurable.
Newsletter
Get top stories and blog posts emailed to you each day.