You are here
'Month-long Jordanian food festival in India attracts 2,000 people'
By Rajive Cherian - Jul 04,2016 - Last updated at Jul 04,2016
A chef prepares knafeh at a restaurant in Amman on Monday. Knafeh was one of the dishes showcased at a food festival held in New Delhi recently to promote Jordan (Photo by Osama Aqarbeh)
AMMAN — India got a taste of Jordan as a month-long food festival and photo exhibition showcasing the Kingdom's cuisine and culture came to an end in New Delhi on Saturday.
Hailing the event as a "first of its kind", the Jordan Tourism Board (JTB) organised the food fair at Qutab Hotel in New Delhi from June 3 to July 2 to promote the Kingdom's culinary experience in India.
"The idea was not just to promote tourism, but to get the experience of Jordan to the people within India and to create the demand and urge to travel to Jordan. The overall experience was great. The food festival was very well accepted by the locals," said Ashit Taneja, country manager of the JTB in India.
When asked if Jordanian dishes appeal to vegetarians, Taneja said the food options were handpicked, considering the Indians are ready to explore new cuisine but at the same time, due to religious beliefs, many people do observe a vegetarian diet.
"The handpicked menu had the mix of vegetarian and non-vegetarian food options, providing a variety of offerings to choose from," Taneja told The Jordan Times in an e-mail interview.
For starters, there was a selection of hummus, samosa, cheese with tahini and "araies lahmeh", a special kind of meat pie.
The main course offerings included: mansaf, maqloubeh, kofta with tomatoes and the Jordanian mixed meat platter.
Knafeh, which is made of very fine shreds of pastry layered with soft cheese and topped with sugar syrup, was for dessert.
During the month-long event, close to 2,000 people experienced the Jordanian cuisine, the country manager noted.
Approximately 50,000 Indians visited Jordan in 2015, Taneja noted.
For future events, the JTB official said the tourism board is planning to schedule wedding events from India to Jordan. Also in the pipeline is to bring one of the top Indian fashion stylists to Jordan and create a fusion of Jordanian and Indian cultural dress. This will be launched later in India.
"The idea of such platforms is not to just promote the destination for its offerings, but to bring it closer to the people through its culture, food and fashion," Taneja said.
Related Articles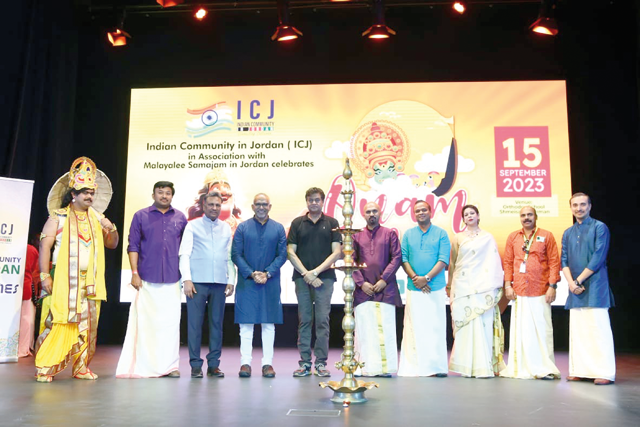 Sep 16,2023
AMMAN — In traditional gaiety and fanfare, expatriates from the southern Indian state of Kerala on Friday celebrated Onam — their harvest fe
Oct 12,2015
AMMAN — Amman Chamber of Commerce (ACC) President Issa Murad on Monday called for benefiting from the "fruitful" results of Indian President
Jan 26,2022
India's Ambassador to Jordan Anwar Haleem on Tuesday inaugurated the week-long Indian Food Festival at Rakoon Indian restaurant in Jub