You are here
More engagement needed to combat sexual exploitation —NGO
By Jassar Al Tahat - Jun 18,2017 - Last updated at Jun 18,2017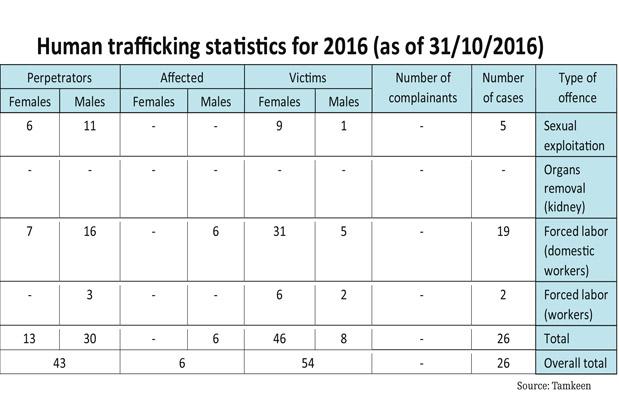 AMMAN — Fadwa (not her real name) was shopping at a mall in Amman four years ago, when she felt tired and sat on the sidewalk opposite the mall to rest.
As the young woman had mental issues, A taxi driver who pulled over when he saw her did not find much trouble convincing her to accompany him to "rest in a nearby place owned by his brother".
That was the beginning of a new harrowing chapter of her life when she was forced to practise prostitution, along with other girls as part of a ring run by the cab driver's brother.
Finally someone, a lady at a nightclub, offered to help her and the perpetrators were convicted by a court of human trafficking and molestation.
Fadwa was one of 60 victims in 13 cases of sexual exploitation documented by Tamkeen in recent years, a partner of police department's Anti-Human Trafficking Unit (AHTU). The NGO embarked on its mission in 2009 after it signed a memorandum of understanding with the Ministry of Labour and the Public Security Department (PSD).
In its recent assessment report, a copy of which was made available to The Jordan Times, Tamkeen recorded more than 3,727 cases of human trafficking in its broader definition between 2009 and 2016, including dozens that involve sex slavery.
Another case was when an Arab, non-Jordanian woman was forced into prostitution by her husband under the threat of deportation and physical abuse, which usually took place in front of their son, according to the report.
The offender started sending his wife to various brothels before she reported the case and obtained a medical report and the investigation began.
In a case that is being seen by a court, two alleged victims of sexual exploitation recall how they were allegedly exploited by a woman and her three sons. All are standing trial now. The mother reportedly took advantage of the fact that one of the sisters was detained for suspected perjury. She bailed her and married her to one of her sons.
"I was a wife for a night and a prostitute for over a year," Dana, 25, told investigators, according to case documents. The mother also tricked the other sister, Sarah, 24, to marry another son. The sister also had mental disorders.
Dana and Sarah (not their real names) were allegedly victims of family abuse and exploitation after they were victims of poverty when living with their family.
According to the case documents obtained by The Jordan Times, both sisters are diagnosed with a mental age of 8-10 years as reported by a certified psychologist, who recommended that they were "in need for psychological and social care".
"I was subjected to physical abuse and threatened to be sent back to jail whenever I refused to do what they wanted me to do; On some nights four men used to be allowed into my room one by one," Dana added.
According to the plaintiffs' statements to the prosecutor, the defendants took the victims passports and mobile phones and they were allowed no contact with their families. The ring members used to charge costumers between JD25-JD400 for the time spent with the victims.
Sarah stated: "I once had my head shoved in the toiled because I refused to 'do my job' with costumers because I was sick but I got no medical attention and was locked up in a room or forced to do domestic labour."
Commenting on her organisation's effort in dealing with these cases and documenting the crime, Director of Tamkeen Linda Kalash said: "I am sure the number of sexual exploitation cases in Jordan is much more than the registered but fearing scandal and family's reaction, which can be [honour] killing, drives victims to refrain from reporting their cases to authorities".
Kalash believes that human traffickers take advantage of the fragility and vulnerability of the victims, whether it is poverty, illegal work status narcotics addiction, or, as in the said cases, mental disabilities.
She highlighted the need to update the Anti-Human Trafficking Law to be more comprehensive and take initiative instead of merely responding to international pressure. She also called for more real engagement by stakeholders instead of "nominal commitment".
"We have trained more than 1,500 officials, lawyers and judges, along with journalists to be able to identify and deal with human trafficking victims but still more is needed to be done," the activist added.
The Amman-based AHTU was established to implement the Anti-Trafficking Law, functioning under the Criminal Investigation Department affiliated with the PSD.
The unit aims to directly implement the legal procedures related to combating human trafficking, tracking it and arresting suspects and referring cases to the competent judicial authorities to take the necessary legal actions. It is also in charge of studying the international, regional and local reports on combating human trafficking and taking the necessary procedures related to human trafficking. It is also in charge of cooperating with competent entities to protect and support victims; housing, repatriation and legal assistance.
"We also have gaps in the protection and rehabilitation process of the victims who experienced horrific events, and are in urgent need of a national strategy to combat human trafficking to cope with the increasing needs for vital action", Linda ended.
Until these measure are in place, women like Fadwa, Dana and Sarah will remain vulnerable to human predators.
Related Articles
Jun 18,2017
AMMAN — Fadwa (not her real name) was shopping at a mall in Amman four years ago, when she felt tired and sat on the sidewalk opposite
Feb 04,2016
AMMAN — Jordan is strongly committed to the fight against human trafficking, but should strengthen its legal framework and adopt preventive
Dec 19,2016
AMMAN — Twenty-nine suspected cases of human trafficking were referred to court this year, with the suspected crimes ranging from sexual exp