You are here
More rain expected over weekend as unstable weather prevails — JMD
By JT - Nov 05,2015 - Last updated at Nov 05,2015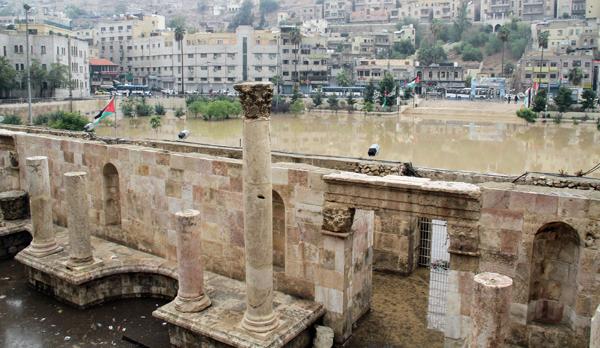 A view of the flooded Hashemite Square in downtown Amman after a heavy deluge on Thursday (Photo by Osama Aqarbeh)
AMMAN — Unstable weather conditions caused by a Red Sea depression accompanied by a relatively cold air mass are forecast to continue affecting the Kingdom until Saturday, Jordan Meteorological Department (JMD) Director General Mohammad Samawi said Thursday.
An upper trough is expected to affect the Kingdom on Sunday, Samawi added, noting that areas that did not witness rainfall on Thursday are expected to remain dusty, especially in the southern region.
On Friday, the weather will be partly cloudy with chances of scattered light to heavy showers in northern and central areas as well as southwestern hilly areas, with moderate to brisk southwesterly winds, the Jordan News Agency, Petra, quoted the JMD director general as saying.
The weather is forecast to be partly cloudy on Saturday with chances of light to heavy rainfall in northern, central and some eastern areas in the Kingdom, with moderate to brisk northwesterly winds.
The JMD warned of low visibility due to dust in areas that did not witness rainfall, in addition to the dangers of slippery roads and floods in low-lying areas, especially during the daytime, according to Petra.
Although no rainfall is forecast for Sunday, unstable weather conditions bringing thunderstorms and rain are expected to return on Monday and Tuesday, according to Omar Dajani, a forecaster at Arabiaweather.com.
Dajani told The Jordan Times that a depression might affect the Kingdom and warned of possible flashfloods in Amman and other areas across the country.
Power outages
The Electricity Distribution Company (EDCO) said its employees are ready for winter weather conditions in terms of maintaining power supply to subscribers in the areas it covers, which include Tafileh, Karak, Maan and Aqaba.
In a statement carried by Petra, EDCO called on managers in all its branches in the different governorates to implement the 2015-2016 emergency plan.
EDCO urged the public to call 065001370 or 080022288 in case of power outages or any issues regarding electricity services in their areas.
The Jordanian Electric Power Company (JEPCO), which serves Amman, Zarqa, Balqa and Madaba, said its engineering and technical staff dealt with malfunctions resulting from unstable weather conditions on Thursday, restoring power in "record time", Petra reported.
As a result of road closures, the company's cadres had to remotely cut off power in Amman's Arjan area after receiving news that some buildings in the area were flooded, JEPCO Director General Marwan Bushnaq said in a statement carried by Petra.
Cutting the power allowed specialised units to perform their duties and pump water out of flooded buildings, Bushnaq explained.
He said the public and subscribers can call 064696000 to report any malfunctions that affect the electricity grid and asked them to stay away from power lines and electricity meters for their safety.
Healthcare services
Also on Thursday, the Health Ministry instructed all its directorates in the governorates to prepare for emergencies and ensure the continuation of good healthcare services.
Petra quoted Health Ministry Spokesperson Hatem Azruie as saying that the ministry has emergency plans that are regularly updated to be activated when necessary, and include a shift system for hospital staff.
Related Articles
Jan 09,2016
AMMAN — Four million cubic metres (mcm) of water entered the country's dams between Friday and Saturday morning, according to the Jordan Val
May 08,2014
Several regions in the Kingdom witnessed heavy rain that caused floods as the country was affected by unstable weather conditions on Wednesday and Thursday.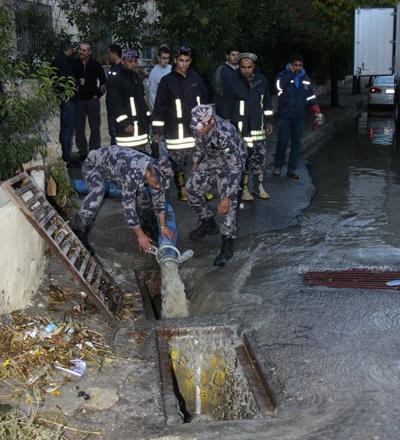 Nov 04,2014
The Jordan Electric Power Company (JEPCO) dealt with around 234 power failures on Monday following heavy rainfall in the capital.
Newsletter
Get top stories and blog posts emailed to you each day.