You are here
Motherhood behind bars — film sheds light on struggle of Palestinian women prisoners
By Muath Freij - Apr 14,2016 - Last updated at Apr 14,2016
A still from '3000 Nights' (Photo courtesy of Mai Masri)
AMMAN — Mai Masri did not expect that a chance to meet with a Palestinian woman while shooting a film in her hometown of Nablus during the first Intafada (uprising) would inspire her to make acclaimed film "3000 Nights".
The woman's experience giving birth to her son at an Israeli prison during the 1980s deeply affected Masri, especially the trauma which involved being handcuffed and shackled while delivering her child — a practice that, according to the filmmaker, continues to this day at Israeli jails.
"I was very touched by the way she and the other women prisoners raised this child behind bars, and how they loved and nurtured him and tried to compensate for his lost childhood by telling him stories, drawing on the walls and making little toys for him," she told The Jordan Times in a recent interview.
Masri was born in Amman, of a Palestinian father and an American mother.
She grew up in Beirut and studied film at UC Berkeley and San Francisco State University.
The filmmaker has directed and produced several documentaries that have won over 60 international awards, including the Trailblazer Award at Cannes Mipdoc Film Festival in 2007, the Luchino Visconti award in Italy (2003) and the Asia-Pacific screen award in Australia (2007).
In her films, Masri said she always highlights the issues of marginalised groups such as women and children, and focuses on the humanity and resilience of ordinary people living through turbulent and extraordinary times.
"3000 Nights", which was screened in Amman recently, stands as a window into the struggle of Palestinian women in general at Israeli prisons and pregnant Palestinian women in particular.
It talks about a young Palestinian schoolteacher who gives birth to her son in an Israeli prison, and how she fights to protect him, survive and maintain hope.
"I began interviewing other women prisoners and discovered that several of them had also given birth to their children behind bars.
"I also discovered many things, such as the fact that Palestinian women political prisoners used to be incarcerated in the same prison with Israeli common law and criminal prisoners. After several months of research and interviews, I decided to make a film entirely based on true stories," Masri added.
It is important to highlight this issue, she said, "because it is an ongoing tragedy that affects all Palestinians".
Masri noted that over 800,000 Palestinians have been imprisoned since 1948.
"Incarceration, sieges and walls are an integral part of Israeli occupation. In order to gain their freedom, Palestinians have no choice but to resist and to hold onto hope. Hope is the message I most want to convey in the film," she added.
"3000 Nights" recently won the Audience Award at the Annonay International Festival of First Films in France and the Jury Award at the Women's International Film and Television Showcase in the US, according to its distributor, MAD Solutions.
It also won the Meeting Point Audience Award at the 60th Valladolid International Film Festival in Spain, and had its premiere at the Toronto festival.
The film had its US premiere at Palm Springs International Film Festival in California and competed at Busan International Film Festival in South Korea with "full-house screenings".
The film had a theatrical release in Nablus, Palestine in January.
Masri said through films, literature and the arts, it is possible to highlight the positive force women are playing and can play in society.
"Through our films, we can also express the challenges facing women on the human, political and social level — struggling side by side with their men against occupation and in the face of social injustice," she added.
Masri recalled that the biggest challenge she faced was securing funding for the film, a hurdle that most Arab independent filmmakers have to overcome.
"The lack of sufficient funding mechanisms and official awareness and support in the public and private sectors is surprising considering the growing importance of cinema in communicating the positive image of Arab culture and in building bridges with the world," she said.
The filmmaker commended the support she received from the Royal Film Commission in terms of co-production and technical support on the ground, and by facilitating the issuance of permits to shoot in a real prison in Jordan.
"I feel very privileged to have had a chance to shoot my film in an old disused military prison in Zarqa, as it gave the film a realistic and powerful dimension that could never be achieved in a studio," Masri said.
"It also gave the actors a powerful psychological framework for their performances. The shooting conditions were not always easy, especially since we were shooting for long hours in uncomfortable surroundings and high levels of heat."
The female-dominated cast comprised several veteran actresses such as Maisa Abd Elhadi, Nadera Omran, Haifa Al Agha, Anaheed Fayad and Rakeen Saad, but also some first time actresses.
"The biggest challenge of all though, was working with a newborn baby and a two year old toddler! Having worked extensively with children in my documentaries, I've learned a lot about the magic of filming with [them] — mainly a lot of nurturing, patience and quick reflexes [are needed] to catch their spontaneity on camera," Masri said.
"There's no way you can teach a child that young any lines or expect him to repeat a scene twice," she added.
Masri said the reaction of Jordanian audiences to the film was "very warm and enthusiastic".
"From what I have seen and heard, they consider the film very powerful and inspiring," she added.
Related Articles
Oct 13,2016
AMMAN — Jordan's submission of "3000 Nights" to the Foreign Language Film category in the 89th Academy Awards will draw attention to the pli
Sep 25,2016
AMMAN — Mai Masri's "3000 Nights" will be Jordan's official submission for the Foreign Language Film category in the 89th Academy Awards, th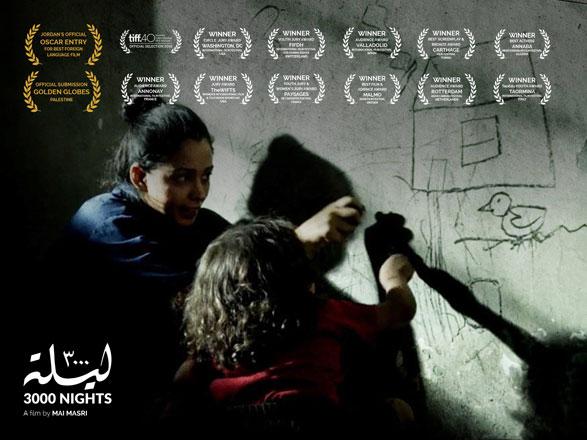 Nov 28,2016
AMMAN — Director Mai Masri's film "3000 Nights" has won the Film Engagé Award at the Mauret Film Festival in France, the country that previo
Newsletter
Get top stories and blog posts emailed to you each day.