You are here
MP Khoury apologises over tweets after case against him dropped
By Raed Omari - Mar 22,2015 - Last updated at Mar 22,2015
AMMAN — Lower House Speaker Atef Tarawneh on Sunday announced that the lawsuit filed against MP Tarek Khoury has been dropped but requested an apology from the Zarqa deputy.
The State Security Court had requested that the parliamentary immunity of Khoury be lifted so that it could proceed with a lawsuit a citizen had filed against him.
In the lawsuit, Khoury was accused of insulting Jordanians in tweets he wrote following His Majesty King Abdullah's televised address to the nation.
The Zarqa MP used the slogan raised by the King, "Be proud," as a hashtag in Arabic and commented on several controversial issues related to the country's dealings with Israel.
Along with other MPs, the House Legal Committee had recommended that his parliamentary immunity be lifted to enable the judiciary to proceed with the legal procedures against him.
Khoury gave an apology during the session, saying that his tweets were aimed at the government and not the King. He also said he has never ever criticised the Monarch, claiming that he is the target of an "organised campaign".
Also during the session, Tarawneh said he "forgives" Deputy Motaz Abu Rumman, thus averting disciplinary action previously recommended against the MP.
Last week, a joint parliamentary committee recommended that Abu Rumman (Shabab Al Wifaq list) be banned from attending three consecutive sessions as disciplinary action for insulting Tarawneh.
During last Tuesday's session, the deputy faulted Tarawneh for asking him to give brief comments at the meeting.
Abu Rumman protested that the speaker had allowed other MPs to speak longer and claimed Tarawneh was bullying him while being lenient with other deputies, using an Arabic proverb that translates into: "A lion on me and an ostrich in war".
The MP apologised to Tarawneh, saying that he did not mean to insult him and that his remarks were "taken out of context".
Related Articles
Mar 19,2015
A joint parliamentary committee on Thursday recommended that MP Motaz Abu Rumman be banned from attending three consecutive sessions as a disciplinary action for insulting the Lower House speaker.
Mar 11,2015
State Security Court Attorney General Muhannad Hijazi on Wednesday sent a memo to the government to request that the Lower House lift the immunity of Deputy Tarek Khoury after a citizen filed a lawsuit against him, a senior judicial source said.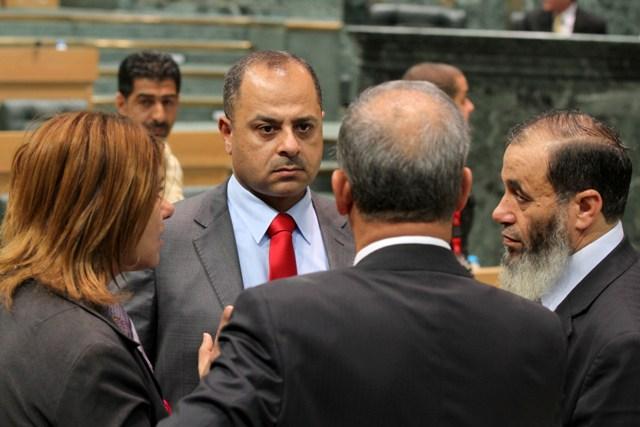 Mar 12,2015
The Lower House's Legal Committee on Thursday recommended that the parliamentary immunity of six MPs be lifted so that the judiciary can proceed with lawsuits citizens have filed against them.
Newsletter
Get top stories and blog posts emailed to you each day.