You are here
MPs continue deliberations over gov't's policy statement
By JT - Jul 18,2018 - Last updated at Jul 18,2018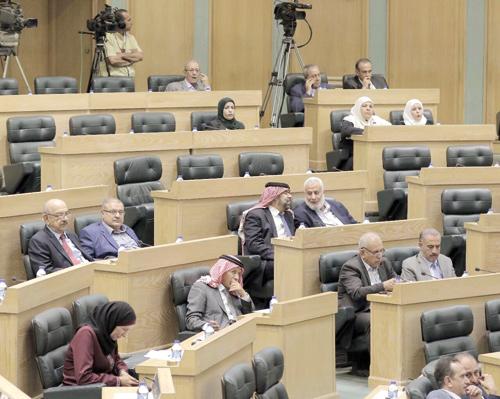 Members of Parliament take part in the deliberation session on Monday (Photo by Osama Aqarbeh)
AMMAN — The Lower House continued on Tuesday its deliberations over the government's policy statement with vote of confidence expected on Thursday.
A total of 70 MPs presented their notes on the government's policy statement over six morning and afternoon sessions held during the past three days. Most of the MPs who took the podium criticised the Cabinet's make-up and demanded that more serious measures be taken towards eliminating corruption and upgrading citizens' living circumstances.
Before adjourning Tuesday's session, House Speaker Atef Tarawneh called on lawmakers to abide by the time limits given to parliamentary blocs and independent MPs while presenting their notes on the policy statement of Prime Minister Omar Razzaz's government, noting that the vote of no confidence will be conducted on Thursday.
Eight MPs have announced that they would cast a "no" vote for the government while three said they would cast a "yes" vote for Razzaz's government.
The chamber has decided to give each parliamentary bloc 30 minutes and each individual MP 15 minutes to present their replies to the government's policy statement.
MP Huda Otoum called for investigating the selling of state-owned lands and assets and improving the education, agriculture and water sectors, the Jordan News Agency, Petra, reported.
Deputy Andre Hawari criticised the government's make-up, saying that most of the ministers in Razzaz's government served in the former government which, he said, has pushed people to the streets to demand its departure, according to Petra.
He also described the policy statement as "loose", filled with "pledges, wishes and dreams" with no well-defined programmes to solve the country's woes.
President of Palestine Committee MP Yahya Saud called for reviewing the 1994 Wadi Araba Peace Treaty with Israel which, he said, is being violated by the "Zionist entity", Petra said.
MP Manal Dmour said that increasing taxes might solve budget deficit but it "affects the economy, harms investments and pushes companies to close".
For Deputy Jamal Gammoh, the premier's top priority "should be enhancing the rule of law and the public participation in the decision-making process". "No economic reform would succeed if not preceded by a genuine political reform."
Related Articles
Jul 18,2018
AMMAN — The Lower House on Wednesday continued its deliberations over the government's policy statement with most of MPs' notes again focusi
Nov 27,2018
AMMAN — Prime Minister Omar Razzaz on Tuesday called on all ministries and public departments to continue coordination with the government's
Jul 12,2018
AMMAN — Prime Minister Omar Razzaz on Wednesday held for the second day in a row closed-door meetings with members of the Lower House's bloc