You are here
MPs elect members of House's permanent office
By JT - Nov 08,2016 - Last updated at Nov 08,2016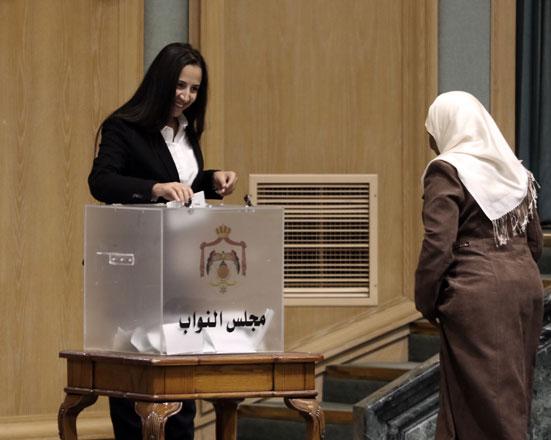 A lawmaker casts her ballot during the election of members of the Lower House's permanent office on Tuesday (Photo by Osama Aqarbeh)
AMMAN — The Lower House on Tuesday completed electing its permanent office members in the presence of Lower House Speaker Atef Tarawneh and Prime Minister Hani Mulki, the Jordan News Agency, Petra, reported.
The office consists of the speaker and his two deputies, and two assistants.
MP Khamis Atiyeh (Amman, 3rd District) won the election as first deputy speaker with 66 votes, while second deputy speaker is MP Ahmad Hmeisat (Amman, 4th District) who received 64 votes.
MP Musa Wahsh (Amman, 2nd District), and MP Sawan Sharafat (Northern Badia District) were elected as assistants with 48 and 43 votes respectively.
In a session headed by First Deputy Speaker Khamis Atiyeh, the Lower House decided to task the permanent office with naming the members of a committee to reply to the Speech from the Throne.
Also on Tuesday, Mulki congratulated Tarawneh on winning the speakership for the fourth time.
Tarawneh and Mulki stressed that cooperation between the government and the House will be at the highest levels, Petra reported.
Receiving Mulki at his office, Tarawneh noted that the premier's visit proves the government's keenness on cooperation with the Lower House, stressing that the 130-strong Chamber includes members with various expertise who will responsibly carry out their legislative and monitoring tasks.
Related Articles
Sep 03,2014
MPs on Wednesday decided to scrap the secretariat general of the Higher Judicial Council.
Nov 15,2015
AMMAN — Deputy Atef Tarawneh was elected on Sunday by his peers as the Lower House speaker for a third one-year term.Tarawneh's (Homeland li
Nov 26,2014
MPs on Tuesday elected presidents and rapporteurs of the Lower House's permanent committees.
Newsletter
Get top stories and blog posts emailed to you each day.