You are here
MPs endorse higher early retirement age, grant themselves pension benefits
Social Security Law amendments allow subscribers to dip into savings for education, treatment
By JT - Aug 25,2019 - Last updated at Aug 25,2019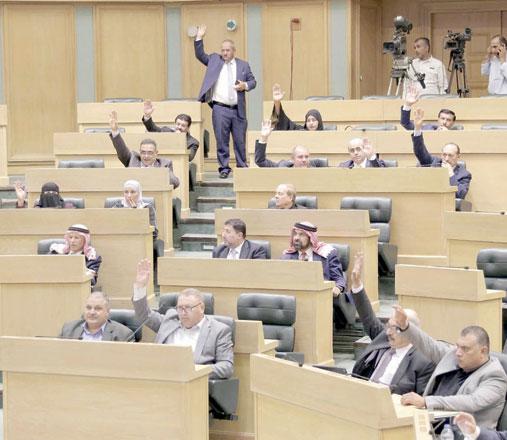 Members of the Lower House vote on the 2019 amendments to the Social Security Law on Sunday (Petra photo)
AMMAN — MPs on Sunday passed the 2019 amendments to the Social Security law, raising the age of early retirement and endorsing pension benefits for themselves as well as senators.
Under the new amendments, early retirement age for men was raised to 55 from 50, provided that each member rendered at least 21 years of service, while the earliest age women can get their benefits is 52 with at least 19 years of service, whereas in the current law women can retire at any age as long as they have subscribed to social security for 19 years.
According to the amended bill, deputies and senators are eligible for old-age, disability and death insurances upon their request, with deductions calculated according to their monthly stipends, the Jordan News Agency, Petra, reported.
Another major amendment to the new bill allows Jordanian subscribers to dip into their social security savings to cover the costs of their children's higher education or pay for medical treatment expenses for themselves or members of their families.
A social protection programme related to maternity insurance was also introduced, stipulating that the Social Security Corporation (SSC) allocates 25 per cent of maternity insurance subscriptions for that purpose.
Meanwhile, deputies rejected an article exempting institutions from paying the subscriptions of old-age, disability and death insurances during maternity leave.
The new amendments require that for an inheritor to claim death benefits, the deceased subscriber must have completed at least 10 years of service.
The bill also introduced a provision granting the heirs of security personnel who die in the line of duty a monthly salary equal to 100 per cent of the security member's salary, instead of the current 60 per cent.
In remarks to the press following the meeting, Kabariti said that presidents of chambers of commerce brought up challenges that require cooperation between the public and private sectors to find solutions that can contribute to increasing growth rates and commercial activity.
The top challenges discussed during the meeting were related to customs, technical standards, multiple monitoring over commercial facilities, the construction law and issues outside Amman, such as development zones, the statement said.
Newsletter
Get top stories and blog posts emailed to you each day.