You are here
MPs vote for obliging gov't to obtain House approval for any contract with private sector
By Khaled Neimat - Jul 08,2014 - Last updated at Jul 08,2014
AMMAN — The government will have to obtain the Lower House's approval on any contract it signs with the private sector under changes to the draft public-private partnership law endorsed by deputies on Tuesday.
The proposal to do so was submitted by MP Khalil Atiyeh (Amman, 1st District) at a Lower House session.
Prime Minister Abdullah Ensour said obliging the government to seek MP approval for every single contract will slow down the implementation of public-private partnership agreements.
Ensour said the House-backed change might be in violation of Article 117 of the Constitution, which reads: "Any concession granting a right for the exploitation of mines, minerals or public utilities shall be sanctioned by law."
The article in question, Ensour said, does not include public-private partnership agreements.
"Imagine the economic performance if we have to obtain the Lower House's approval on each contract with the private sector," he told MPs.
Agreeing with Ensour, head of the House Investment Committee MP Kheirallah Abu Saalik (Amman, 4th District), said "endorsing this proposal is in violation of the Constitution."
But the majority agreed with Atiyeh's proposal, arguing that it would preserve public assets and prevent any corrupt practices under the guise of public-private partnership.
But the chaotic arguments that ensued under the Dome prevented MPs from voting on the draft law, forcing Deputy Lower House Speaker Ahmad Safadi to adjourn the session.
Related Articles
Sep 02,2014
The Lower House Investment Committee on Tuesday agreed with the Senate's amendments to the draft public-private partnership law.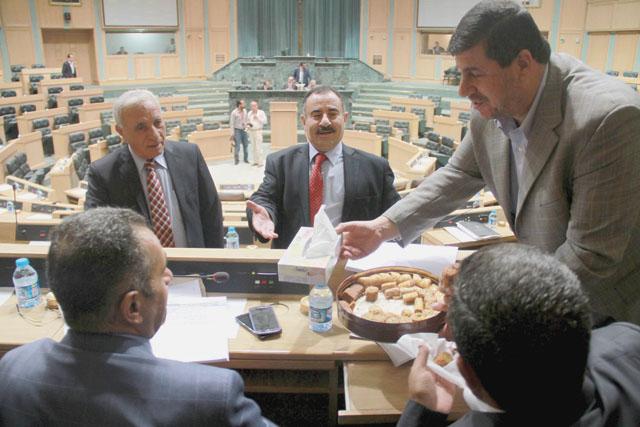 Aug 27,2014
The Lower House on Wednesday referred the draft renewable energy law to its Energy Committee giving it urgency status, after dozens of MPs took part in the "first reading" of the bill.
Aug 20,2014
The Senate on Wednesday returned the draft laws on public-private partnership and investment to the Lower House.
Newsletter
Get top stories and blog posts emailed to you each day.