You are here
Muslims primary target of war waged by terrorists — King
By JT - Feb 06,2015 - Last updated at Feb 06,2015
AMMAN – His Majesty King Abdullah has said that the global Muslim community is the primary target of the war waged by terrorists in the Middle East, adding that "my region is on the front lines".
"We have seen a few days ago the savage murder of our hero, fighter pilot Muath Kasasbeh, by the hands of ISIS criminals. Jordanians are united in sorrow and outrage, but remain as ever committed to protect our country and religion," His Majesty said in Washington Thursday in an address at an annual meeting of religious figures and world leaders, delivered on his behalf by Jordan's Ambassador to the US Alia Bouran.
His Majesty said that the tragic events witnessed in the Middle East have again made clear that the terrorism threat is global, adding: "These criminals aim to stamp out life and rights everywhere. Their hate and murder has reached Asia, Europe, Africa, America and Australia. By the brutal killing of their prisoners and captives, they seek to hold families across the world hostage to their cruelty."
"This is a war the world cannot afford to lose. But to win it, all of us must be in it. To stand as partners in the fight against today's threats. And to go beyond. To build the conditions for humanity to live together in peace," King Abdullah told his audience.
"Truly, we are called to dialogue; truly, we come together for the world's common good. In this spirit, all Jordan welcomed His Holiness [Pope Francis] when he made his Holy Land Pilgrimage last year. And the entire Muslim world welcomes the consistent statements he has made against insulting and deriding other faiths. His Holiness and I stand as one in our commitment to mutual respect."
His Majesty said at the meeting that from his early years, he was taught that Islam demands respect and caring for others.
"Among the very names of God," he said, "we hear: the Compassionate, the All-Merciful… The Prophet Mohammad, peace and blessings be upon him, said: 'None of you has faith until you love for your neighbour what you love for yourself.' This is what it means to be a Muslim."
King Abdullah added: "I am a Hashemite, a descendant of the Prophet Mohammad [PBUH]. My father the late King Hussein taught me, by everything he did, our traditions of service, moral courage, justice and brotherhood. He was a soldier who believed in peace, as I have been a soldier and believe in peace. This is what it means to be a Muslim. These are the values I teach my children and they will hand on to theirs."
In the address, the King noted that more than a thousand years before the Geneva Conventions, "Muslim soldiers were ordered not to kill a child, a woman, or an old person, not to destroy a tree, not to harm a priest, not to destroy a church. These are the same values of Islam we were taught in school as children: not to destroy or desecrate a place where God is worshipped".
"I note with grief and outrage the recent attacks in some countries against Christian and minority communities. This is an offence against humanity as well as Islam. Arab Christians are an integral part of our region's past, present and future. The Holy Koran forbids coercion in religion and commands mercy," His Majesty said, noting that Muslims remember how, in the earliest days of Islam, 1,400 years ago, the Christian kingdom of Abyssinia took in and protected Muslims fleeing persecution. "From that time till today, our world has been strengthened by our mutual respect and help."
He added: "Jordan is a Muslim country, with a deeply rooted Christian community. Together, the Jordanian people make up an indivisible society, friends and partners in building our country. Consensus, tolerance, moderation, the rule of law: These have helped make Jordan an oasis of stability and the same values will ensure our future."
The Kingdom, the Monarch said, "also takes seriously our moral obligations to others. Despite scarce resources, the people of Jordan have opened their arms to refugees fleeing regional violence. Jordan has taken in thousands of Iraqi Christians since the ISIS attacks. This is in addition to giving shelter to 1.4 million Syrian refugees. The crisis has made my country the world's third-largest refugee host".
Throughout the Muslim world today, the King noted, "men and women are putting themselves on the line to fight hatred, injustice, sectarianism, sedition [fitnah] and cruelty. They are working for development, inclusion, human rights, opportunities for women and youth, healthy children and global welfare. They are teaching young people the truth about our faith, and giving them the tools they need for positive lives".
In his remarks, King Abdullah stressed the need to speak out against misperceptions and those who sow hatred.
"The Islamophobia we are seeing in some places is an evil and a danger not only to Muslims, but to all people. It plays right into the hands of murderers and thugs and undermines unity when our world needs it most."
Related Articles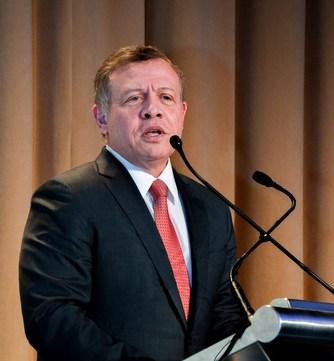 Feb 03,2017
AMMAN — His Majesty King Abdullah on Thursday called for renewing "our global neighbourhood", focusing on "what unites us, not what divides
Dec 18,2017
Following is the full text of Dima Karadsheh's remarks, member of the World Council of Churches, during His Majesty King Abdullah's meeting
Apr 10,2016
AMMAN — His Majesty King Abdullah has issued a Royal Benefaction (makruma) to provide for the restoration of Jesus' Tomb in the Church of th
Newsletter
Get top stories and blog posts emailed to you each day.