You are here
'Nature is Jordan's most precious jewel'
Group of Jordanians organises free hiking trips, cleaning initiatives around Kingdom's natural sites
By Camille Dupire - Mar 17,2018 - Last updated at Mar 17,2018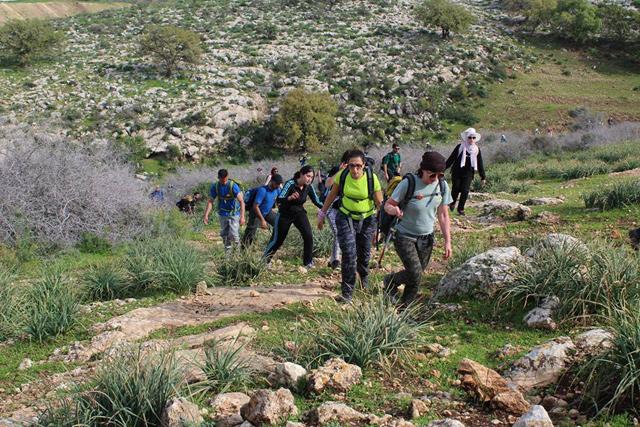 Hiking trips are organised weekly in various areas of the Kingdom (Photo courtesy of Walking Jordan)
AMMAN — When searching for recreational outdoors activities to engage his children and nephews with, Ramzi Tabbalat was faced with the lack of affordable hiking trips available across the Kingdom.
The beginning: 'Walking Jordan'
"It was 15 years ago and he then decided to just take my cousins and I with his car and just go hiking in some of the country's wadis," recalled his Tabbalat's son Hareth Ramzi.
Tabbalat, who was recently appointed as president of the Jordan Trail Association (JTA) went on to create "Walking Jordan", a community based hiking group that seeks to provide access to outdoors activities to the largest numbers.
"All the hiking trips we organise are free, except for the bus ride that we all share to get to the location. We do not charge anyone as we just want to enjoy the beauties of Jordan all together and appreciate nature," Ramzi told The Jordan Times in a recent interview.
"There are so many hidden treasures in Jordan that people do not know of as they are only aware of the world famous sites like Petra. But the amount of environmental and natural resources is actually our country's greatest wealth," he continued, stressing that "if we do not preserve our natural heritage, none of the political and social issues we focus on will matter. The Middle East process for instance will not mean anything if we do not have water".
Protecting the natural jewels: 'Cleaning Jordan'
Aiming to raise awareness on the importance of protecting the Kingdom's outdoors, the two men started "Cleaning Jordan", a grassroots initiative that seeks to rid the country's natural sites of garbage.
"It is insane to witness the way people treat their environment and the nature surrounding them. The amount of trash we find on our cleaning trips are appalling," Ramzi said, noting that, with its 30 cleaning events to date. "Cleaning Jordan" has been "the longest running campaign" in the field in the country.
"Although we open calls for volunteers to come and join us, it is not always easy to gather people to go clean other people's garbage on a Friday morning at 7am… . Therefore, we partner with local residents whom we provide with a certain amount of money to conduct those cleaning campaigns," he continued, saying that, this way, it contributes to both the local environment and its population.
Ringing the alarm on a worrying situation
"Last week, we went to Umm Qais [some 120 kilometres north of Amman] and we collected 40 plastic bags and 8 car tyres! It is insane how the local community treats the outdoors sometimes, without even realising how much harm they are doing to themselves," Ramzi said, stressing the need to educate people on the value of the environment.
"There is a hike that we used to call 'The Dolmen Trail' because it counted more than 10 now, there are only two left because people believed these dolmens were signs of some gold dug up underneath so they took them down. This is such a shame to see these beautiful places being destroyed," the young man desolated.
Despite these concerns, he voiced his joy to see several new initiatives spring up to protect the environment, stressing that "the more the merrier in preserving the natural and man-made wonders of Jordan!"
The volunteer based "Walking Jordan" currently counts more than 16,000 members, who join on the weekly hikes and other outdoor activities.
"Jordan's nature is beautiful. I was so happy to take part in the last hike with Walking Jordan. Our walk tells the story of citizens' hope and joy," said Doha Khassawneh, a member of Walking Jordan.
Related Articles
Oct 25,2017
AMMAN — Prime Minister Hani Mulki on Wednesday chaired a Cabinet meeting and listened to a briefing on the progress of work on electronic tr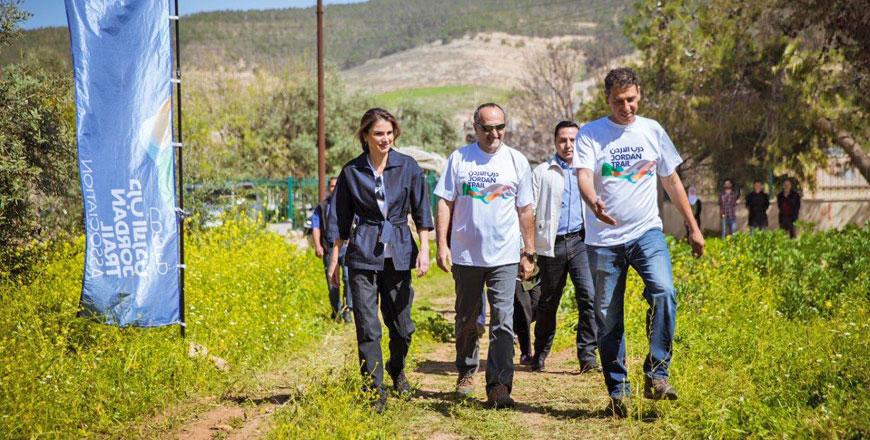 Mar 14,2018
AMMAN — Her Majesty Queen Rania on Wednesday joined hikers in the village of Rmeimeen to take part in the Jordan Trail's second annual Thru-
Mar 02,2018
AMMAN — Under the patronage of Her Majesty Queen Rania, the Jordan Trail Association (JTA) on Thursday officially launched the Jordan Trail'
Newsletter
Get top stories and blog posts emailed to you each day.