You are here
New book explores shifting roles, identities, motivations of women Daesh members
By Laila Azzeh - Apr 13,2017 - Last updated at Apr 13,2017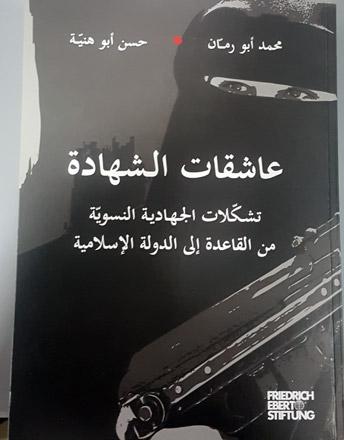 In their new book 'Infatuated with Martyrdom: Female Jihadism from Al Qaeda to the 'Islamic State',' researchers Hassan Abu Hanieh and Mohammad Abu Rumman document the lives of 47 women who joined Daesh
AMMAN – The role of women jihadists has seen a radical shift with the emergence of Daesh and its declaration of a so-called "caliphate" in Iraq and Syria in 2014, according to a new book.
In their new book "Infatuated with Martyrdom: Female Jihadism from Al Qaeda to the 'Islamic State'," researchers Hassan Abu Hanieh and Mohammad Abu Rumman document the lives of 47 women who joined Daesh, while exploring the stages and transformations of what has been termed "feminist jihadism".
Launched by the German Friedrich-Ebert Stiftung, the 500-page book comprises two sections; one that addresses the nature of women's roles inside the Daesh organisation compared to their roles in previous radical groups, while the second tracks the journey of dozens of women who joined terrorist groups, from Al Qaeda to Daesh.
The book proceeds with a fundamental question that has confounded many: how can a bloody, patriarchical, or perhaps misogynist, organisation attract hundreds of Arab and Western women?
Considering it a "quantum leap", the authors answer such a query by digging deep into the phenomenon, monitoring the nature of women's roles in Daesh and the religious discourse that tackle women's participation in jihad, from Wahabism to Salafism.
"We maintained during our research that these women joined Daesh in a bid to regain a lost identity and contradict what they perceived as an enforced identity," said Abu Hanieh during the launch of the book earlier this week.
He explained that European women who joined Daesh were more extreme than their Arab peers.
"It is ironic that women who received secular education their entire lives were the ones who are calling for the niqab, which covers the entire face, and not the hijab that only covers the face," he said, noting that Arab women who joined the radical group did so in a quest to have more role within the "utopia" which Daesh has claims to have established.
He highlighted that Daesh managed to attract 35,000 fighters from around the world when it first emerged in 2014, 5,500 of whom were women from Europe alone.
In the book, the two authors draw significant conclusions, mainly that a major shift in the role of women in Daesh is being seen, with women moving from minor roles, like the "jihadis' wives and entertainers", to more leading roles.
"While attempting to study the surrounding environment of 47 women who left their homelands to become part of Daesh, many challenges have arisen, particularly the shortage of information and resources on the lives of these women," said Abu Rumman, who noted that the "snow ball" methodology was used to track down the stories of each woman.
Ibtesam Atiyat, associate professor of sociology at St Olaf College in Minnesota, noted that any book that addresses the relationship between female jihadism and Daesh faces many difficulties, including defining the word "terrorism", which she said is not stand a scientific term.
"Researchers have found dozens of definitions for the word terrorism since 1970, and have found that there are dozens of uses of the term that are not consistent in their concepts," she said at the book launch.
Former foreign minister Abdul Illah Khatib underlined the importance of the book, which he said explains the motivations of women who take part in suicidal jihadist activities and their backgrounds and justifications for joining the terror organisiation.
Related Articles
Jul 28,2016
AMMAN — The Muslim Brotherhood (MB) is "finished" regionally, while in Jordan it will become more fragmented, an expert in the movement's af
Dec 20,2017
AMMAN — Women can be an invaluable source of community information, and play a role in countering violent extremism in society, a recent stu
Nov 04,2014
HRH Prince Hassan, Arab Thought Forum (ATF) president, has called for a global analytical strategy to understand human nature and the natural environment.
Newsletter
Get top stories and blog posts emailed to you each day.