You are here
Oil, energy prices increase as of today
13.3 per cent hike in electricity prices blamed on higher global crude prices
By Mohammad Ghazal - May 01,2018 - Last updated at May 01,2018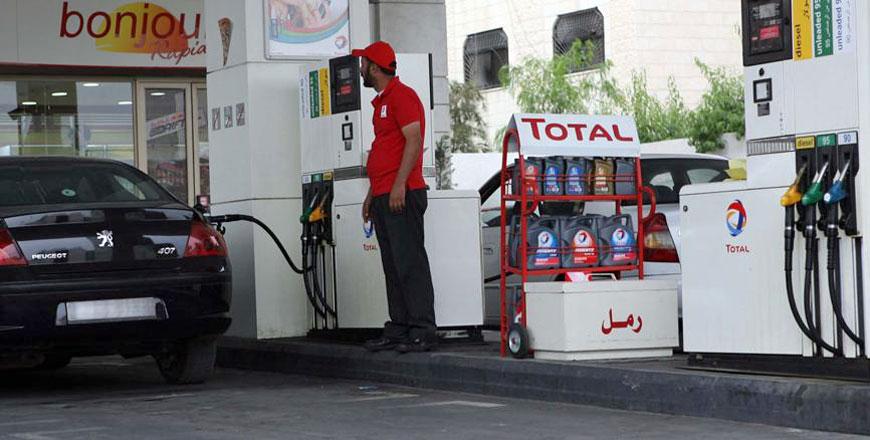 A worker fills a car tank with gasoline in this undated photo in Amman (JT photo)
AMMAN — Jordan on Monday announced an increase in prices of electricity and various types of oil derivatives following a rise in crude prices globally.
The government implemented a 13.3 per cent increase in electricity prices as of May 1 for all sectors and segments of the population, excluding households that consume 300 kilowatt-hours (kWh) or less per month, according to Farouq Hiyari, chief commissioner of the Energy and Minerals Regulatory Commission.
The price of kWh will increase from 15 to 17 fils until the end of May, he told The Jordan Times over the phone, stating: "We decided to increase the prices of electricity following a rise in crude prices globally as the average of barrel exceeded the $55 cap set by the government to keep electricity tariffs unchanged."
Electricity prices are announced at the end of each month based on the average price of crude oil recorded over the three previous months.
Also on Monday, the government decided to increase prices of various types of fules as of May 1, according to a Ministry of Energy and Mineral Resources' statement sent to The Jordan Times.
Price of unleaded gasoline 90 octane has been increased from JD0.78 per litre to JD0.81 per litre, while the price of unleaded gasoline 95 octane has risen from JD1.005 per litre to JD1.050 per litre.
Diesel prices have gone up JD0.57 per litre to JD0.61 per litre, while kerosene was increased from JD0.52 per litre to JD0.061 per litre, according to the statement.
Vice chairman of the Jordan Chamber of Industry Mohammad Bitar condemned the decisions, as they "will hurt all economic sectors".
"I do not understand how such decisions are made.… What is the logic behind them?" Bitar ask The Jordan Times.
The industrial sector, which suffers from the repercussions of various challenges, will witness an additional burden with the increase in prices of fuel and electricity, he said, saying: "There is a need for supporting the industrial sector and not increasing the difficulties on the sector. This will push up in the cost of energy and, consequently, increase the cost of Jordanian products and reduce their competitiveness."
"This is disastrous and we cannot tolerate repeated price hikes …how will we be able to create jobs as we have around 70,000 graduates from universities annually and many factories are shutting down because of the continued rise in cost and other challenges," he asked.
Related Articles
May 31,2018
AMMAN — The government on Thursday announced an increase in prices of electricity and various types of oil derivatives as of June 1st reflec
Jun 30,2018
AMMAN — The government's fuel pricing committee on Saturday decided to postpone the announcement of the July oil derivatives prices until th
Jul 04,2018
AMMAN — The government announced on Tuesday its mechanisms of pricing fuel derivatives and indicated that it generated JD854 million in 2017
Newsletter
Get top stories and blog posts emailed to you each day.