You are here
One-man school offers normalcy, comfort for Syrian refugees
By Muath Freij - May 11,2014 - Last updated at May 11,2014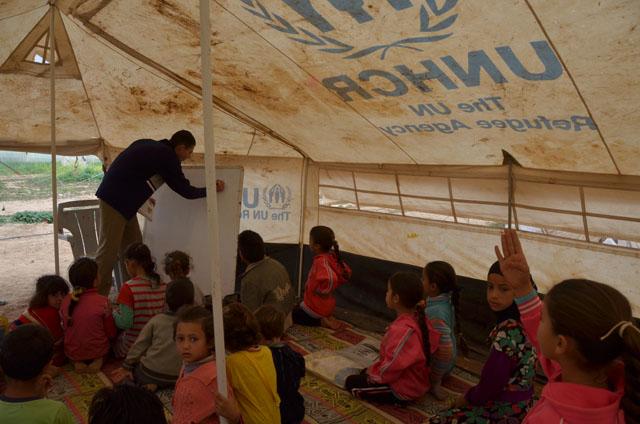 JORDAN VALLEY — With a lack of entertainment options in the makeshift refugee camp in the Jordan Valley, Khaldoun Ahmad's initiative was to become the saving grace for Syrian children learning to settle into Jordan.
Ahmad, a Syrian teacher, was quick to notice that children did not spend their time usefully in the camp, so he proactively decided to rectify that problem by buying a tent for JD20 and spending his time teaching young Syrians the Jordanian school curriculum.
With over 190 people living in the camp, according to Save the Children Jordan's (SCJ) statistics, around 30 students, aged 12 and under, currently attend his substitute school.
"Syrian families were very enthused over my idea," he told The Jordan Times in a recent interview at his tent.
The families quickly noticed how excited their children became over Ahmad's one-man school, so they started to create handmade bags for them.
"They used old bags of rice and sugar to make schoolbags so that they could give their children a sense of normalcy whilst helping to keep their books safe," the 32-year-old commented.
Ahmad noted that SCJ actively facilitated his teaching process at the camp.
"I managed to get stationery thanks to SCJ."
He noticed early on that some students were reluctant to attend the school due to the scarring events they witnessed back home.
"I managed to overcome this problem and attract the kids to the school by handing out presents to students who achieved high marks," he said.
The teacher also elaborated that the Syrian families were not averse to the idea of sending their children to the school because of the simple fact that it was located inside the camp.
"If the school was located outside, they would not have sent their children because they do not want to them going out alone after all the violence they witnessed in Syria."
Another obstacle Ahmad faced when he tried to attract children to attend his school was the issue of child labour.
Um Karam, a Syrian refugee and mother of six, said her 13-year-old son used to study at Ahmad's school, but difficult living conditions forced her to make him drop out and instead take a job on a farm, working five hours a day for JD1 per hour.
Ahmad added that the varied ages of students makes it difficult for him to teach sometimes.
"I created lines in the tent with each line consisting of students of a specific age. It is really difficult to take control of the class when you have students with different ages," he stated.
Mustafa Hussein, a father of five, said that as soon as he learned about Ahmad's initiative, he decided to send two of his children to the school.
"Education is really important for the future of my children," he commented.
Nine-year-old Sidra Al Omar has dreams of becoming a doctor and is therefore pleased with the vital learning experience afforded to her at Ahmad's school.
Ashraf Nasser, of SCJ, said the Ministry of Education provides the children with exams at the end of the school year, which is in accordance with the level of the student.
"Teachers will also be enrolled in training courses where they will learn how to deal with students and how to attract them to education," he stated.
Recently, a great number of Jordanians and Syrians have volunteered to teach young Syrians in these makeshift camps. Most of the voluntary initiatives were launched by these teachers, according to Manal Wazani, CEO of SCJ.
Ahmad said he works hard to teach these Syrian children because he sees them as the future of his country.
"Most children I asked told me that they wanted to become either doctors or engineers. These children deserve to receive adequate care."
Related Articles
Mar 12,2014
From his precious savings, Syrian Khaldoun Al Ahmad decided to spend JD20 to buy a tent and transform it into a school for fellow refugees at a makeshift camp located in the Northern Jordan Valley.  
Jan 12,2014
When 10-year-old Omran Taqi arrived in Amman with his family, the activity he missed the most was going to school.
Dec 08,2020
UMM RAQUBA, Sudan — "Do, re, mi, fa, so, la, ti, do!" an Ethiopian girl sings to her classmates, who are huddled together on a straw mat on