You are here
Paintings by young Jordanians, Syrian refugees sold in charity auction
By Muath Freij - Oct 20,2015 - Last updated at Oct 20,2015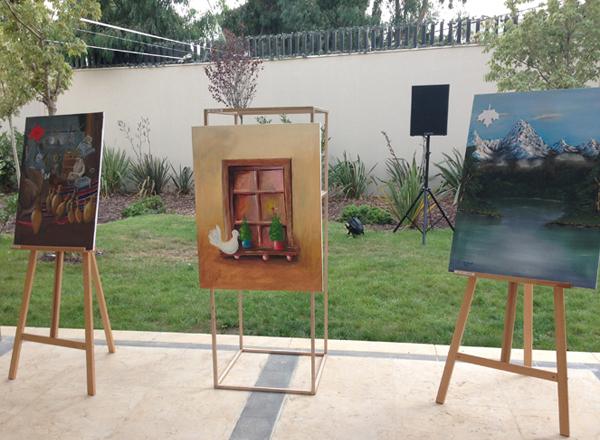 Paintings by young Jordanians and Syrians on display at the Canadian embassy in Amman on Tuesday (Photo courtesy of Canadian embassy)
AMMAN — Ayman Hariri, a young Syrian residing at Zaatari Refugee Camp, was among several children invited to display their artwork and give audiences a glimpse of their heritage at the embassy of Canada in Amman on Tuesday.
"I am really honoured that my work is showcased at the Canadian embassy. I painted an old window to show my forefathers' heritage and to remind people of its beauty," he told The Jordan Times at the residence of the Canadian ambassador in Amman.
Hariri was invited alongside his peers from Zaatari camp and Jordanian children coming from east Amman's Ashrafiyeh Centre to have lunch with Canadian Ambassador to Jordan Bruno Saccomani in celebration of their work.
A total of 90 works of art created by the children were displayed and offered for auction at the event, called "Canada Gives Thanks," which was organised by the Canadian embassy in Jordan and Iraq in collaboration with Ashrafiyeh Centre and UNHCR.
The proceeds from the art auction will benefit Ashrafiyeh Centre's art programme and youth activities in Zaatari camp.
Saccomani said Tuesday's event was based on Canada's Thanksgiving holiday, which took place last week.
"Families in Canada gather to share their successes and show their happiness to be together as a family, and most importantly to take a moment of pause and to say thank you and give back," he told The Jordan Times.
Saccomani mentioned that over 1,000 guests from the government, businesses, embassies and NGOs were invited to the embassy for the exhibition.
The ambassador recalled that he and his wife started this project three years ago when they first arrived in Jordan, adding that he was touched by the willingness of young children at Zaatari, some 90km northeast of Amman, to express themselves through art.
"The best day as an ambassador is to be surrounded by children and I feel that I am providing them with an opportunity to see hope. It is all about hope and they need to feel dignified," he said. "I also thought to focus on less fortunate Jordanian children who have less opportunities because of the influx of refugees."
The Canadian diplomat commended the Kingdom's efforts in hosting refugees.
"The Syrian crisis is a crisis that no one could have predicted that it will last so long. Jordan, as great neighbours, stood up in the hour of need of their neighbours and accepted them.
Frankly all of us across the world and in Canada are in absolute awe of Jordan's capacity to withstand this incredible influx of refugees. Jordan is an example of openness that is so needed everywhere and perhaps in the region," he added.
Rana Snij, the artist in charge of teaching the children, said art can be an important tool for therapy because it helps children to express their feelings.
"It is important to teach art for children at an early age. For my part, I learn from the children because they do not have boundaries and are not scared to experiment. They share their sufferings and hope in one picture," she told The Jordan Times.
Ahmad Horani, a 10-year-old Jordanian, said he enjoyed painting and voiced hopes that these activities will continue.
Zaina Jamous said she was excited when she learned that her painting would be sold for a good cause.
"I painted a big flower and I wanted to tell everyone that this flower is not for me but for other people," the nine-year-old said.
Related Articles
Apr 23,2014
A ceremony marking the handover of infrastructure provided by Canada to the Public Security Department (PSD) and the Syrian Refugee Affairs Department was held at the Azraq Refugee Camp on Wednesday, according to an embassy statement.
Dec 02,2015
AMMAN – The Canadian government is making the necessary arrangements "and working very hard" to transport 10,000 refugees from the region to
Dec 28,2015
AMMAN — Jordan will continue its open-border policy and is proud of its humanitarian role towards the refugee crisis, Prime Minister Abdulla