You are here
'Paris deal to give momentum to Jordan's efforts to address climate change'
By Hana Namrouqa - Dec 16,2015 - Last updated at Dec 16,2015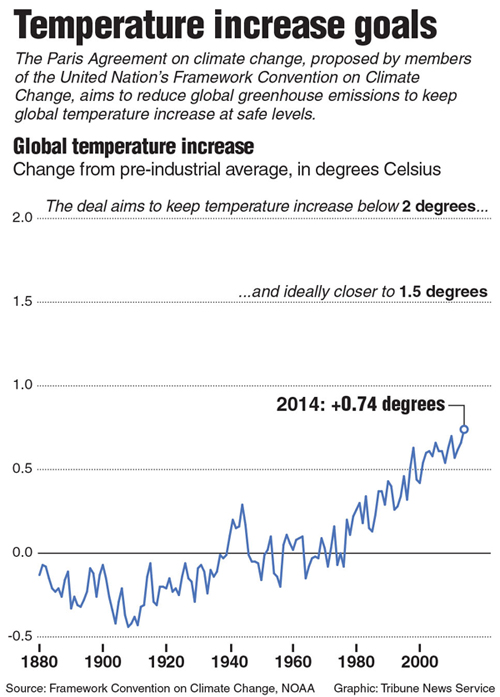 AMMAN — The Paris Agreement adopted earlier this week will give momentum to Jordan's adaptation to climate change and efforts to mitigate its impact, while supporting the transition to a greener economy, a senior government official said on Wednesday.
Although the Kingdom is a minor contributor to greenhouse gas emissions, which are responsible for warming up the planet, it is among the developing countries that are most in danger of being affected global warming, Environment Minister Taher Shakhshir told The Jordan Times.
"Despite this fact, Jordan pledged to reduce its emission of greenhouse gases by 14 per cent by the year 2030," Shakhshir said.
In his speech at the opening of the High Level Segment meeting at the 2015 UN Climate Change Conference, the minister noted that Jordan was the first country in the region to produce a National Climate Change Policy, under which it can reduce its greenhouse emissions by 14 per cent, if international funding is provided to enable the Kingdom to reduce 12.5 per cent of that total percentage.
Jordan will commit to covering the cost of reducing emissions by 1.5 per cent, he added at the conference.
The Kingdom will cut its greenhouse gas emissions by 12.5 per cent by implementing 70 projects, mainly in the energy and transportation sectors, if the required funds are available.
"The cost of the 70 projects... is $5.5 billion. If the needed funds are raised, the country will be able to achieve its commitment," Shakhshir said in Wednesday's interview.
These projects entail shifting to renewable sources such as solar and wind, implementing energy efficiency initiatives, using energy- saving appliances and expanding the use of electric cars across the country.
"Plans are now under way to have thousands of electric cars on the country's roads within the next two years," Shakhshir underscored.
During the Paris conference, Jordan also committed to issuing an update to its national communication on climate change reports every two years in order to evaluate its efforts in reducing greenhouse gas emissions.
The Kingdom prepares a national communication on climate change reports every four years to provide a long-term, scientifically sound description of the projected impact of climate change on the country as well as a comprehensive mitigation assessment.
The latest national communication report warned that Jordan will witness a steady increase in temperatures, more dry spells and a drop in precipitation during the coming decades as the impact of climate change becomes more apparent.
Shakhshir underscored that the Paris Agreement is a major milestone in the fight against global warming.
"Magnificent and great efforts were exerted on a global level during the conference in order for the Paris Agreement to see the light," the minister said.
Envoys from 195 nations on Saturday approved the "historic" climate accord which fundamentally pushes world nations towards reaching zero greenhouse gas emissions by the second half of this century
The agreement is aimed at keeping global warming to "well below" 2oC over pre-Industrial Revolution levels, and to strive for 1.5ºC if possible, Shakhshir explained.
According to the agreement, there must be a balance between emissions from human activity and the amount that can be captured by carbon-absorbing "sinks" by the second half of this century, he added.
In addition, developed nations "shall provide" funding to help developing countries make the costly shift to green energy and shore up their defences against climate change impacts like drought and storms, while rich countries are required to pledge $100 billion a year.
Safa Jayoussi, head of climate and energy campaigns at IndyACT and CAN Arab World Coordinator, said the impact of climate change is evident worldwide, but much more is needed to scale up action during the coming years to build resilient communities and protect the most vulnerable.
"Paris is only the beginning. During the next Conference of Parties in Morocco, Arab countries have a great opportunity to showcase their renewable energy investments, make the agreement stronger, build on the popular will of the Arab people, and work towards something they can be proud of," Jayoussi noted.
Related Articles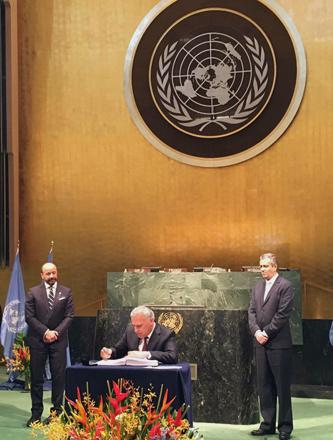 Apr 24,2016
AMMAN — IndyACT, an Arab climate change NGO, has invited Jordan and other Middle East and North African countries to review their Inten
Feb 15,2016
AMMAN — Representatives of public, private and civil sectors on Monday discussed how to capitalise on the recently adopted Paris Agreement a
Dec 08,2015
AMMAN — Jordan has pledged to cut its greenhouse gas emissions by 14 per cent by 2030 and to double the proportion of renewable energy in th
Newsletter
Get top stories and blog posts emailed to you each day.