You are here
'Patriarchal mentality' hinders women in Jordan's media — experts
By Dana Al Emam - Jun 16,2017 - Last updated at Jun 16,2017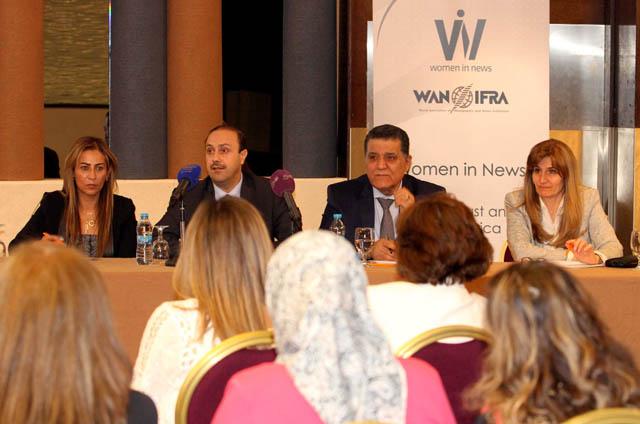 Minister of State for Media Affairs Mohammad Momani speaks during a panel organised by the World Association of Newspapers and News Publishers' Women in News' in Amman on Wednesday (Photo by Hassan Tamimi)
AMMAN — Further efforts are needed to address the "patriarchal mentality" that still dominates many media institutions in Jordan, thereby hindering women from reaching senior positions, experts agreed on Wednesday.
Despite their skills and experience, there are "not enough" women working in the sector, they noted, underlining a lack of women in leadership and executive decision-making positions.
Minister of State for Media Affairs Mohammad Momani said Jordanian women in the media have had a "pioneering experience which has not yet met their expectations".
Speaking at a panel organised by the World Association of Newspapers and News Publishers' Women in News (WIN) programme for media executives in Jordan, he noted that legislations and regulations do not discriminate against women, but practices in some media institutions do.
Momani attributed the low representation of women in high-ranking positions to the "glass ceiling" phenomenon, whereby women feel that a barrier they cannot identify bans them from advancing in their careers.
Momani, who is also the government's spokesperson, said he hoped to see more women in the sector and more women assuming important positions.
Bayan Tal, a consultant at the Jordan Media Institute, commented on the absence of clear national media policies as hindering progress.
She cited a need to invest in building the capacities of women working in the sector and providing a supportive environment that does not consider "luck" as the only determining factor for a woman who excels with her family, husband or friends being supportive.
For her part, Al Ghad Editor-in-Chief Jumana Ghneimat said Jordanian women who have assumed executive positions in media institutions have proven their capabilities, adding that women perform their tasks with a particular earnestness.
"Women have to work twice as hard as their male colleagues, in order to prove to their surrounding communities that they can succeed," she noted, adding that many Jordanian women journalists have succeeded in making a difference and bringing about change within the sector.
WIN is a four-year, multimillion-euro project implemented in cooperation with the Swedish International Development Cooperation Agency and Norway's ministry of foreign affairs in an effort to address the gender imbalance in media in Jordan, Palestine, Lebanon and Egypt.
The programme targets female journalists and senior female editors, in an effort to overcome the gender gap in management and senior editorial positions, according to organisers.
Related Articles
Feb 18,2017
AMMAN — Despite their success in the field of media, women in Jordan still represent a "tiny" proportion of decision makers and leaders in t
Aug 03,2016
AMMAN — Chairman of the Jordan Radio and Television Corporation (JRTVC) Board George Hawatmeh on Wednesday was assaulted by a JRTVC employee
Jun 08,2015
AMMAN — Enhancing equal rights and boosting women's political and economic participation is not possible without a democratic basis that tra
Newsletter
Get top stories and blog posts emailed to you each day.