You are here
Perceptions about vocational training pose major challenge, say experts
By Batool Ghaith - Oct 14,2021 - Last updated at Oct 15,2021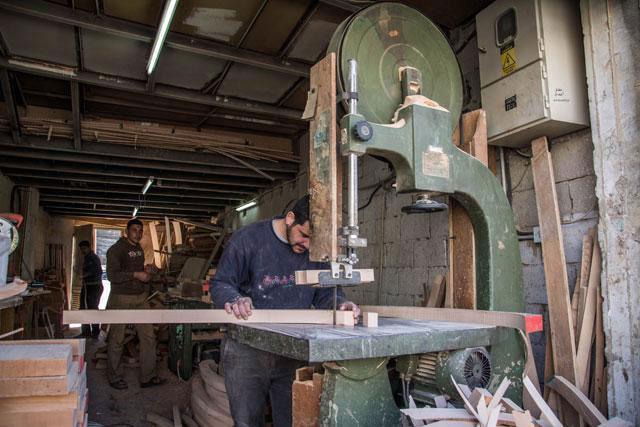 Experts are calling to develop vocational education and training, and encourage all students to join the stream, not only students with poor academic records (JT file photo)
AMMAN — While experts cite vocational trainings' challenges in Jordan, the Vocational Training Corporation (VTC)emphasise that its trainings are up to date, focusing on the demand of the labour market.
Experts are calling to develop vocational education and training, and encourage all students to join the stream, not only students with poor academic records.
However, while some experts call for vocational training developments, Jameel Al Qadi, media spokesperson for the VTC, said that the trainings offered by the VTC are up to date with the labour market and in line with its demands.
"We always provide the private sector and labour market with a sufficient number of skilled labour, but unfortunately, they often end up employing only 20 per cent of the total number they required," Qadi told The Jordan Times over the phone.
Qadi noted that the VTC offers many up-to-date training programmes and services through 36 institutes spread across all governorates of the Kingdom.
The institutes have the capacity to accommodate 10,000 male and female trainees through 350 operators and 100 training programmes within 16 professional categories, such as CNC computerised turning, optical fibre maintenance (telecommunications and mobile phones), 3D printing, hybrid car maintenance and pharmaceutical industries.
"The VTC is the first training incubator in the Kingdom, as it constantly strives to keep pace with modern technology in its training programmes and digitise the training process to be in accordance with international best practices. We work to rehabilitate and develop the capabilities of young men and women and enable them to enter the local and regional labour market," Qadi said.
He added that their training programmes "are reviewed periodically in coordination with the private sector, according to studies of market requirements".
The number of VTC graduates has reached more than 450,000 male and female trainees and the rate of employment for graduates exceeds 75 per cent. In some majors, such as tourism, training reached 95 per cent, Qadi noted.
Qadi called for a partnership between the VTC and the private sector.
Director of the Phoenix Centre Ahmed Awad, stressed the need to review the educational system's policies in Jordan. He pointed out that there has been an expansion in academic education, at the expense of vocational education.
"The current social perception of vocational and technical education has contributed in creating a barrier for many people that stops them from getting into vocational training. This negatively impacts its contribution to the growth and development of our national economy," Awad told The Jordan Times.
Awad said that some young people enroll in universities for the purpose of social status, rather than necessarily for the direct purpose of employment, adding that the labour market has a "manpower gap" of professionals and technicians.
He called on the government to increase the vocational education budget, as the amount allocated for it has not exceeded JD13 million for 10 years, while 80 per cent of this budget goes to operational costs.
He also encouraged the concerned authorities to make technical, intermediate and vocational education in universities free of charge, in order to encourage turnout and increase the capacity and number of vocational schools.
Awad also called for allowing students to complete their education in universities after the vocational education programmes.
Economist Hosam Ayesh said that the labour market is constantly "changing and evolving", noting that there is competition not only between people, but also with artificial intelligence and its various tools.
"We are currently competing with machines and artificial intelligence, which calls for different and advanced forms of training," Ayesh told The Jordan Times.
He added that the vocational training covered so far is "traditional" and is linked to a labour market that is "fixed and rigid in its movement".
Ayesh noted that the current vocational training needs new trainers, new training curricula, and a new policy to serve the labour market and the workers.
According to Ayesh, vocational training needs a "revolution", to prepare workers not only for the local market, but also for the global labour market.
"This contributes to solving the problem of unemployment by developing knowledge and professions in a new, advanced, technical and intelligent way," he said.
Ayesh encouraged combining academic education and vocational training.
"The government should establish a ministry concerned with vocational training, so that it becomes an institutional and governmental system supervised by the regulatory authorities," he added.
up
23 users have voted, including you.
Newsletter
Get top stories and blog posts emailed to you each day.