You are here
Planting the seeds of hope: Local NGO creates rooftop gardens in Palestinian camps
By Camille Dupire - Sep 21,2017 - Last updated at Sep 21,2017

The rooftop of Jadal for Knowledge and Culture before (left) and after transforming it into an experimental urban farm (Photo courtesy of Greening The Camps)
AMMAN — Driven by their passion for environment and "earthcare", a group of foreign and local youth has joined efforts to create "Greening the Camps", a non-profit organisation that designs, develops and maintains rooftop gardens in Palestinian refugee camps.
Using their understanding of urban design and its toolsets gained from their studies in architecture, design and urbanism, Evi Hellebaut, Machiel van Nieuwenhove and Joric van Leeuwen started off with a pilot project of "experimental farm" on the rooftop of Jadal for Knowledge and Culture, an art space located in the heart of Amman.
"Jadal is an open space where cultural activities and knowledge sharing fuse to evoke and spread new societal values. Because we share a similar mindset and vision, we thought it was a great starting point for all people interested in the project," van Nieuwenhove told The Jordan Times.
On Jadal's roof, the trio, along with a team of volunteers, reconstructed existing shacks to turn them into two greenhouses, one providing shelter for non-seasonal plants and the other for hydroponic cultivation — a method to grow plants with nutrient water instead of soil.
Deep-rooted and wide spreading vegetables like pumpkins, courgettes, carrots and rhubarb were planted in large wooden boxes placed on recycled palettes.
"Each box is provided with a self-constructed watering system that maintains efficient irrigation and limits the evaporation of water. This installation ensures easy harvesting and low space occupation as the soil-filled boxes are hung on the wall," the trio explained on their website.
Helping refugees to gain a truly sustainable livelihood was the idea behind Greening the Camps, which aims to reconnect displaced communities with food production from urban agricultural practices all the while enhancing local empowerment and economic development.
A designer and media manager for the project, Evi Hellebaut, said: "positively improving women's and youth's self esteem by creating a green open space where they can develop themselves, building on a more sustainable way of living and creatively working together on a greener environment is challenging but rewarding".
When they flee their countries, most refugees lose their connection with their land, and therefore with agricultural production, she explained, noting that Greening The Camps aims to reinstil the practices of growing and harvesting crops.
She recalled: "Once, a young girl told me that her grandmother used to be a farmer, but she herself had no idea where her food was coming from."
Greening The Camps is now working on implementing a project at Jerash Camp, the poorest of the 10 officially recognised Palestinian refugee camps in Jordan, according to a 2013 report by FaFo.
With more than 29,000 people living in prefabricated shelters over an area of 0.75sq.km, the "concrete jungle" as van Leeuwen calls it, lacks any sort of natural environment or fertile land for cultivation.
"This scarcity of green space in combination with a threatening shortage of water in the region has caused a severe disconnection of the current generation with agriculture," he said.
By implementing gardens on the concrete fabric rooftops, Greening The Camps aims to "insert a green oasis where a family or community can grow its own food provision, find rest and foster their connection with nature", Hellebaut said.
"What is really important for me in this project is awareness, both in the targeted community and among the locals," said van Leeuwen. "By building the first garden in Amman, we were able to attract a lot of volunteers, who even decided to come back after their holiday to volunteer for longer periods," he explained.
Entirely based on citizens' human and financial contribution, Greening The Camps has organised several events to raise funds for its initiative and is currently running a crowdfunding campaign to finance their urban farming project in Jerash.
Related Articles
Jun 20,2021
AMMAN — An environmentally sustainable project titled "Green Rooftops", implemented by UNICEF Jordan in Jerash Camp aims to stimulate the ec
Nov 25,2023
AMMAN — Urban agriculture once thought of as a hobby, has become an integral movement that is revolutionising the way food, sustainability a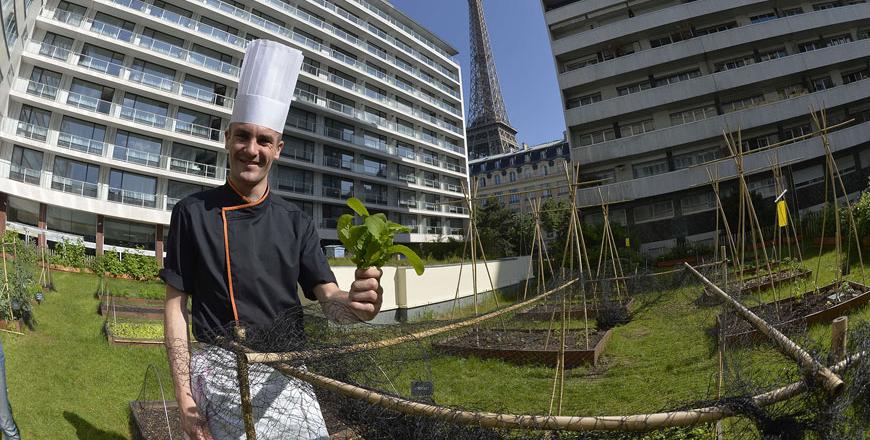 May 30,2015
PARIS — In the shadow of the Eiffel Tower, a chef in a tall white toque bobs between great bushes of herbs as busy as the bees buzzing