You are here
PM instructs task force to secure new virus quarantine facility
By JT - Feb 28,2020 - Last updated at Feb 28,2020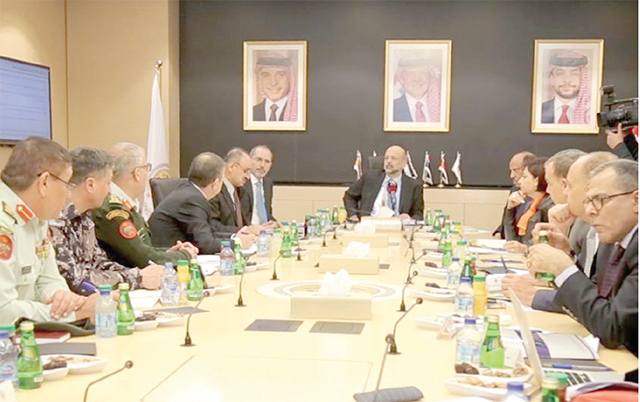 Prime Minister Omar Razzaz chairs a meeting, which included ministers and government representatives who are part of a task force, at the National Centre For Security and Crisis Management on Thursday ( Petra photo)
AMMAN — Prime Minister Omar Razzaz on Thursday directed the team tasked with following up on the new coronavirus to secure a "new, decent" quarantine location that meets the health standards for dealing with suspected infections.
In remarks to the press following a meeting with ministers and representatives of government agencies that are members of the team, Razzaz said that social media outlets published items on quarantine circumstances that are "not satisfactory", the Jordan News Agency, Petra, reported.
The premier reiterated that Jordan is still free of coronavirus cases, according to the World Health Organisation, stressing the need to be ready for all scenarios, especially as some neighbouring countries have registered cases of the virus.
He also warned against spreading rumours without verifying their sources to prevent panic and fear in society, expressing hopes thacitizens will check information with the Ministry of the Health.
The prime minister said that the Health Ministry will issue daily updates related to the coronavirus in a "transparent way", highlighting the importance of partnership and cooperation among all stakeholders to spare Jordan from the disease.
Discussions during the meeting went over the latest developments related to the coronavirus and preventive and precautionary measures, as well as a review of the action plans and scenarios for any possible crisis.
The action plans include holding periodic meetings, updating the information on the spread of the virus, increasing the medical staff at border crossings and assessing the reserve of medical equipment and lab tests, as well as launching awareness campaigns about the disease and prevention methods, according to Petra.
Also on Thursday, a daily briefing on dealing with the coronavirus in Jordan was issued by the Ministry of Health.
The number of individuals currently in quarantine who arrived to Jordan from regions where the emerging coronavirus has spread is 19, according the briefing.
These individuals are staying at the Epidemiology Department of Al Bashir Hospital.
A total of 186 individuals were quarantined for 14 days and then released from quarantine after it was confirmed that they were not infected with the coronavirus, the briefing said.
Newsletter
Get top stories and blog posts emailed to you each day.