You are here
PM presides over signing of agreement to establish phosphate washing plant
By JT - Jul 26,2021 - Last updated at Jul 27,2021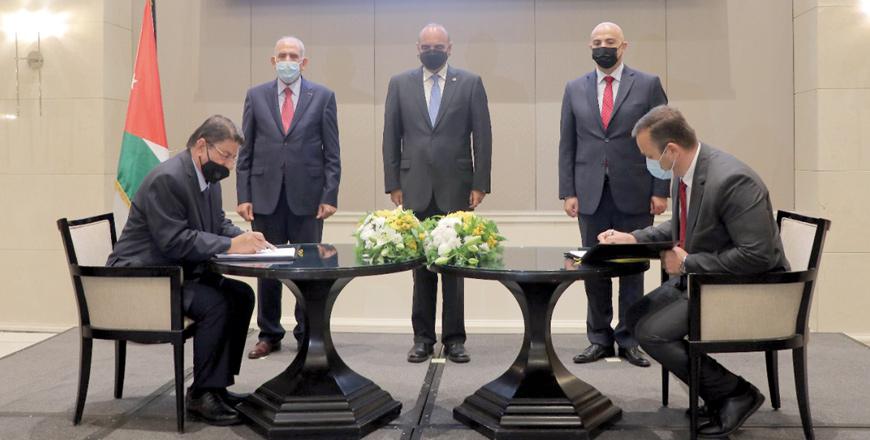 Prime Minister and Minister of Defence Bisher Al Khasawneh attends the signing ceremony of an agreement to establish a phosphate washing plant on Monday (Petra photo)
AMMAN () — Prime Minister and Minister of Defence Bisher Al Khasawneh on Monday attended the signing ceremony of an agreement to establish a phosphate washing plant.
The Jordan Phosphate Mines Company (JPMC) and Ideal Advanced Manufacturing Company signed the agreement. The total cost of the project is estimated at $85 million and is expected to finish in 23 months, the Jordan News Agency, Petra, reported.
The production capacity of the plant will be about 1.9 million tonnes of high-quality phosphate a year and would provide 200 direct and 2,000 indirect employment opportunities.
During the ceremony, Khasawneh highlighted the government's efforts to deal with the exceptional circumstances of the COVID-19 pandemic. He noted that the growth rate reached 2 per cent, a lower rate than previous figures.
Enhancing the public-private sector partnership is a priority for the government, the premier said.
JPMC Chairman Muhammad Thneibat highlighted the importance of the project to strengthen the company's global competitiveness by increasing production capacity from 10 million tonnes to 12 million tonnes a year.
Thneibat highlighted the JPMC's plans to address the company's challenges, and mentioned that in 2017 the company developed a plan focused on anti-monopoly practices. He also pointed out that the door is open for qualified Jordanian companies in the mining sector to compete for exploration works.
up
24 users have voted, including you.
Newsletter
Get top stories and blog posts emailed to you each day.