You are here
Prince Ali opens new football pitch in Zaatari
'Football continues to play pivotal role in helping refugees respond to challenges posed by displacement'
By JT - Sep 13,2017 - Last updated at Sep 13,2017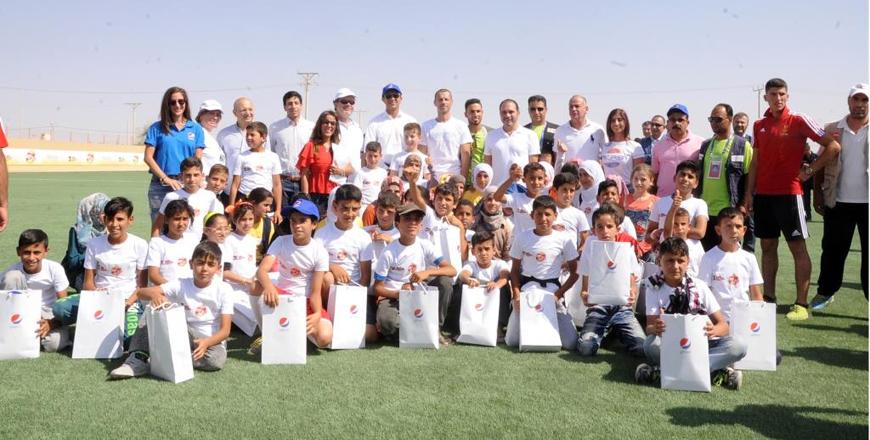 HRH Prince Ali poses for a group photo during the opening of a new artificial football pitch in the Zaatari Refugee Camp on Tuesday (Photo courtesy of PepsiCo)
AMMAN — HRH Prince Ali Bin Al Hussein on Tuesday opened a new artificial football pitch in the Zaatari Refugee Camp, some 80km northeast of Amman, according to a PepsiCo statement.
The new facility, a full-size pitch made with artificial turf, was established by the UEFA Foundation for Children and the Asian Football Development Project (AFDP) in partnership with Lay's. It will provide thousands of football-loving Zaatari residents the opportunity to train, and watch their favourite game, the statement said.
Prince Ali, the AFDP founder and chairman, was joined by UEFA President Aleksander Ceferin and PepsiCo Middle East and North Africa (MENA) Vice President for Snacks Mustafa Shamseldin during a ceremony that saw the attendance of community members and local qualified football coaches.
Representatives from the Jordan Football Association and the Norway Football Federation also attended the ceremony, to show their continued support to the refugees and host communities over the last four years, the statement said.
More than 200 girls and boys living in the camp, aged between 10 and 13 years old, tried out the pitch and tested their skills with a variety of football activities led by their coaches and UEFA ambassadors, Christian Karembeu and Lara Dickermann.
The new football pitch will help thousands of football-loving children, as well as adults, to enjoy their favourite sport in a safe environment with facilities of the highest quality. It complements the "House of Sports", a centre for sports and socio-educational activities, which was opened in September 2016 by the UEFA Foundation for Children and AFDP, the statement read.
"Powerful mediums such as sport and education have the ability to plant seeds of hope and potentiality even under the most difficult circumstances," Prince Ali was quoted in the statement as saying.
He commended Ceferin and the UEFA Foundation's support to the Asian Football Development Project's initiatives and for providing refugees with a "healthy, quality space that they can use not only to train, but also to build friendships and learn skills that are beneficial on and off the pitch".
Shamseldin said: "We hope that this joint effort will help the community here live out their passion for football. Football is known for bringing people together to enjoy a sport they love, whether it is playing or watching, and we hope many residents here can benefit from this new pitch for many years to come."
Ceferin said: "Football has the ability to inspire, unite and also teach children important life skills and values, such as teamwork and respect. It is genuinely a humbling experience to be able to interact with children from this camp."
Since 2013, AFDP and UEFA Foundation for Children have been organising regular football training sessions and workshops at the camp for those displaced by the conflict in Syria, particularly for children, who are the most vulnerable victims of war, according to the statement.
Football continues to play a pivotal role in helping refugees respond to the challenges posed by their displacement and the impact the conflict has had on their lives, by giving them a fun and healthy team-work based outlet, where they can build friendships and regain a sense of normalcy and hope, the statement read.
The UEFA Foundation for Children-AFDP collaboration has also trained 250 refugees, of whom 163 are men and 87 are women, to become coaches for over 4,480 Syrian kids to date, comprising 3,185 boys and 1,295 girls. The coaches, in turn, have initiated their own football league within the camp and hope to establish a football club in the near future, the statement added.
up
11 users have voted, including you.
Related Articles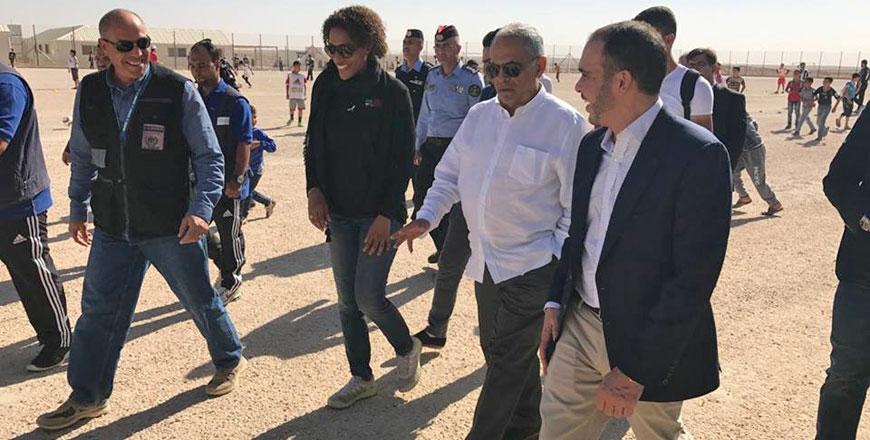 Nov 15,2016
AMMAN — HRH Prince Ali, president of the Jordan Football Association and chairman of the Asian Football Development Project (AFDP), welcomed
Jun 21,2014
For Muath Shahma, football is the only source of entertainment at the Zaatari Refugee Camp, over 80km northeast of Amman.
Apr 06,2014
The Asian Football Development Project (AFDP) has teamed up with the English Premiere League to support "My Wonder Football Wall" — a graffiti project led by the Federation of Kyrgyz Republic following the building of new pitches for women's football in Kyrgyzstan, a statement from the office of HRH Prince Ali, the founder of AFDP, said Sunday.
Newsletter
Get top stories and blog posts emailed to you each day.