You are here
Prince Zeid resigns as Jordan's representative at UN
By Khetam Malkawi - Apr 29,2014 - Last updated at Apr 29,2014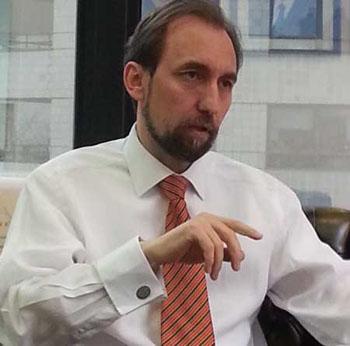 AMMAN — HH Prince Zeid, Jordan's permanent representative to the UN, has submitted his resignation, a Foreign Ministry official said on Tuesday.
Sabah Al Rafie, the ministry's spokesperson, told The Jordan Times that Prince Zeid will leave his post by the end of June "upon his request".
She did not elaborate on the reason for his resignation or name any possible replacements.
Local news website Ammon News quoted unnamed sources as saying that the prince resigned over "health reasons".
The prince — who attended school in Jordan, the UK and the US — earned his bachelor's degree from Johns Hopkins University in the US and a PhD from Cambridge University in Britain.
Starting his career as an officer in the Jordan Armed Forces, Prince Zeid served as a political affairs officer in the UN peacekeeping mission in the former Yugoslavia from 1994-96, which led to a decade of work on UN peacekeeping issues.
In 1996, he was appointed as Jordan's deputy UN ambassador and became the first diplomat to publicly demand a UN report on the 1995 massacre of thousands of Muslims in Srebrenica.
In mid-2004, following allegations of widespread abuse by UN peacekeepers, he was appointed as the UN secretary general's adviser on sexual exploitation and abuse.
In early 2005, Prince Zeid produced a report — subsequently endorsed by world leaders at the September 2005 millennium summit — outlining a strategy to eliminate sexual exploitation and abuse in UN peacekeeping operations.
From 2007-10 he served as Jordan's ambassador to the United States. An expert in the field of international justice, the prince played a central role in the establishment of the International Criminal Court, the world's first permanent war crimes tribunal. In September 2002, he was elected the first president of its governing body.
Prince Zeid, who has been the country's permanent representative at the UN since 2000, was one of five candidates for the post of UN secretary general in 2006 to succeed Kofi Annan.
up
37 users have voted, including you.
Related Articles
Jan 29,2014
HH Prince Zeid, Jordan's permanent representative at the UN, on Wednesday stressed that the UN needs to do more to safeguard international peace and security.
Sep 05,2015
AMMAN — HH Prince Zeid has been announced as the recipient of the 2015 Stockholm Human Rights Award in recognition of his work in the pursui
Feb 19,2014
HH Prince Zeid Bin Raad, Jordan's permanent representative to the UN, on Wednesday stressed the importance of providing security along with humanitarian support in order to rebuild a country or area devastated by war.
Newsletter
Get top stories and blog posts emailed to you each day.