You are here
Professional associations to go ahead with strike today
Protests continue despite Mulki's resignation
By JT - Jun 06,2018 - Last updated at Jun 06,2018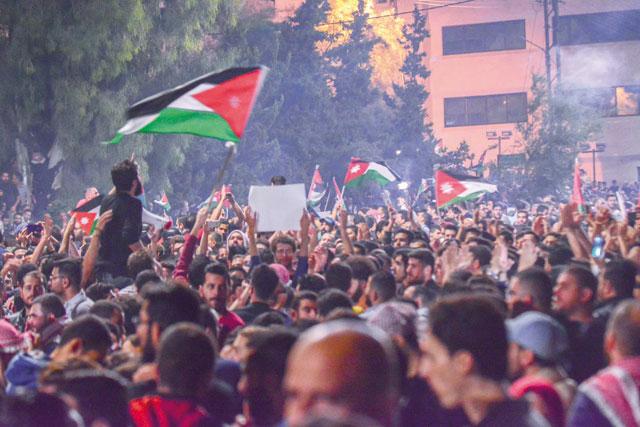 Protesters gather near the Fourth Circle in Amman calling for withdrawal of new income tax draft law from the Parliament on Tuesday (Photo by Amjad Ghsoun)
AMMAN — The Professional Associations Council announced on Tuesday that it will go ahead with another strike today in protest against the income tax draft law.
Head of the council Ali Obous, who is also president of the Jordan Medical Association, was quoted in Al Rai Arabic daily as saying that the planned nationwide strike will start at 9:00am on Wednesday, adding that a sit-in will be staged at the Professional Associations Compound in the capital's Shemisani neighbourhood.
Obous said that the strike and sit-in, the second by the associations, aim at pressing for a withdrawal of the 2018 the draft income tax law that the government of outgoing prime minister Hani Mulki sent to the Parliament early in May.
Last Wednesday, thousands of citizens rallied in front of the professional associations compound to protest against the income tax, cyber crimes and civil service draft laws. The sit-in followed a nationwide strike called upon by the professional associations.
On Tuesday, the General Federation of Jordanian Trade Unions decided not to participate in the strike and any other similar activities.
In a statement carried by the Jordan News Agency, Petra, the federation, which combines 17 labour unions, said that dialogue is the best approach to address the current challenges and obstacles hindering the development process, and to help the country avoid any possible unrest and violence.
A group of young people, mostly of leftist leaning, have launched a campaign on social media they dubbed, #Maanash (in English 'We don't have'), calling for demonstrations and sits-in across the country in protest against the new income tax law.
Supporters of the group have been protesting since last Friday near the Prime Ministry against the income tax draft law.
The group's call found support from across the country, especially after the decision by Mulki's government to increase fuel and electricity prices.
A protest started late on Tuesday night near the Fourth Circle area near the Prime Ministry even after the resignation of Mulki's government and the designation of outgoing education minister Omar Razzaz to form a new government .
Protesters are still calling for a change in governments' manner to address economic challenges and the country's political course.
Related Articles
May 31,2018
AMMAN — Thousands of citizens rallied on Wednesday in front of the Professional Associations Compound to protest against the 2018 amendments
May 26,2018
AMMAN — Professional Associations Council has decided to start a strike next Wednesday in protest of the new amendments to Income Tax Law.Fo
Jun 05,2018
AMMAN — His Majesty King Abdullah on Monday accepted the resignation of Hani Mulki's Cabinet.King Abdullah sent a letter to Mulki in re
Newsletter
Get top stories and blog posts emailed to you each day.