You are here
Project uses street art to replace war with joy, hope among Syrian refugees
By Dana Al Emam - Apr 22,2014 - Last updated at Apr 22,2014
AMMAN — Although Syrian children at the Zaatari Refugee Camp will still push wheelbarrows around to sell goods, they can now take pride in colourfully decorated carts that they themselves have painted.
The "Colours of Resilience" project, which was implemented by the Awareness and Prevention Through Art (aptArt) group and the Agency for Technical Cooperation and Development (ACTED), attempts to utilise street art and mural painting to replace thoughts of war and death with ones of joy and hope.
Syrian, Jordanian and international artists engaged over 2,000 youngsters, who reflected in their paintings things they learned in workshops about health, hygiene, conflict resolution and hope for the future, according to project organisers.
The workshops, which recently concluded, targeted Syrian refugees in Zaatari and Cyber City, as well as the local community in the Irbid, Jerash, Ajloun and Mafraq governorates, to promote the theme of coexistence.
"One of the main aims of our project is to ensure social cohesion between the two communities," Suranga Mallawa, deputy country director of ACTED in Jordan, said at a film screening last Thursday depicting the project's activities.
Mental health organisations, she said, must address the issue of war trauma on Syrian refugees in the Kingdom and provide them with psychological support.
Samantha Robison, founder of aptART, said street art is a powerful tool for self expression and it is "no longer exclusive to graffiti and vandalism".
The project has so far produced 56 murals, according to Robison, who noted that organisers first held focus groups with adults in the host community to list the main challenges their children face. These outlines then became key themes of the project.
"We tried to engage all children," she said at a discussion that took place at the French Institute after the film screening, adding that painting was a successful way to engage many children, "even the tough ones who were trying to earn a living through their wheelbarrows".
The event included an exhibition of selected photographs and paintings from the project, which is running for a second year in Jordan.
Joel Bergner, an artist and activist who worked in motivational initiatives in countries like Brazil, Cuba, Kenya, Poland and the US, said the project is important because it teaches children concrete ideas and allows them to express themselves through painting.
"Art is a tool to uplift these children and the entire community, and to cultivate positivity in them," he told The Jordan Times.
The project is supported by UNICEF and the European Commission's humanitarian aid and civil protection department.
Related Articles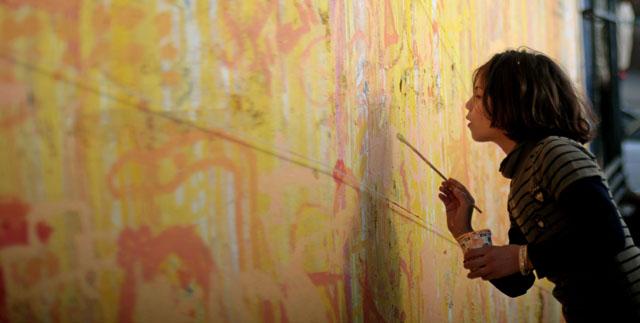 Jan 24,2015
A five-day exhibition that opened in the capital on Friday is showcasing artwork by Iraqi, Syrian, Palestinian and Jordanian children in both Iraq and Jordan.
Mar 24,2016
AMMAN — The ideas of some 300 volunteers from around the Kingdom on gender issues discussed at recent workshops held by the USAID-Takamol Ge
Jun 16,2016
ZAATARI, Mafraq — Determined to change the image of her fellow Syrians in the Zaatari Refugee Camp as "uneducated and unskilled", one woman
Newsletter
Get top stories and blog posts emailed to you each day.