You are here
Public universities must diversify investments — study
By Mohammad Ghazal - Jul 26,2016 - Last updated at Jul 26,2016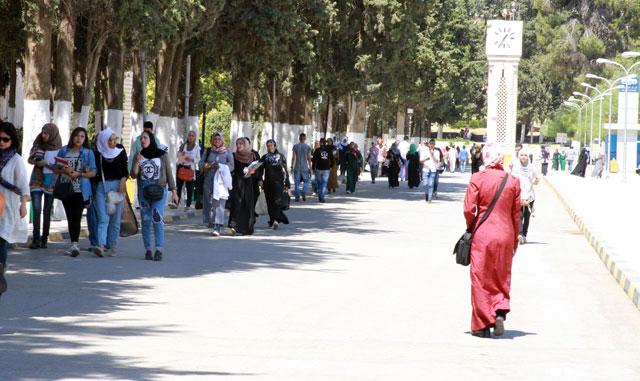 Students are seen at the main square of the University of Jordan on Monday (Photo by Osama Aqarbeh)
AMMAN — Jordan's higher education sector is under threat from the failure of public universities to diversify their investments and their heavy reliance on tuition fees, officials and academics warned on Monday
Public universities in Jordan and their investment funds channel money into low-risk traditional investments, which produce low returns, according to a study by the Economic and Social Council (ESC) released on Monday.
The study on the role of investments in public universities, which was conducted at the government's request, found that the investment strategies of universities and their funds were not sufficiently researched and that there was not enough follow-up or monitoring of investments.
According to the study, 71 per cent of universities' income still comes from tuition fees while 13 per cent comes from the government.
Due to budget shortfalls, universities borrowed JD16.4 million in 2014 alone, the ESC found.
The Hashemite University, the Jordan University for Science and Technology and the German Jordanian University were the only institutions to achieve a budget surplus in 2014, the study found.
Public universities and their funds invested JD75.3 million in 2014, which brought returns of JD4.8 million, recording a 6.4 per cent return on investment, which is considered poor, the council said.
"Investments by public universities to increase their revenues is a very important issue... but public universities need to have feasible investment strategies in the coming three years as the situation is alarming," Minister of Higher Education and Scientific Research Wajih Owais said at a meeting to announce the results of the study.
"The issue of investments over the past 30 years has not been a priority for public universities. Unfortunately, the University of Jordan, for example, which owns several properties in Amman that generate great revenues, suffers from debt," the minister said.
Stressing that the government could not provide a "penny" more to support public universities due to its financial situation, the minister said tuition fees should be increased as students paid around 20-25 per cent of the actual cost of a credit hour.
To increase their revenues, which mostly come from tuition fees, public universities admit a surplus of 5,000 to 10,000 students on average, which affects the quality of education and raises questions about the future of higher education, said the minister.
'Gov't support still needed'
Marwan Kamal, chairman of the board of trustees of the Hashemite University, said that given the current weak returns on investments, the government must support public universities.
"If universities are not in a good financial position and are broke, they cannot provide good education. They cannot attract good faculty members and they cannot retain the good ones they already have," said Kamal at the meeting.
Universities also need to maintain constant communication with alumni to encourage donations, a practice which is common among prominent US universities, he added.
"At the same time, the government should provide incentives to businesses and philanthropists who, for example, donate to universities. They could get tax exemptions if they donate," suggested Kamal, stressing that the universities could not think of investments while they were struggling to pay for basic needs and salaries.
The study compared public Jordanian universities to world-renowned universities in the US, the UK, France, Japan and elsewhere.
Muhyiddin Touq, former Jordanian ambassador to the EU and a former minister, said the study should have compared Jordanian universities to their counterparts in countries with similar gross domestic products to Jordan.
"There is a need to look into how universities can convince Jordanians to donate, especially as a huge portion of the revenues of world-renowned universities comes from donations," Touq added.
Academics and experts at the meeting called for public-private sector cooperation to link scientific research to market needs. They also called for restructuring universities' investment funds to work more effectively.
The study recommended that public universities engage in projects in the fields of renewable energy and take advantage of their faculty members' expertise, stressing that there were several fields that universities could invest in other than property.
It also advised thorough research on potential investments and their feasibility.
ESC President Munther Shara stressed the importance of applying the study's outcomes to the decision-making process.
He added that the study was conducted with a view to enhance collaboration between the private and public sectors and create jobs for Jordanians.
Related Articles
Feb 13,2014
The National Campaign for Defending Students' Rights (Thabahtoona) has expressed its rejection of any potential decision to raise tuition fees at public universities as a measure to mitigate the financial hardships facing them.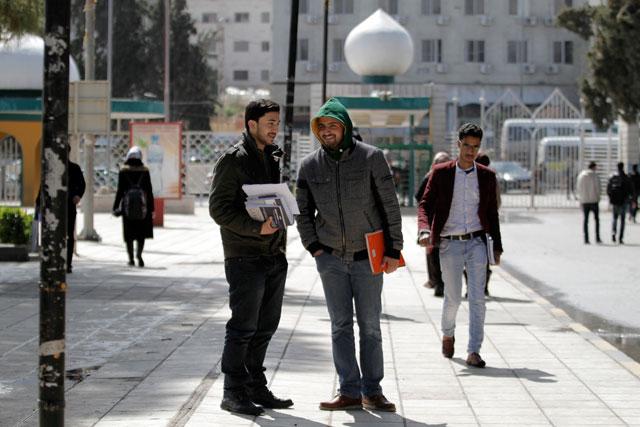 Mar 29,2016
AMMAN — The lack of government financial support to public universities is to blame for the high costs of higher education in Jordan, accord
Jul 22,2016
AMMAN — The Hashemite University (HU) administration will raise fees for post-graduate studies by 50 per cent to reduce student intake, HU P
Newsletter
Get top stories and blog posts emailed to you each day.