You are here
Queen checks preparations for QRTA's diploma programme for new teachers
By JT - May 30,2016 - Last updated at May 30,2016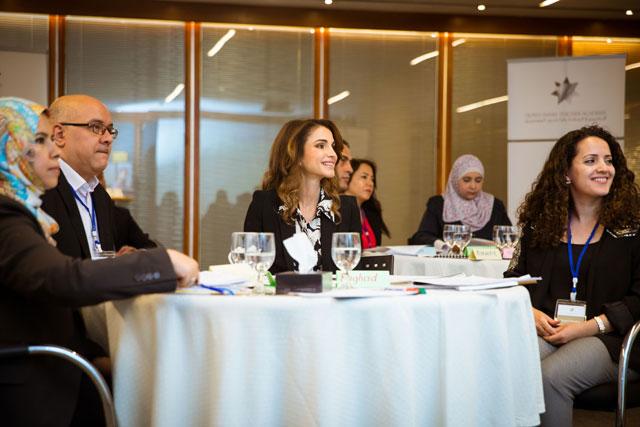 Her Majesty Queen Rania attends part of a training workshop for instructors in the Queen Rania Teachers Academy's pre-service training programme in Amman on Sunday (Photo courtesy of Royal Court)
AMMAN — Her Majesty Queen Rania on Sunday was briefed on preparations currently under way to launch the Queen Rania Teachers Academy's (QRTA) Initial Teacher Education professional diploma, which is designed to prepare and empower teachers in Jordan before they begin their careers as educators.
The programme is being developed in partnership with University College London Institute of Education (IOE), the Ministry of Education and the University of Jordan (UJ), according to a statement from the Queen's office.
IOE is one of the world's "leading centres" for teaching and research in the social sciences, and has ranked first in the world for education research for the last two years.
Queen Rania dropped by a training workshop for instructors, who will be teaching the diploma programme.
The workshop is conducted by lecturers from IOE for a group of 12 instructors, who were "carefully vetted and selected from a pool of 2,000 applicants".
Her Majesty thanked the lecturers and instructors for their commitment and said she was delighted to see how high the standards have been set to revolutionise teaching as a profession in Jordan.
"We are setting this new standard and you are going to be the custodians of these new standards and the initiators and leaders for this initiative," Queen Rania said.
The Queen also met with QRTA CEO Haif Bannayan, and Kim Insley, project leader and lecturer in education at IOE, University College London, who briefed Her Majesty on how IOE is structuring the teacher induction and preparation programme.
Bannayan said the programme lasts for 10 months and will be offered to those who wish to become teachers after concluding their bachelor's degrees.
He added that the first 240 student teachers will begin the programme in September, which will eventually be expanded to accommodate up to 3,000.
At the end of the programme, teachers are awarded a postgraduate professional diploma marking their readiness to begin their teaching careers.
QRTA's Initial Teacher Education programme aims to produce knowledgeable and skilled teaching professionals, who can contribute to the overall quality of student learning and achievement by involving public and private schools in "rigorous practical training".
The programme will train future teachers on education theories, leadership and classroom management skills, as well as teaching mathematics, science, English and Arabic languages, social sciences and arts.
It will eventually have a permanent base at the UJ campus.
Enrolled teachers will attend lectures, seminars and tutorials, where a range of multimedia technologies are employed. Teacher students are also expected to conduct their own research and read plenty of scholarly articles, according to the statement.
Queen Rania has called for instituting pre-service training as an integral part of education reform in Jordan.
Initial teacher training is "essential" in equipping university graduates with the necessary skills to enter the teaching profession, and keep up with fast-developing education trends and labour market expectations, the statement said.
The QRTA already offers training for in-service teachers, and has reached over 30,000 teachers with its various programmes since its founding.
Related Articles
Aug 16,2017
AMMAN — The Queen Rania Teacher Academy (QRTA) has partnered with the University of Bath to launch a pilot programme aimed at improving the
Feb 12,2018
AMMAN — Her Majesty Queen Rania on Monday visited Al Ashrafieh Secondary School for Girls in Amman, where she met with teachers and principa
Oct 12,2017
AMMAN — Her Majesty Queen Rania on Wednesday visited the Queen Rania Teacher Academy (QRTA), where she met members of the second cohort of t
Newsletter
Get top stories and blog posts emailed to you each day.