You are here
'Queen impressed with work of Jerasa charitable society'
By JT - Oct 28,2015 - Last updated at Oct 28,2015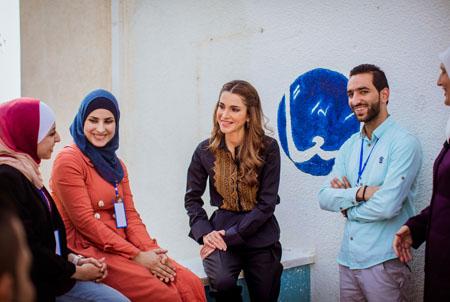 Her Majesty Queen Rania meets with members of the Jerasa Charitable Society for Women in Jerash during a visit on Wednesday (Photo courtesy of Royal Court)
AMMAN — Her Majesty Queen Rania met on Wednesday with the members of the Jerasa Charitable Society for Women in Jerash, some 48km north of Amman.
The Queen commended the society's work, particularly in the area of providing solar energy units to power homes of families with limited income as a means of reducing monthly electric bills, according to a statement from her office.
Queen Rania was received by Jalela Smadi, president of the society's administrative committee, and met with several board members who briefed her on the society's mandate, achievements and future plans.
Smadi said through its work, the society was able to install solar energy cells to power 18 homes in the area. It has also received more than 50 further applications for solar panel installations.
The Queen commended their efforts and encouraged them to continue investing in solar energy.
Her Majesty also met with and spoke to several people who benefited from the society's solar energy, solar heating and water harvesting loans.
The beneficiaries were able to install these systems and benefit 48 families, with the support of the Jordan River Foundation (JRF). The beneficiaries were also able to dig 114 water harvesting wells in the area.
The Queen also listened to a briefing on the work of the society's productive kitchen and kindergarten facilities, currently teaching 178 children, the statement said.
After the meeting, Her Majesty chatted with young volunteers from the local community commission and initiatives, who spoke about their activities.
With around 42 volunteers, the commission has worked with more than 1,000 young people and implemented 12 programmes covering a variety of issues such as youth empowerment, refugees, English language skills, and a reading club.
Queen Rania also stopped by the society's computer lab, and attended part of a graphic design workshop.
Her Majesty also observed a first aid training class on fire prevention and first aid basics, as well as a recycling workshop on how to recycle damaged home appliances and furniture.
The society was established in 2000 and has benefited around 8,000 individuals so far.
The society's general assembly consists of 75 women and seven board members from the area, and has received funding, grants and revolving loans from the Mercy Corps aid agency and the Ministry of Planning and International Cooperation.
Projects implemented by the society include a productive kitchen, awareness lectures, a computer lab, a revolving loan fund, and support for underprivileged families, the statement said.
The society also aims to provide the community with income-generating projects, conduct vocational training courses, offer cultural and social lectures and workshops, and provide financial aid and in-kind support for underprivileged families.
Related Articles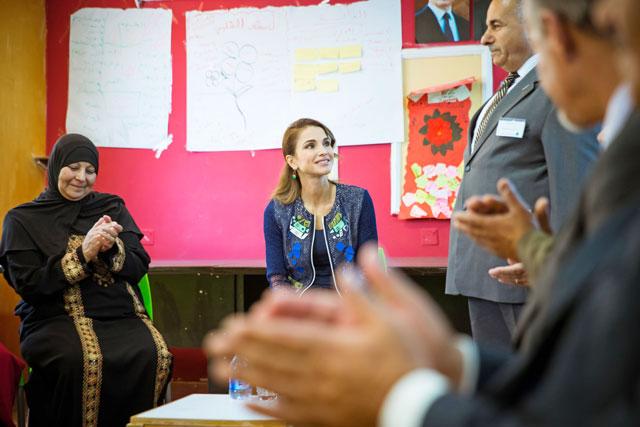 Jun 01,2016
AMMAN — Queen Rania visited the Urban Development Charitable Society in Bait Ras Village in Irbid on Tuesday, where she met with some of its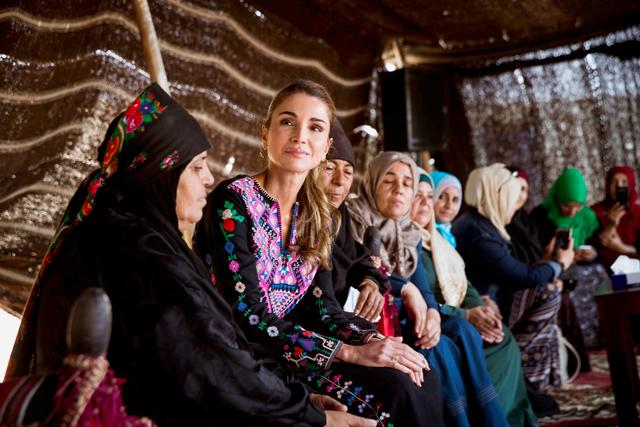 Sep 11,2017
AMMAN — Her Majesty Queen Rania on Monday visited Al Hallabat area of the Zarqa Governorate, where she met with families, educators, local r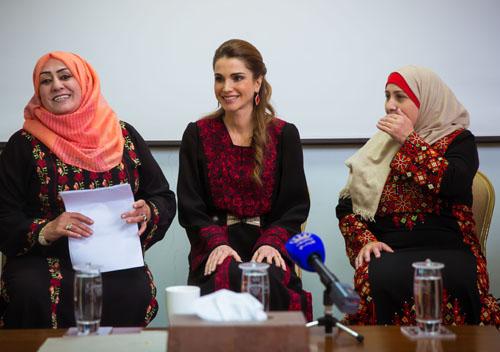 Dec 02,2015
AMMAN — Her Majesty Queen Rania on Wednesday visited the Basmet Al Khair Charitable Society for Women in Balqa Governorate and checked on th
Newsletter
Get top stories and blog posts emailed to you each day.