You are here
Queen joins students at Madrasati initiative's Masahati carnival
By JT - Apr 30,2018 - Last updated at Apr 30,2018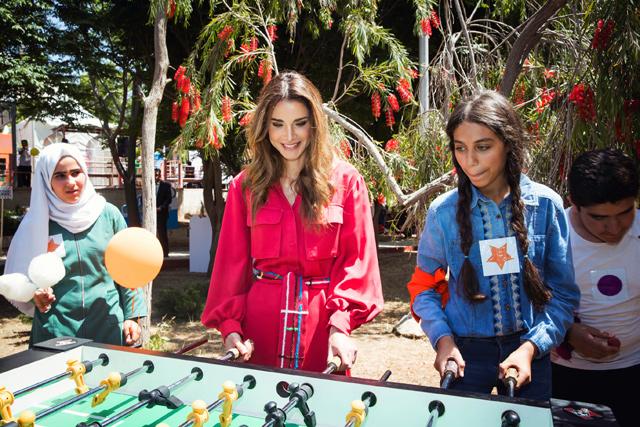 Her Majesty Queen Rania joins Madrasati intiative's students during the Masahati carnival in Amman on Monday (Photo courtesy of Royal Court)
AMMAN — Her Majesty Queen Rania on Monday visited a carnival organised by the Madrasati initiative, joining 300 students from around the country at Millennium Park in Amman to celebrate the achievements of the initiative's Masahati student club programme, a statement by Her Majesty's Office said.
Masahati consists of five student clubs which develop youth's intellectual and technical skills, and aim to empower students to become responsible citizens, promoting solidarity and collaboration between youth and the community at large.
Throughout Masahati's recently concluded two-year cycle, a total of 15,641 students, including more than 3,000 Syrian youth, took part in 40 Masahati student clubs, which were hosted at 50 schools across ten of Jordan's governorates.
Her Majesty toured the carnival alongside Madrasati director, Tala Sweis, who explained how Masahati creates physically, socially and emotionally safe learning environments for Jordan's youth.
By encouraging students to innovate and express themselves Masahati develops their interests and creativity, helping them become proactive members of their communities. The programme seeks to empower students to manage their own spaces, as well as provide a link between schools and their communities.
Queen Rania stopped at a number of the carnival's recreational stations, each of which encouraged students to tap into skills developed in Masahati's student clubs.
At the challenge space, students joined members of the men's and women's national football teams to take part in a variety of physical activities. Meanwhile, at the thinking space, students demonstrated their acquired artistic skills, expressing themselves through painting and drawing and taking part in an interactive science activity.
Her Majesty also stopped by the talent space, where students had the opportunity to showcase their acting, graffiti art, and comedic abilities.
Masahati offers a variety of activities in accordance with student needs, with each school hosting between four and six activities. The programme strives to reinforce teachers' role in fostering students' growth, thereby helping transform schools into drivers of development. Throughout the two-year cycle, Masahati trained 1,000 teachers and counsellors, allowing the programme to be executed long-term at a number of schools.
The Madrasati initiative was launched by Her Majesty in 2008 to improve learning environments in Jordanian public schools.
Related Articles
Mar 20,2017
AMMAN — Within the framework of a cooperation agreement between the UNDP and the "Madrasati" Initiative (My School), five student clubs unde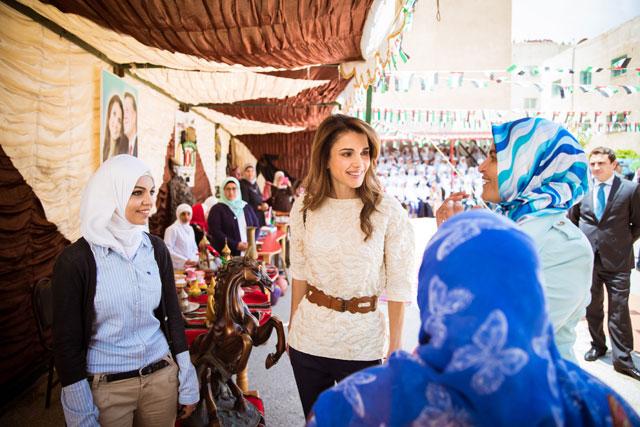 May 25,2016
AMMAN – On the occasion of the 70th anniversary of Jordan's Independence Day and the 100th anniversary of the Great Arab Revolt, H
Sep 09,2015
AMMAN — Her Majesty Queen Rania on Tuesday attended part of an orientation session at the Royal Automobile Museum for youth participating in
Newsletter
Get top stories and blog posts emailed to you each day.