You are here
Queen joins young Jordanians in discussion of their development priorities
By JT - Mar 16,2014 - Last updated at Mar 16,2014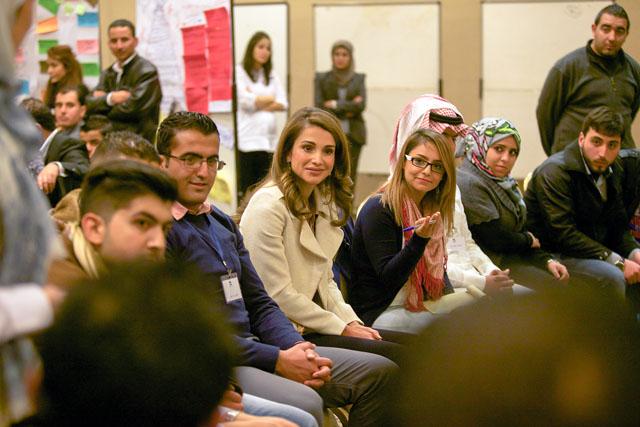 AMMAN — Her Majesty Queen Rania on Sunday joined 120 young Jordanians from across the Kingdom in a discussion aimed at outlining the Jordan River Foundation's (JRF) strategic youth development plan for the next five years.
The discussion, which was held at the King Hussein Youth City, is the first of many activities planned for the future that will include the involvement of local institutions in both the public and the private sectors, according to a statement from Her Majesty's office.
The aim of these activities is to build a comprehensive strategy for youth development that can be implemented by all constituents of the community so as to achieve the best results based on the opinions, ideas and initiatives of young Jordanians.
The Queen told the participants, who are active in various programmes run by JRF, how important their opinions are due to the fact that they all face challenges and thus have a big role in identifying priorities.
Her Majesty asserted the importance of their participation in the process of drawing up future plans and not just the implementation of such plans.
The workshop participants were split into different groups for discussion, with the first, "How I think," focusing on young people's perception of the community and its various stakeholders and how they interact with these different components from their vantage point.
In another group titled "Me and My Community", participants were asked to create their own community based on dialogue. Group members prepared a list of strengths and weaknesses to help identify relevant institutions of authority and their importance in their imagined community, the statement said.
Members of the "I am able to change" group looked into the different ways young people can contribute to their communities and also discussed the various societal institutions that can help them achieve and implement change.
All group discussions aimed to showcase the most relevant and important ideas and issues from the youth perspective, as well as to shed light on viable solutions that could be implemented across the governorates.
In addition, the discussions served as a platform for receiving feedback from the younger generation that would ultimately help JRF develop adaptable solutions.
This reasserts the notion that JRF does not think on behalf of young people when developing their programmes, but instead makes them an active ingredient in the planning process as well, the statement said.
JRF General Director Ghaleb Qudah said the youth development strategy will focus on strengthening communication and networking between more than 22,000 young Jordanians across the Kingdom.
As part of the strategy, JRF will also establish groups in each governorate that will work on finding solutions to local challenges, allowing young people to play a crucial role in the development process and endowing them with the platform for making decisions relevant to issues that affect them, their lives and communities.
In addition, the strategy aims to include young Jordanians in issues and programmes dealing with child protection, and involve them in civil and economic participation, employment and extracurricular activities.
Another objective of the strategy is to engage the younger generation by providing them with spaces for dialogue and interaction, and empowering them with skills demanded by the job market.
The selection of workshop participants was based on their level of activity and effectiveness in their own communities as well as their ability to clearly present their ideas for programmes and initiatives, the statement said.
All participants had contributed their support to JRF programmes for a period not less than three years.
Over two days, the workshop focused on generating ideas and activities pertinent to the development of a clear work plan and on the third day, participants showcased their results in order to arrive at tangible and realistic ideas for implementation.
Related Articles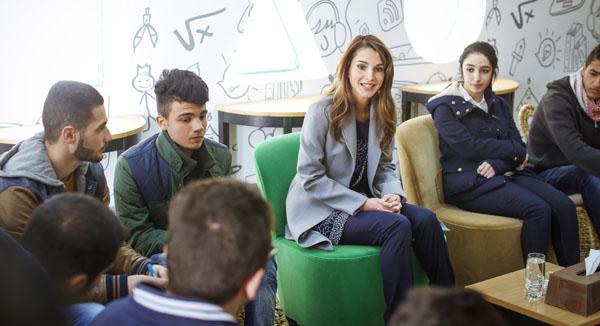 Feb 10,2015
Her Majesty Queen Rania on Tuesday visited the Jordan River Foundation's (JRF) Queen Rania Family and Child Centre (QRFCC), and toured the renovations and new facilities aimed at providing comprehensive services for child safety and protection.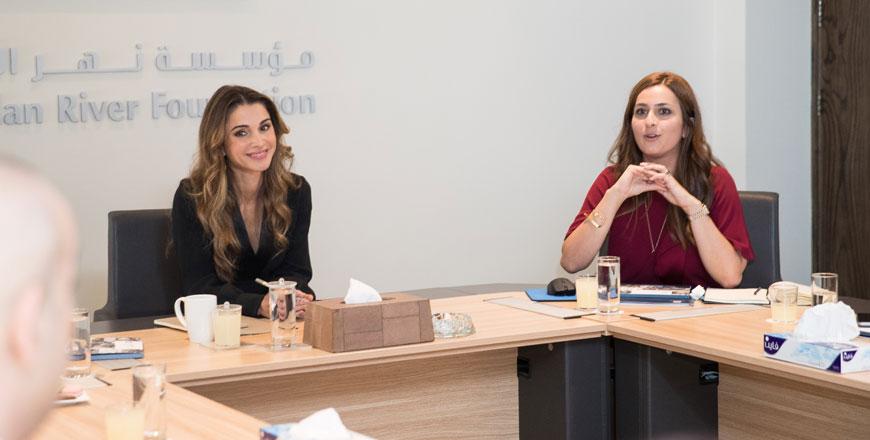 Aug 29,2016
AMMAN — Her Majesty Queen Rania chaired the Jordan River Foundation (JRF) Board of Trustees' annual meeting on Monday to discuss the foundat
Oct 10,2017
AMMAN — Her Majesty Queen Rania on Monday chaired the Jordan River Foundation (JRF) annual board meeting to discuss the foundation's recent
Newsletter
Get top stories and blog posts emailed to you each day.