You are here
Queen meets second cohort of QRTA Teacher Education Professional Diploma
By JT - Oct 12,2017 - Last updated at Oct 12,2017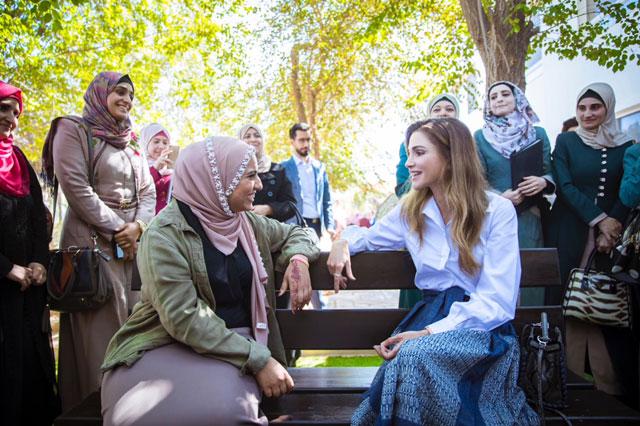 Her Majesty Queen Rania meets with members of the second cohort of the Teacher Education Professional Diploma at the Queen Rania Teacher Academy on Wednesday (Photo courtesy of Royal Court)
AMMAN — Her Majesty Queen Rania on Wednesday visited the Queen Rania Teacher Academy (QRTA), where she met members of the second cohort of the Teacher Education Professional Diploma (TEPD), who started their programme orientation on October 8.
The TEPD was established by QRTA to equip new teachers with necessary skills and to empower them to excel in the classroom based on the latest developments in teaching and education, according to a statement from Her Majesty's Office.
Launched with technical assistance from University College London's Institute of Education and accreditation from the University of Jordan, the diploma consists of 24 credit hours completed over nine months of study.
Queen Rania was received by QRTA CEO, Haif Banyan, who underscored QRTA's commitment to implementing a strategic five-year action plan in line with Her Majesty's vision. Banyan also informed the Queen that the number of TEPD students has grown from 179 in its first cohort, set to graduate next week, to 500 in the current cohort.
"QRTA aims to provide the Ministry of Education with qualified teachers, who are able to manage modern-day classrooms, in the main subject areas of Arabic language, English language, math and science," he said, adding that QRTA is working towards accepting 3,000 students into TEPD in the coming years.
Joining a number of the diploma students during their lunch break, Her Majesty chatted with the aspiring teachers about their expectations of the programme, and encouraged them to continue to develop their educational skills. In turn, the students expressed their eagerness to acquire the practical knowledge they will need to effectively pass information on to their students.
Over the past three months, QRTA received 2,730 applications to the TEPD, which were screened and evaluated in line with international best practices. Online applications received via the QRTA website were filtered in cooperation with the Civil Service Bureau according to preset criteria, which stated that all applicants must have achieved a bachelor's degree in Arabic language, English language, math, science, or a related field with a ranking of "Good" or higher.
Priority was given to applicants who attained a grade-point-average of 80 per cent or higher in high school. Applicants also sat for Arabic and English-language proficiency tests, with shortlisted candidates invited to conduct personal interviews with QRTA academic staff.
Those selected to join the TEPD were granted scholarships by the Jordanian government covering tuition fees as well as other expenses. In return, graduates of the TEPD are committed to teaching in public schools for a specific period of time, based on the Ministry of Education's regulations.
Initiated by Her Majesty, QRTA is an independent non-profit organisation committed to empowering educators with the skills, recognition, and support necessary to excel in their classrooms. Since its launch in 2009 in partnership with the Ministry of Education, QRTA has offered a variety of other training courses to 50,000 teachers across Jordan, in accordance with the educational needs of Jordan and the rest of the Arab World.
Related Articles
Oct 19,2016
AMMAN — Her Majesty Queen Rania on Wednesday launched the first pre-service professional diploma for new teachers, offered by the Queen Rani
Feb 12,2018
AMMAN — Her Majesty Queen Rania on Monday visited Al Ashrafieh Secondary School for Girls in Amman, where she met with teachers and principa
May 30,2016
AMMAN — Her Majesty Queen Rania on Sunday was briefed on preparations currently under way to launch the Queen Rania Teachers Academy's (QRTA
Newsletter
Get top stories and blog posts emailed to you each day.