You are here
Queen Rania joins Belgian queen on tour of Jordan River Foundation showroom
PM briefs Queen Mathilde on refugee burden, thanks Brussels for support
By JT - Oct 25,2016 - Last updated at Oct 25,2016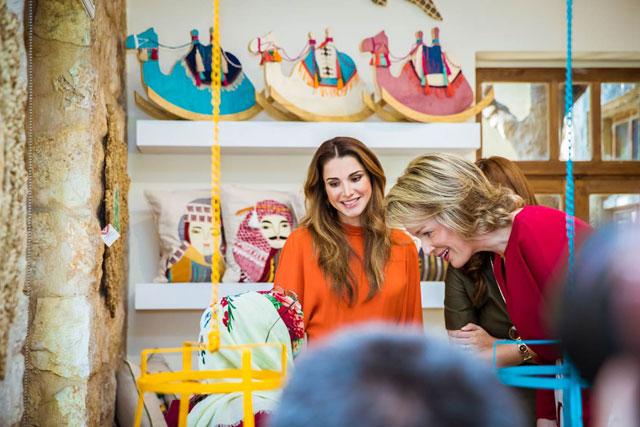 Her Majesty Queen Rania and Queen Mathilde of Belgium tour the Jordan River Foundation's showroom in Amman on Tuesday (Photo courtesy of Royal Court)
AMMAN — Her Majesty Queen Rania on Tuesday joined Queen Mathilde of Belgium on a tour of the Jordan River Foundation's (JRF) showroom in Amman.
Queen Mathilde's visit to Jordan follows a state visit by Their Majesties King Abdullah and Queen Rania to Belgium last May.
The showroom, which displays the foundation's modern designs, features intricate handicrafts handmade by women from local villages and underprivileged neighbourhoods in Amman, according to a statement from Queen Rania's office.
JRF Director General Enaam Barrishi showed Queen Rania and the Belgian queen around at the exhibition, starting with a comprehensive explanation of handmade techniques used by Halima Al Qaaydeh from the village of Bani Hamida in Madaba, 30km southwest of Amman.
Queen Rania and Queen Mathilde then went on to view the exhibition's new collection, featuring the Dahnoun Collection, which celebrates the poppy wildflower, or "Dahnoun" in Arabic.
The flower blossoms across Jordan in the early spring.
Queen Rania and Queen Mathilde also viewed the "City Heritage Collection", which combines the art of hand-stitched embroidery with photography using mixed media techniques, as well as the "Calligraphy Collection", which incorporates positive messages embroidered and printed on a variety of products, including home furnishings, glasses, notebooks, candles and wall hangings.
The exhibition also includes a small "Furniture Collection" of embroidery-covered tables and Wadi Al Rayan chandeliers, as well as the "Appliqué Collection", which showcases colourful artworks that turn leftover fabric into pieces representing elements of Jordanian culture.
The JRF is a Jordanian non-profit, non-governmental organisation established in 1995 and chaired by Queen Rania.
The foundation operates the Jordan River Child Safety and Jordan River Community Empowerment programmes, and aims to engage Jordanians to realise their full economic potential and overcome social challenges.
Since its establishment, JRF has launched numerous socio-economic projects for women, providing employment opportunities to enhance their livelihoods, while also focusing on programmes aimed at child protection.
Also on Tuesday, Prime Minister Hani Mulki met with the Belgian queen and commended Brussels' support for Jordan as it deals with the economic repercussions of the Syrian refugee crisis, the Jordan News Agency, Petra, reported.
The premier thanked Belgium for supporting the Kingdom through its EU membership.
Stressing that Jordan has the "honest intention" of continuing to offer basic services to Syrian refugees, Mulki said "the question is whether we have the capability to continue doing so in light of the economic challenges we are going through".
Queen Mathilde said she understands the burdens Jordan is shouldering, calling for offering it more support to continue its humanitarian role, Petra reported.
Speaking at the meeting, Belgian Deputy Prime Minister and Minister of Development Cooperation Alexander De Croo said there are many opportunities to expand cooperation with Jordan and attract investments.
Talks covered the upcoming Jordanian-European business forum, to be held in Brussels in December, where discussions will focus on investment opportunities.
Related Articles
Oct 03,2016
AMMAN — Her Majesty Queen Rania inaugurated the Jordan River Foundation's (JRF) 21st annual handicraft exhibition, titled "Dahnoun", at the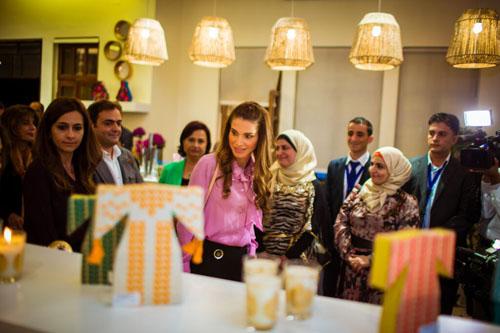 Oct 25,2015
AMMAN — Her Majesty Queen Rania on Sunday visited the Jordan River Foundation's (JRF) 20th Annual Handicrafts Exhibition titled "H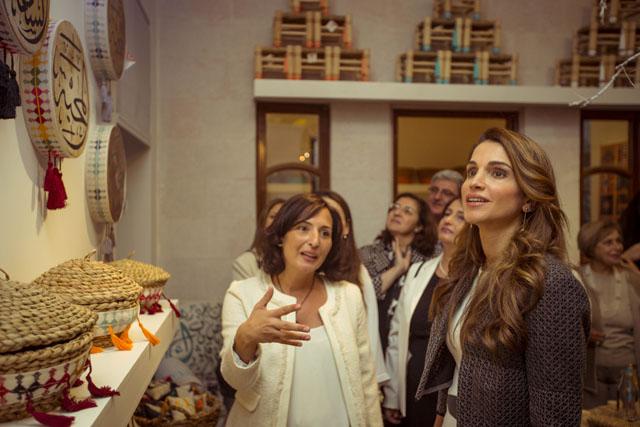 Oct 28,2014
Her Majesty Queen Rania on Tuesday visited the Jordan River Foundation's (JRF) 19th annual handicrafts exhibition titled "Musings of Traditional Jordan".
Newsletter
Get top stories and blog posts emailed to you each day.