You are here
Queen Rania Teacher Academy partners with UK university to train Jordanian teachers
By JT - Aug 16,2017 - Last updated at Aug 16,2017
Members of the Queen Rania Teacher Academy and the University of Bath pose for a group photo (Photo courtesy of QRTA)
AMMAN — The Queen Rania Teacher Academy (QRTA) has partnered with the University of Bath to launch a pilot programme aimed at improving the quality of teaching and learning in Jordan through providing Jordanian teachers with academic training, a QRTA statement said.
Building upon the idea that "teachers can shape the future of the world by impacting students learning journey", the partnership will help Jordanian teachers enhance their "educational qualities and standards", the statement added.
The University of Bath will provide 12 Jordanian teachers from public schools and Syrian refugees' host community schools with the opportunity to join the Postgraduate Certificate in Education Studies, a masters-level qualification.
The 18-month programme entails academic training by the British university, where participants will undergo two theoretical and practical modules on a part-time basis, according to the statement.
"The pilot implementation between QRTA and the University of Bath is one-of-its kind in Jordan and the region, and builds on QRTA's efforts … to develop teachers' capacity," Haif Banayan, CEO of QRTA was quoted in the statement as saying.
"We are very proud that QRTA continues to bring about new high-profile partnerships with distinguished universities and avail valuable learning opportunities for our Jordanian teachers," he added.
QRTA is an independent nonprofit organisation committed to the vision of Her Majesty Queen Rania of empowering educators with the skills, recognition, and support necessary to excel in their classrooms. QRTA was launched in 2009 under the patronage of Queen Rania and in partnership with Columbia University's Teachers College, Columbia University Middle East Research Centre, and the Jordanian Ministry of Education, according the statement.
Related Articles
Aug 13,2017
AMMAN — Queen Rania Teacher Academy (QRTA) has recently partnered with the British University of Bath to improve the quality of teaching and
Mar 05,2018
AMMAN — Her Majesty Queen Rania on Sunday attended the "Arabic Language Learning Standards for Native Speakers" document launch session at t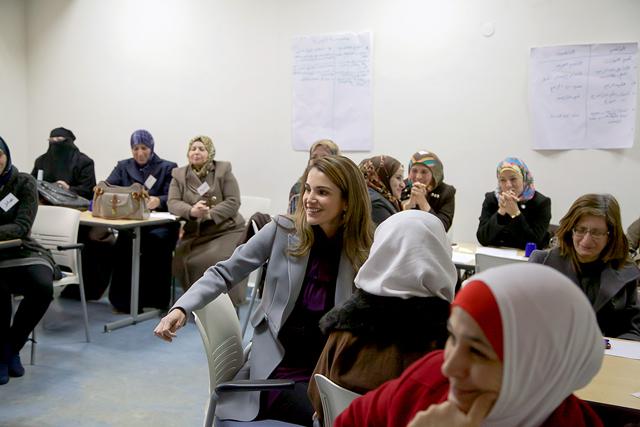 Jan 14,2014
In line with her belief in the importance of improving the quality of teachers' training, Her Majesty Queen Rania on Tuesday dropped in on one of the short training courses at the Queen Rania Teacher Academy (QRTA).
Newsletter
Get top stories and blog posts emailed to you each day.