You are here
Queen urges world to listen to refugees 'cast into unknown'
By JT - Jun 21,2016 - Last updated at Jun 21,2016
AMMAN — Her Majesty Queen Rania on Monday called on the global community to listen to refugees, on the occasion of World Refugee Day.
"The global refugee crisis has uprooted over 65 million people from their homes, and cast them into the unknown," the Queen wrote in a post on her Facebook page.
"This tragedy extends beyond numbers and beyond the imaginable, and can only truly be understood by listening to the stories refugees have carried across seas and borders," the Queen said.
Calling on the international community to unite its resources and fulfil its global responsibility, the Queen said the world's most vulnerable must be "heard, provided for, and empowered with the means to rebuild their lives".
Jordan currently hosts around 1.3 million Syrians, according to official figures.
World Refugee Day has been observed internationally on June 20 since a UN General Assembly resolution in December 2000.
Also on Monday, the International Rescue Committee (IRC) announced that Queen Rania has joined its board of directors.
One of the longest-standing and largest NGOs based in New York City, the IRC provides humanitarian aid in 40 countries and resettles refugees to 29 US cities, according to a statement from Her Majesty's office.
"We are truly honoured that Queen Rania has agreed to join IRC's distinguished and active board of directors," said David Miliband, IRC president and CEO.
"She has an extraordinary passion for making a difference on behalf of the most vulnerable, and will bring a distinctive experience and viewpoint to IRC's board, especially on the increasingly vital issue of education for refugees and other displaced people," the statement quoted Miliband as saying.
The IRC responds to the world's worst humanitarian crises, helping to restore health, safety, education, economic well-being, and power to people devastated by conflict and disaster.
Founded in 1933 at the call of Albert Einstein, the IRC helps people to survive, reclaim control of their futures and strengthen communities, the statement said.
Commenting on her new involvement with the IRC, Her Majesty said that with the unprecedented refugee crisis today: "I cannot be more proud about joining the IRC board of directors, and upholding their work in alleviating global displacement, poverty, and suffering."
"The IRC responds to the world's worst humanitarian crises, giving hope to millions of lives that have been destroyed by conflict and disaster. It is an honour to support their mission to ensure that the world's most vulnerable are treated with the humanity they deserve."
Her Majesty is an internationally known advocate committed to improving the lives of women and children displaced by conflict and natural disaster.
Queen Rania has been a staunch advocate for refugees, and recently travelled to the Greek island of Lesbos where she met with several of them.
During the visit, she called for a collective global response to the growing refugee crisis, noting that its impact is too great for any single country or region to cope with.
Queen Rania received the invitation to join the IRC's board of directors following a visit to the organisation's operations at the Cara Tepe refugee camp in Lesbos.
Passionate about education, Queen Rania believes that every child should have access to quality education around the world, the statement said.
In 2009, Her Majesty championed the 1 Goal campaign for education. She is a board member of the United Nations Foundation, and is UNCIEF's first eminent advocate for children.
She is also the honorary chair of the UN Girl's Education Initiatives and has advocated access to education in forums and gatherings around the world, according to the statement.
Related Articles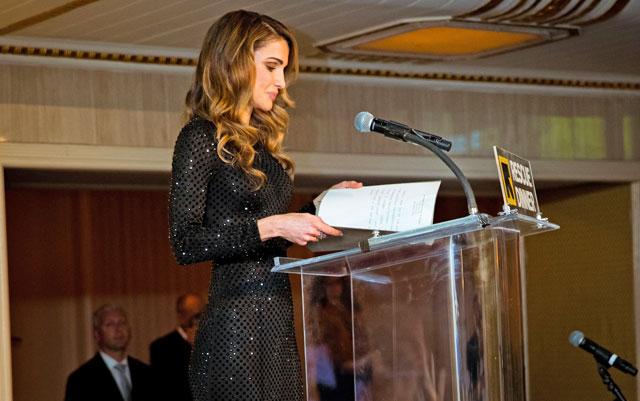 Nov 03,2016
AMMAN — Her Majesty Queen Rania has urged humanitarian workers to think "in bold and innovative ways" in order to instil new hope and dignit
Aug 30,2016
AMMAN – Her Majesty Queen Rania marks her birthday on Wednesday, culminating another year of tireless dedication alongside His Majesty King
Apr 25,2016
AMMAN — Her Majesty Queen Rania on Monday called for a collective global response to the growing refugee crisis, explaining that its impact
Newsletter
Get top stories and blog posts emailed to you each day.