You are here
Queen visits Ajloun's Al Kifah Cooperative Society initiatives
By JT - Aug 26,2018 - Last updated at Aug 26,2018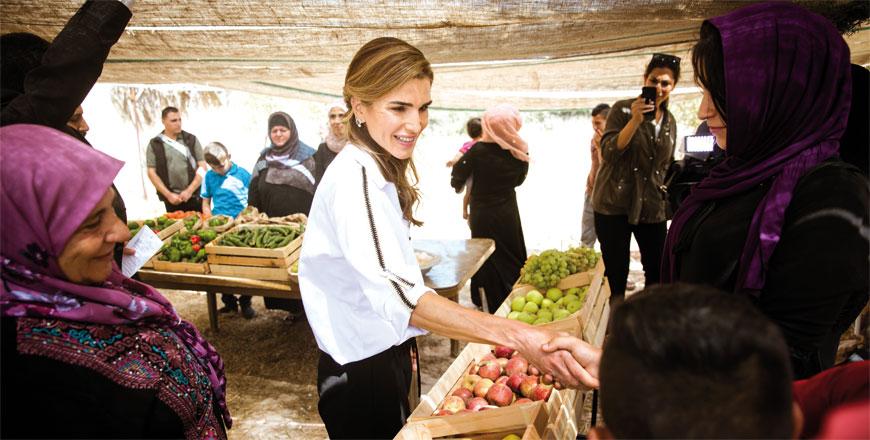 Her Majesty Queen Rania visits projects carried out by Al Kifah Cooperative Society in Ajloun on Sunday (Photos courtesy of Royal Court)
AMMAN — Her Majesty Queen Rania on Sunday visited projects carried out by Al Kifah Cooperative Society in Ajloun and met with its women beneficiaries to learn about their efforts in organic and sustainable agriculture, a statement by Her Majesty's Office said.
Welcomed by the society's president, Nusaybah Al Momani, Her Majesty stopped by the society's coffee shop, Summaga Café, where she took a look at the food preparation process.
At the café, Queen Rania met with the society's beneficiaries and lauded their holistic vision on organic agriculture and the high quality of the society's produce.
The society currently sells its products at Souq Al Shams Farmers' Market in Amman, and uses produce to prepare dishes at Summaga Café. It also relies on the Wild Jordan Centre in Amman to regularly market its products, the statement said.
Commenting on the challenges of promoting organic produce in Jordan, Her Majesty highlighted the society's successful promotion efforts, and encouraged beneficiaries to share stories about how they leveraged the farmers' market and the café to market their work.
Currently, the society has 45 active paying members, 95 per cent of whom are women. It also ensures the provision of life and professional skills training to guarantee the sustainability and growth of its ongoing projects.
After the meeting, Her Majesty toured a model micro farm run by the society, and viewed a sample of the produce sold at the Souq Al Shams Farmers' Market, which was established through support from the Royal Society for the Conservation of Nature and Invest Bank.
Established in 2004 by a group of local women from Ajloun, Al Kifah Cooperative Society aims to grow and improve organic farming in Ajloun to provide its people with safe and affordable food options. With a focus on spreading awareness about organic agriculture and encouraging the local community to preserve the area's natural resources, the society has established a number of initiatives that also contribute to job creation and curbing poverty and unemployment, the statement read.
Other society objectives include promoting Ajloun as a tourist destination by creating touristic projects and financially empowering women through income-generating projects.
Among the eight projects run by the society, the major agricultural initiative is Al Yasmin Agro Cluster, which began in 2006 as a project in planting and growing medicinal herbs, expanding in 2010 to a full-fledged organic plantation consisting of 25 small and micro farms.
The initiative aims to raise awareness about organic farming, increase the variety of available organic produce, reduce production costs by buying farming material in bulk, guarantee the adherence of society members to organic farming procedures, and provide owners of small and unused land with the opportunity to become society members.
Newsletter
Get top stories and blog posts emailed to you each day.