You are here
Queen visits German Jordanian University
By JT - May 08,2016 - Last updated at May 09,2016
Her Majesty Queen Rania visits the German Jordanian University's campus in Madaba, some 30km southwest of Amman, on Sunday (Photo courtesy of Royal Court)
AMMAN — Her Majesty Queen Rania on Sunday visited the German Jordanian University's (GJU) Madaba campus to support its teaching initiatives, especially its collaboration with Edraak, the first digital platform for educational content in the Arab world.
The partnership is the product of a memorandum of understanding signed between the Ministry of Higher Education, the GJU, and the Queen Rania Foundation last year to develop an online national education course for GJU students that focuses on strengthening their understanding of national identity in an intercultural context.
During the visit, Her Majesty met with the Dean of Graduate Studies and Scientific Research, Salem Al Aqtash, and a number of students who completed Edraak's online course, as well as lecturers who supervised the development of the course, a statement from the Queen's office said.
They discussed the benefits of the course and its potential to improve the accessibility of students at the university and in the Arab world to special content.
The online course was developed in accordance with the educational standards set by the ministry.
Its format consists of short video lectures followed by assignments specifically designed to ensure that students understand and build on the lecture material, the statement said.
Students are either graded automatically by the web service, or by other students, which has allowed professors to teach several thousand students at the same time in a personalised manner.
Accompanied by the Chairman of the GJU, Othman Bdeir, GJU President Natheer Abu Obeid and GJU Vice President Anton Mangstl, Queen Rania also visited an exhibition showcasing projects by students in the robotics club.
Applied Technical sciences lecturer Natheer Al Mtireen briefed Her Majesty on the club's projects and how they are developed to assist local technologies. The exhibition included an upper limb exoskeleton suit, Bluetooth controlled cars and smart karts.
Moreover, Her Majesty toured the water and renewable energy labs, and listened to the faculty describe the facilities' input within the local renewable energy sector.
She also dropped by a German language class that focuses on interactive dialogue as a way to advance applied language skills.
The GJU was founded in 2005 by a Royal Decree, in accordance with an agreement reached by the Ministry of Higher Education and Germany's federal ministry of education and research.
It follows the German Fachhochschul-Modell (universities of applied sciences) in its approach to teaching, which focuses on applying knowledge into practice and promoting its transfer.
Related Articles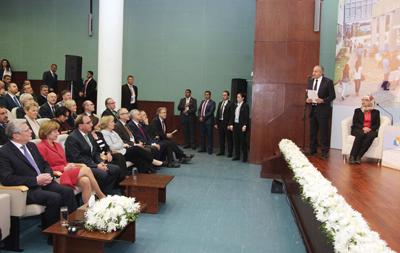 Dec 07,2015
AMMAN — President of the Federal Republic of Germany Joachim Gauck on Monday paid a visit to the German-Jordanian University (GJU) and met w
Feb 15,2017
AMMAN — The Hashemite University and the massive open online course platform Edraak on Wednesday agreed to continue cooperation, after the s
Jun 03,2015
AMMAN — Christian Wulff, former president of Germany, visited the German-Jordanian University (GJU) campus on Tuesday, according to a GJU st
Newsletter
Get top stories and blog posts emailed to you each day.