You are here
Rain brings back hope for worried farmers
By Hana Namrouqa - Nov 21,2017 - Last updated at Nov 21,2017
A relatively cold air mass started affecting the country early on Tuesday, according to the Jordan Meteorological Department (Photo by Osama Aqarbeh)
AMMAN — Rain on Tuesday ended a state of looming drought, dispelling farmers' fears of a low production season, according to officials.
Water and agriculture officials said that a relatively cold air mass, which started affecting the country early on Tuesday, ended the rain shortage that prompted Jordanians last week to perform the Istiskaa prayer, a special Muslim prayer for rain.
The Istiskaa prayer is a ritual practiced since the time of Prophet Mohammad and is held in times of lack of rain.
Tuesday's rain raised the hopes of farmers for a good agricultural season, especially for those growing wheat and barley, as they sowed their lands earlier this month and were anticipating rain, Ministry of Agriculture Spokesperson Nimer Haddadin said.
"The rain is also good news for olive farmers, in particular those who waited for November's rain to wash olive fruits from dust for higher quality of olive oil," Haddadin told The Jordan Times.
He noted that certain types of wild plants at natural pastures only grow when it rains in November, highlighting that such plants form the basis for livestock fodder.
"In general, the rain will also help make the ploughing of lands easier," he stated.
Meteorologists said that, while rainfall this season came late, it is not the first time the Kingdom suffers from rain shortage, as Jordan received delayed rain in 1999 and 2010.
A meteorologist at the Jordan Meteorological Department (JMD) indicated that, even though rain started late this year, the rainy season is still at its onset and weather charts show that rain levels will stand around the annual average.
"It is too early to judge whether this year the rainy season will be weak or precipitation will be below average," the weather forecaster, who preferred to remain unnamed, told The Jordan Times.
Jordan usually receives its first rainfall in mid-September or early October, while the wet season usually continues until February, according to the JMD.
Although the country has been witnessing consistent rain since Tuesday morning, the country's major dams didn't receive much additional storage, according to the Ministry of Water and Irrigation.
"Not much rainwater is expected to reach the dams because the earth has been dry for a while and is expected to absorb much of the rainwater. In addition, run-off usually takes up to 48 hours before it reaches the dams," ministry's spokesperson Omar Salameh said.
Related Articles
Oct 11,2014
The Kingdom will remain this week under the impact of unstable weather conditions, which will bring scattered showers and thunderstorms, the Jordan Meteorological Department (JMD) said on Saturday.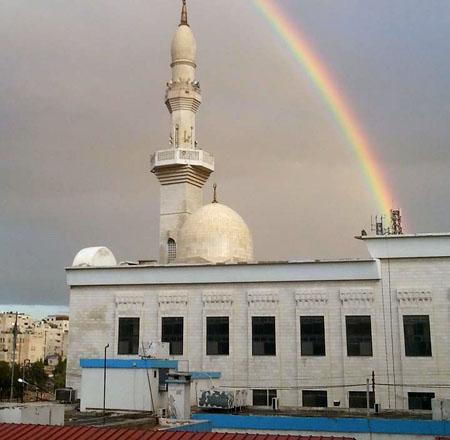 Nov 01,2014
For Khalifa Ziadat, the rainfall Jordan received over the past two days will encourage him to start planting wheat on his land.
Feb 11,2014
The Kingdom is facing a drought threat which will have a negative impact on water storage and crops if it persists, officials warned on Tuesday.
Newsletter
Get top stories and blog posts emailed to you each day.