You are here
'Red tape needs to be tackled to improve business, tourist environment'
By Dana Al Emam - Jul 29,2017 - Last updated at Jul 29,2017
AMMAN — Recent measures taken by the Jordan Investment Commission (JIC) to cut red tape are designed to make it easier to do business and improve the overall investment environment in the Kingdom, a government official said on Saturday.
Muhannad Shehadeh, minister of state for investment affairs and JIC chief, said the commission recently reviewed the structure of its four directorates and reduced the number of committees from 26 to 13, in a bid to eliminate "unnecessary delays".
The "excessive" number of committees contributes to heavy bureaucracy and delays in work, he explained, adding that further cuts will take place in the near future.
The JIC, which offers a total of 99 business procedures, will cut down the number of procedures by half over the upcoming two months, crossing out many "unnecessary" ones, he added at a lecture carried out by the Jordan Transparency Association.
The minister noted that some measures, like issuing an investor card, currently require five different signatures, while the conditions for obtaining the card are clearly stated in the Investment Law.
In order to save the investors' time and energy, the JIC will activate its electronic connections with various governmental bodies which can help in providing needed data.
These measures will enhance Jordan's performance in international indexes, which evaluate the investment environment, particularly in indicators addressing the ease of doing business, Shahadeh said.
Commenting on Jordan's performance in international indexes, he argued that the Kingdom's safety is a major asset, yet more work is needed to address issues related to issuing licences and accessing finance, as well as enhancing the ease of doing business.
Shahadeh underlined that Jordan does not only offer domestic investment opportunities, but is also a "hub for regional investment projects", mainly when it comes to the reconstruction of war-torn countries in the region.
Also, he said that Jordan's trade agreements allow investors access to markets of nearly 1 billion consumers.
He noted that the JIC is currently working with partners to introduce a cross-country investment map that suggests competitive developmental and productive investment opportunities in all governorates.
The value of each of these projects ranges from JD50,000 to JD19 million, he said.
Representing the industrial sector, Maher Mahrouq, director of the Jordan Chamber of Industry, agreed that less red tape will encourage further investments, adding that the industrial sector receives 86 per cent of direct foreign investments and comprises 90 per cent of Jordan's exports.
He attributed these figures to a number of factors, including the sector's "interconnectedness" with other sectors, its added value and the governmental incentives given to the sector.
Meanwhile, Mahrouq cited "unstable legislation", "high taxations", "inefficient infrastructure", "poor access" to finance and governmental bureaucracy as the major challenges facing investors.
The sector insider called on for the "engineering" of procedures and governmental requirements from investors in order to enhance efficiency.
Speaking on behalf of the hotel sector, Jordan Hotel Association Chairman Michael Nazzal said the local market needs to secure some 2 million job opportunities over the coming 10 years, noting that the tourism sector "has what it takes" to provide a decent number of job opportunities.
He added that the average stay of some 3 million tourists visiting the Kingdom annually is two nights, noting that local hotels can receive up to 18 million visitors per night, per year.
Realising this potential can be achieved by increasing the number of visitors, based on expensive marketing campaigns and increasing the duration of visitors' stay, he noted.
The latter, Nazzal said, can be done through further investments in entertainment facilities and services across all archaeological and touristic sites.
Related Articles
Jul 29,2017
AMMAN — Minister of State for Investment Affairs Muhannad Shehadeh on Saturday announced that an investment map for governorates will be lau
Jan 17,2017
AMMAN — Secretary General of the Jordan Investment Commission (JIC), Mikhled Omari, on Tuesday briefed Imad Faqid, vice president of t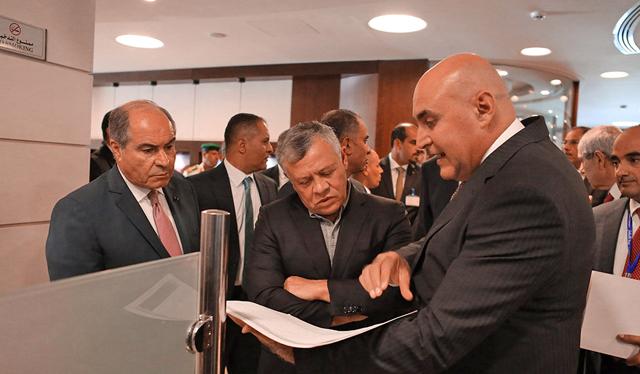 Sep 05,2017
AMMAN — His Majesty King Abdullah on Tuesday visited the Jordan Investment Commission (JIC) and checked on the steps recently adopted by the
Newsletter
Get top stories and blog posts emailed to you each day.