You are here
Regional young leaders convene in Amman for capacity building event
Over 400 organisations represented as part of EU-funded Civil Society Facility South seminar
By Camille Dupire - Sep 02,2018 - Last updated at Sep 02,2018
AMMAN — A group of 85 regional youth and Civil Society Organisations (CSOs) representatives convened in the capital on Sunday where they began attending a 10-day regional meeting aimed at exchanging expertise and developing their capacities as local change makers.
Organised by the Civil Society Facility South (CSF South) and funded by the European Union, the regional seminar brings together different batches of the CSF South Dialogue Fellowship programmes from various south Mediterranean countries between September 2 and 11, according to CSF South Regional Team Leader Ahmed Al Damrawy.
"The southern Mediterranean region is in ongoing conflicts, youth are perceived as victims vulnerable to recruitment into violent extremist organisations. In reality, the youth of today can be innovative and positive change makers," he told The Jordan Times on Sunday, stressing: "With proper guidance and active participation, youth can actively contribute towards sustainable and resilient communities, democratic processes, good governance and can prevent violent extremism."
Over 85 CSF South dialogue fellows and youth leaders representing more than 400 CSOs from Jordan, Algeria, Egypt, Morocco, Palestine and Lebanon, among other regional countries, are partaking in the event, Al Damrawy noted, highlighting the importance of building capacities, solidarity and networks between youth fellows, their civil movements and partner CSOs in the region.
Launched as part of the CSF regional facility, the CSF South fellowship programme aims at involving youth into policy making and dialogue in the Southern Mediterranean region, according to a statement sent to The Jordan Times.
"By supporting youth networks to share experience, provide mutual support and implement local innovative projects, the fellowship programme goes even beyond the training rooms to virtually accompany selected national and regional fellows," the statement read, noting that "it helps in assisting youth in carrying out and leading initiatives that can shape and address political concerns, generate regional interactions, share knowledge and contribute to a better governance in their countries and the region".
Backed with interactive and innovation learning opportunities, the participating CSOs and youth will be introduced to advanced skills on social entrepreneurship, economic empowerment, youth participation in local democracy, decentralisation, community mobilisation and good governance, according to Al Damrawy, who noted that the young leaders will also be acquainted with post municipal and local council elections processes and ways through which CSOs can collaborate with local authorities to enhance open government's values of transparency, accountability and public participation.
"The CSF South seminar will constitute a regional dialogue among the region's young people, aiming to result with the Youth Action Agenda, a direction of priorities and actions to be led by the youth and their networks across the region with the support of the CSF South," the team leader explained, highlighting "such an agenda shall also introduce doable solutions and articulate youth views and recommendations to national and regional concerns, and highlight regional opportunities for collaborations among the different Fellowship youth and CSOs networks".
"Through this event, we aim to further empower the emerging youth leaders by providing them with additional needed skills and guiding them through structured learning and practical working sessions while finishing their respective projects," Al Damrawy continued, underscoring the opportunity provided to meet for "learning, networking and joining different collaborations based on various issues of interest".
"Creating socioeconomic opportunities for empowering youth amidst regional turmoil is essential in the region nowadays," the team leader concluded, voicing his happiness to see "one of the biggest youth and CSOs dialogue seminars" happening in the Jordanian capital.
Related Articles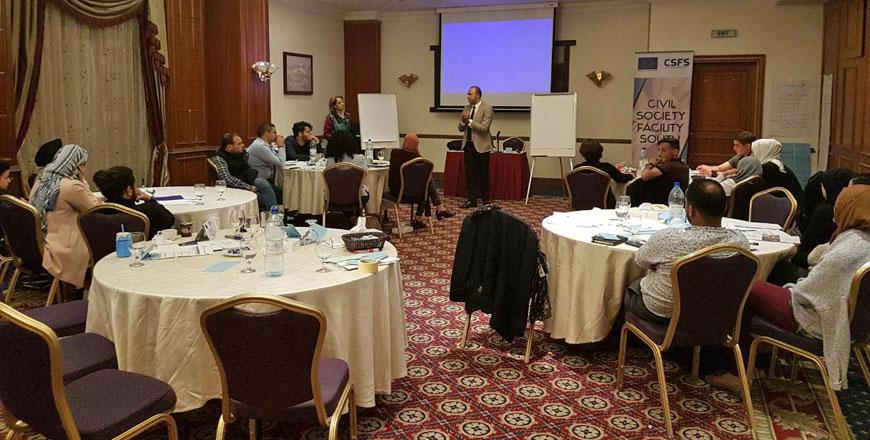 Apr 28,2018
AMMAN — A group of young entrepreneurs from ten Arab countries on Saturday convened in Amman to take part in a six-day regional workshop on
Apr 01,2017
AMMAN — The Civil Society Facility (CSF) South Project, funded by the EU, is organising a three-day communication skills training workshop a
Nov 02,2017
AMMAN — As part of its efforts to support young social entrepreneurs in Jordan, BADIR, an initiative by the International Youth Foundation (
Newsletter
Get top stories and blog posts emailed to you each day.