You are here
Religious leaders explore link between faith, development, humanitarian work
By Ana V. Ibáñez Prieto - Mar 21,2018 - Last updated at Mar 23,2018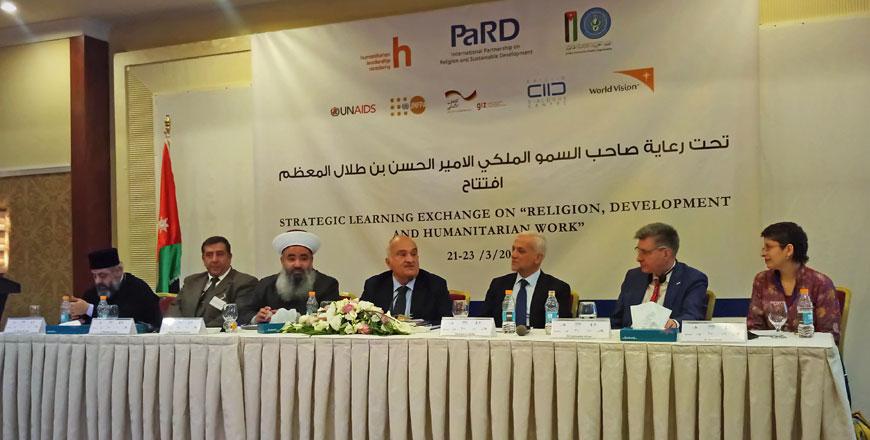 Prince Hassan, Grand Mufti Mohammad Khalayleh, Bishop Elias Toume, KAICIID Senior Adviser Mohamed Abu Nimer, German Deputy Ambassador Ralf Schröer speak at the inauguration event in Amman on Wednesday (Photo by Ana V. Ibáñez Prieto)
AMMAN — HRH Prince Hassan on Wednesday inaugurated the strategic learning exchange (SLE) "Engaging with Faith Organisations and Communities for Sustainable Development", where dozens of religious leaders across the region gathered to discuss the links between faith, development and humanitarian work.
During his inaugural speech, Prince Hassan stated: "Faith implies a common denominator based in the values of those who believe in human dignity," adding that "humanitarian assistance should go beyond human rights, and human dignity must remain at the core".
In this regard, the prince stressed the need for a dialogue aimed at "building understanding among institutions", calling for "a regional policy based on the acceptance of our differences and the promotion of dignity of the identity no matter where we come from".
In a video played during the inauguration ceremony, UNFPA Executive Director Natalia Kanem thanked Prince Hassan and all partners for their efforts and collaboration, noting that "by working together, we can build a humanitarian faith-based engagement".
German Deputy Ambassador Ralf Schröer noted that "religious values influence the thoughts and behaviours of everyone, and they are one of the most important components of the civil society."
In this regard, Dar Al Ifta Grand Mufti Mohammad Khalayleh pointed out that "civil society is in a way confronted by religion as if they were opposed concepts but, if we pay attention to history, we will realise that civil society and religion are not separated", adding that "the greatness of Prophet Mohammad relies on his compassion and his ethics".
Syrian Bishop Elias Toume continued: "The Bible teaches us that faith has to be proven with actions rather than just beliefs. It is the church's obligation and devotion to provide relief for the needy."
The first session of the SLE focused on the added value of religion, faith-based organisations and religious communities, and the specific challenges posed by inter-linkages between faith and humanitarian work.
A member of the audience raised the question of the links between religion and terrorism, to which the Prince responded "Islam does not call for extremism, but they look at us as terrorists. What we are fighting against are the symbols of so-called Islamic terror, and we should use history as a prologue for a better future."
The SLE is set to continue through Friday, with sessions on the intersections between faith and humanitarian work, and the actions that the UN and the government shall take to improve the partnership with a range of faith based actors when undertaking development and humanitarian work.
The meeting was held by the United Nations in cooperation with the Jordan Hashemite Charity Organisation in partnership with the Humanitarian leadership academy and the Internstional Partnership on Religion and Sustainable Development.
Related Articles
May 30,2018
AMMAN — Tourism Minister Lina Annab on Tuesday said that promoting faith-based tourism has become a priority as Jordan has several unique hi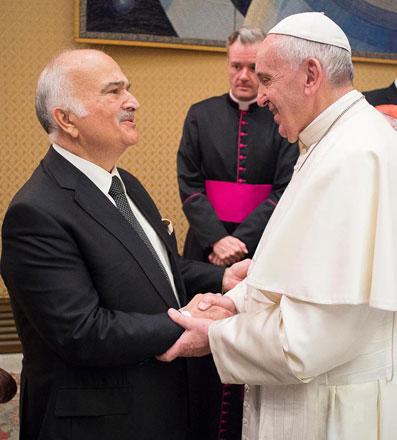 May 08,2016
AMMAN — Human dignity must be the highest priority above all else, HRH Prince Hassan, the chairman of the Royal Institute for Inter-Faith St
Dec 07,2014
HRH Prince Hassan has called for encouraging interfaith dialogue as a way to celebrate religious diversity and culture, and focus on similarities rather than differences. 
Newsletter
Get top stories and blog posts emailed to you each day.