You are here
Residents express their 'love for Jerash camp' through renovation projects
By Camille Dupire - Oct 01,2017 - Last updated at Oct 01,2017

'One Love' team renovates an abandoned building into a community centre in Jerash camp (Photo courtesy of One Love)
AMMAN — "We are a grassroots group of volunteers from different nationalities, religions, and backgrounds working towards One Love: Gaza Camp," said Hiba Khoury, a Palestinian-Jordanian who established the non-profit organisation "One Love" with three other friends.
Khoury, whose grandfather was one of the founders of the Palestinian Liberation Organisation, started the initiative along with Meira Yasin, Basheer Abusirdaneh, Khaled Al Shakaa, who all drew on their long family histories of support to the Palestinian cause.
The team started off with a small-scale winter aid campaign to help refugees in Jerash camp cope with the harsh weather conditions.
A social media campaign later, word of mouth had spread and more volunteers joined the team, Khoury recalled, noting that this helped secure funds for further activities, including the maintenance of the roofs of houses at the camp.
According to UNRWA, Jerash camp is the poorest among the 10 Palestine refugee camps in Jordan, with 52.7 per cent of the refugees having an income below the national poverty line of JD814.
Because children in the camp are from very underprivileged families who cannot afford to access schools outside the camp, it is crucial that they get a decent educational environment within the camp, Khoury told The Jordan Times in a recent interview. If they are deprived from a good quality education, it will diminish even further the scarce opportunities they have as refugees, she stressed.
In three years, "One Love" has grown to include the renovation of a kindergarden centre, the provision of scholarships for students to continue their higher education, as well the establishment of a community centre which started in January this year.
"The community centre is a central initiative for the camp. We want it to offer another type of education, being a platform for art, music, reading, and creativity for the kids and youth," Khoury explained, highlighting the importance of keeping faith in the beauty of arts in tough circumstances.
"When you first go to Jerash camp, you come with the idea that you want to help these people. But with time, you realise how much they have to teach you," she continued.
She recalled: "As a Palestinian, I have always wanted to know how to dance dabkeh and I learnt it from the first time with these children!"
Stressing the "many incredible talents" found in the camp, she deplored the lack of resources to help sharpen them, noting that schools cannot offer extra-curricular activities due to overcrowding.
Established in 1968 for 11,500 Palestinian refugees, the camp now hosts over 29,000 people, according to the latest UNRWA figures.
"It has been shown that children who have safe places to play and do creative activities to fill their time are healthier, have a better overall mental health, and are more likely to stay out of trouble," Khoury underlined.
Last summer, the "One Love" team worked to renovate the camp's kindergarden, which was in ill repair. They revamped the bathrooms and kitchen area, planted a garden, set up a playground and enhanced the building's security to avoid donations being stolen by vandals.
"We collected some JD30,000 for that project, all of which was provided on a personal basis," she explained, noting that, with the multiplication of NGOs claiming to help refugees in Jordan, people have grown suspicious of the use being made of their donations.
"For every donation, we provide a detailed invoice stamped by the places where we purchased any material for the projects. This way, we build trust between us and the donors," she stressed.
Started in Jerash camp, the beautification projects have now expanded to several other areas in the Kingdom. However, since "One Love" is fully funded by donations that come mostly from the team's family and friends, the advancement of their projects is entirely dependent on people's generosity.
"We started this initiative because we have a responsibility towards Palestinian people, to brighten their future despite the current circumstances," Khoury concluded, noting that "education is at the core of our initiative, much more than food packages. We teach these kids that, if you study and have a good degree, you will never have to suffer through the lack of food".
Related Articles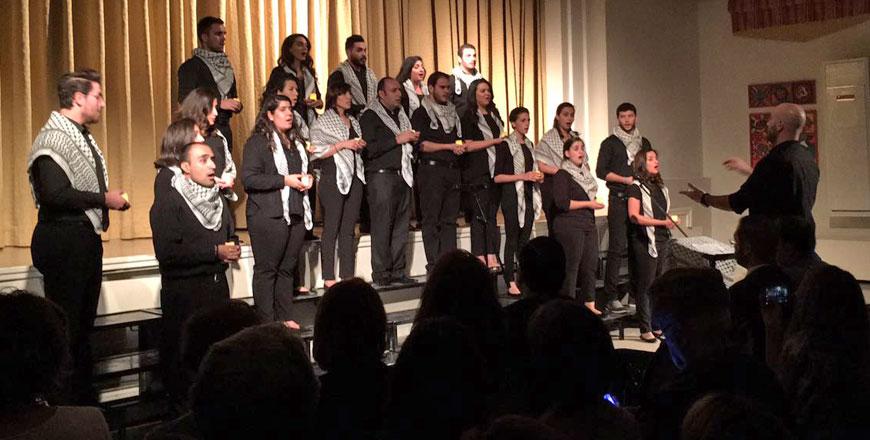 Nov 06,2016
AMMAN — A local campaign led by volunteers is planning to open an art centre at the Jerash Refugee Camp for Palestinians after collecting JD
Aug 09,2014
Children's smiles were much in evidence at the Gaza Refugee Camp on Saturday.
Jul 31,2017
AMMAN — Palestinian nurse Fatimah Awwad came up with the idea of initiating a free medical campaign targeting Syrian and Palestinian refugee
Newsletter
Get top stories and blog posts emailed to you each day.