You are here
Restaurants of all types and shapes 'good business', thanks to change in lifestyles, refugee influx
By Omar Obeidat - Sep 11,2014 - Last updated at Sep 11,2014
AMMAN — As Jordanian consumers are spending more on eating out, hundreds of restaurants are opening every year.
A sector leader said that 750 restaurants have opened in the Kingdom since the beginning of this year, a number he described as "large" but necessary to meet the shift in the way Jordanians spend their meal ticket.
The restaurants range between upscale dining outlets and small- to medium-sized eateries.
According to Raed Hamada, president of the Jordan Association for Restaurants and Sweets Shops Owners, the lifestyle of Jordanian families has changed in the past few years and they spend more money on meals served at restaurants or takeaways.
According to Hamada's calculations, based on the syndicate's estimates, Jordanians spend over JD1 billion a year at restaurants, or nearly JD90 million per month.
The average Jordanian household spends JD1 per day on meals from restaurants, Hamada said, adding that official figures estimate around three million households in the Kingdom.
He noted that demand on restaurants and sweets shops peaks during the summer season due to the influx of Arab tourists and the return of expatriates.
Amman resident Mohammad Arandas told The Jordan Times that he and his family members go to a seated, upscale restaurant once a month.
"But the kids usually buy meals from fast food chains once a week," said Arandas, a father of three.
The practice of eating outside or ordering food for delivery has increased in the past years because of changing family lifestyle and the rising number of working women, said Hamada, who has been in the industry for decades.
No more cooking at home for big occasions
Jordanians are known for arranging large banquets on occasions such as weddings or funerals as well as for family gatherings.
"The majority of people no longer cook at home on such occasions or for their guests because they believe that ordering from restaurants is much convenient or even less costly," Hamada told The Jordan Times over the phone on Thursday.
Jordanian women nowadays cannot handle cooking for large gatherings, he explained.
Mansaf (a traditional Jordanian dish) is usually the choice of hosts.
To meet the rising demand for food deliveries for major social events, he said that hundreds of home-based food businesses have opened in Jordan over the past few years.
"Many families use their own kitchens as restaurants and offer catering services," the industry leader said.
"You can provide them with the meat and rice and they cook for you," he added.
This trend (resorting to caterers) is not only popular among city residents but is even increasing in villages, according to Hamada.
'Food businesses
less risky'
Samer Jarrar said he always wanted to set up his own business and decided that opening an eatery would be a good choice.
Early 2014, he became the owner of a restaurant on Al Madina Al Munawara Street, serving traditional Jordanian food.
Jarrar agreed with Hamada that spending on food in Jordan is going up, adding that all restaurants, mainly in Amman, "are doing well".
"Now we have dozens of regular customers," he said.
Mohammad Qreini, manager of a fast food shop on the same street, said the takeaway shop is the second outlet for a brand based in Sweifieh in west Amman.
"Al Madina Street is the destination of diners, particularly during late hours," he said, adding that the branch was inaugurated less than two months ago.
Syrians in Jordan
Official figures estimate the number of Syrians who reside in Jordan at more than 1.5 million.
According to Hamada, the Syrian influx has increased demand for ready meals and also contributed to the increasing number of recently opened restaurants.
Out of the 750 restaurants opened this year, he said that around 65 per cent of them were started by Syrian businesspeople.
The majority of these eateries were in the northern part of the Kingdom as it hosts the greatest number of Syrians, he added.
Ammar, a Syrian who works at a small restaurant on Wasfi Al Tal Street owned by a compatriot, said that the restaurant offers authentic Syrian food, remarking that people in Jordan are fans of Syrian cuisine. He noted that several restaurants which used to be popular in Damascus opened branches in Amman and other cities in Jordan after the Syrian crisis broke out more than three years ago.
Hamada said the quality of food and the level of services at restaurants in Jordan has developed sharply over the past few years, a fact he said enabled the industry to gain the confidence of consumers.
The number of restaurants, sweets shops and cafés in the Kingdom currently stands at nearly 15,000, around 1,200 of which are sweets shops, according to figures provided by the syndicate.
Related Articles
Jul 22,2014
Jordanians usually buy over 200,000 kilogrammes of sweets, mainly knafah, during the five hours that follow the announcement of Tawjihi results, a sector leader said Tuesday.
Nov 02,2014
Parliament is expected to discuss a new law in its ordinary session that imposes stricter financial and legal penalties on restaurants and food outlets that violate the law, according to an official.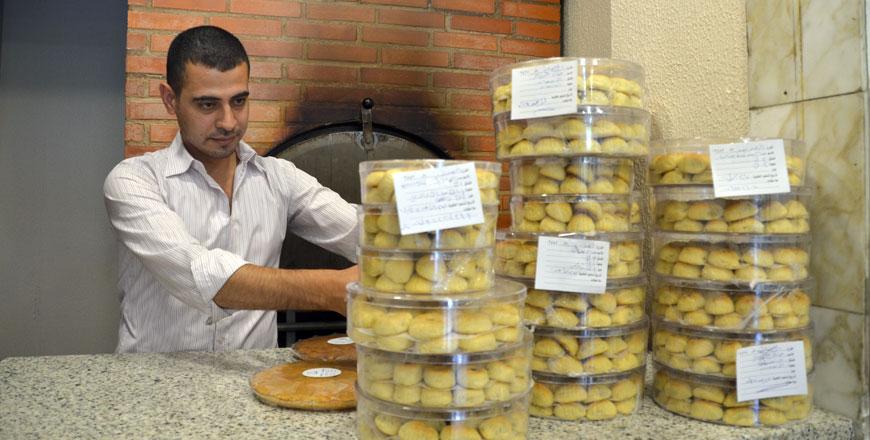 Jul 15,2015
AMMAN — Jordanians and guests are expected to spend up to JD4 million on sweets during Eid Al Fitr holiday, including some JD1.7 million on
Newsletter
Get top stories and blog posts emailed to you each day.