You are here
RJ among world's top 10 safest airlines; King tweets congrats
By JT - Jan 11,2014 - Last updated at Jan 11,2014
AMMAN — Royal Jordanian (RJ) was named one of the top 10 safest airlines in the world in 2013 by AirlineRatings.com.
According to an article that was published on the CNN news network website on Friday, the Jordanian national carrier shared the seven-star rating and won a place among the top 10 safest airlines next to a number of giant international and Arab airlines including Air New Zealand, All Nippon Airways, Cathay Pacific Airways, Emirates, Etihad Airways, Eva Air, Singapore Airlines, Virgin Atlantic.
The first ranked was the Australian airline Qantas.
The article stated that out of the 448 airlines surveyed by AirlineRatings.com, 137 have a top seven-star rating, which makes it often difficult to distinguish the largest and most reliable carriers apart from a safety point of view.
Through a team of aviation editors, the website cites the carriers' fatality-free flying record from the beginning of the jet era in the early 1950s. The team forensically researches nearly every airline in the world.
Along with fatality crash records and audits from aviation governing bodies, the website takes into account the quality of the "in-flight product" airlines offer, including in-flight entertainment, seating and food in order to determine their ranking.
His Majesty King Abdullah on Saturday tweeted his congratulations to RJ for the achievement, commending the efforts of current and former employees of the national carrier.
"I applaud all @RoyalJordanian employees past & present for their efforts in making RJ among the world's top 10 safest airlines," the King said on the Royal Court Twitter account @RHCJO
"We are proud to attain this prestigious international ranking in the area of aviation safety, an issue that has always been at the top of our pyramid of priorities," RJ President/CEO Amer Hadidi said in a statement emailed to The Jordan Times Saturday.
This reflects the effectiveness of RJ's employees, the airline's keenness to apply the highest safety standards in the air and on the ground, and to provide its passengers with distinguished services, Hadidi added.
The carrier was one of the first international airlines to obtain the IATA Operational Safety Audit (IOSA) in 2004. It renews it every year with no irregularity ever found, according to Hadidi.
"Being ranked one of the top 10 safest airlines in the world comes in parallel with Royal Jordanian's celebration of its golden jubilee; it confirms its pedigree as an outstanding carrier in the region, and is proof of its efficient, secure and safe regular operations over the past five decades," the RJ president said.
Related Articles
Jul 24,2018
AMMAN — Royal Jordanian (RJ) was listed as one of the top 20 safest airlines in the world, according to the annual list of the world's safes
Jan 07,2020
AMMAN — Royal Jordanian (RJ) signed off 2019 with another excellent record according to AirlineRatings.com, an airline safety and product re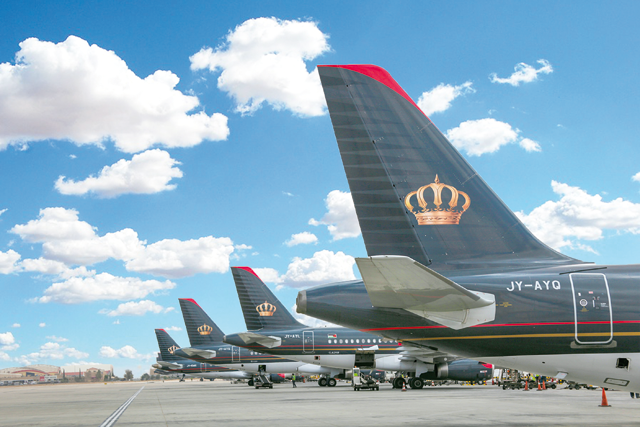 Jan 09,2023
AMMAN — Royal Jordanian was ranked as the Middle East and Africa's (MEA) second most on-time airline for the year 2022, according to Cirium,