You are here
'Road accidents killed 668 people in 2014'
By JT - Feb 26,2015 - Last updated at Feb 26,2015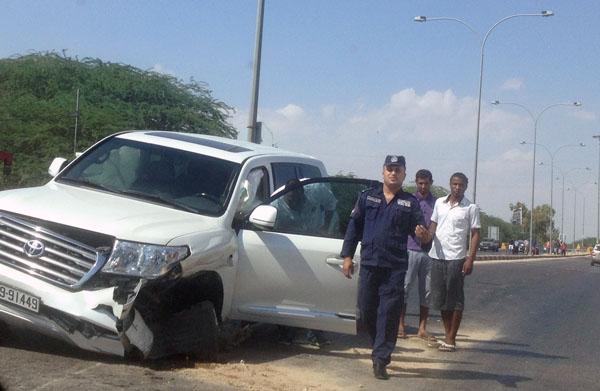 AMMAN — A total of 668 people died and 14,790 were injured in 102,441 road accidents in 2014, according to figures released by the Central Traffic Department (CTD) on Thursday.
The number of accidents, deaths and injuries decreased in 2014 compared with 2013, according to the CTD, which registered 768 deaths and 15,954 injuries in 107,864 road accidents in 2013.
In a statement carried by the Jordan News Agency, Petra, the department said 102 foreign residents died in 2014 as a result of 12,615 road accidents involving vehicles with non-Jordanian licence plates.
The CTD's 2013-17 traffic safety plan has set strategic goals, most important of which is reducing road accidents for each 10,000 vehicles by 4 per cent annually, according to Petra.
By the end of the plan, in 2017, road accidents should be 20 per cent less than in 2012.
On Thursday, a man in his thirties died and another was injured when their car overturned on the Ghor-Deir Abi Saeed road, Petra reported.
Civil Defence Department staff took the injured man to Muath Bin Jabal Hospital in the Northern Shuneh.
Figures released by the Public Security Department in 2012 showed that road accidents in a decade had killed 7,869 people and injured 171,143 in the Kingdom.
Related Articles
Apr 22,2015
A young man in his twenties died on Tuesday night in a road accident on the desert highway, medical sources in the Southern Region Forensic Department said Wednesday.
Mar 03,2015
Jordan can reduce road accidents and help motorists avoid traffic jams by adopting a technology that sends real-time data from cars to traffic police, experts said Tuesday. 
May 03,2015
Deaths resulting from road accidents in 2014 decreased by 10.4 per cent compared to 2013, standing at 688 fatalities, whereas injuries decreased by 7.3 per cent, amounting to 14,790 cases, according to the Public Security Department (PSD).
Newsletter
Get top stories and blog posts emailed to you each day.