You are here
Romania pledges 10-year renewed support to election commission
By Camille Dupire - Mar 08,2018 - Last updated at Mar 08,2018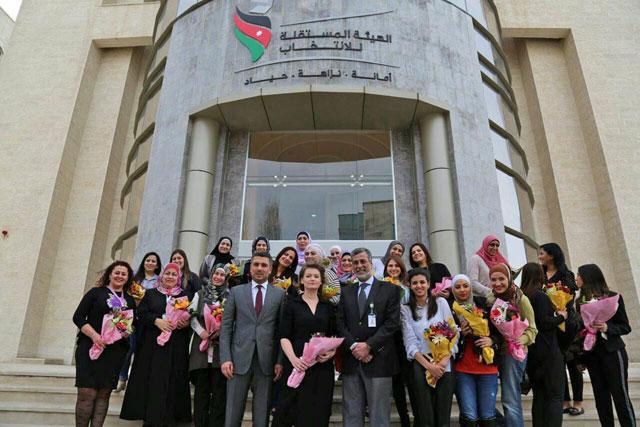 Personnel from the Independent Election Commission and the Permanent Electoral Authority of Romania pose for a group photo at the IEC on Thursday (Photo courtesy of IEC)
AMMAN — The Independent Election Commission (IEC) and the Permanent Electoral Authority of Romania (RPEA) on Thursday signed a memorandum of understanding, aimed at enhancing bilateral cooperation in the field of electoral knowledge, a top IEC official said.
In the presence of the IEC board of commissioners, the IEC general secretariat and the Romanian Ambassador in Amman Nicolae Comanescu, the two sides pledged to implement a 10-year work plan to support the Commission's work in Jordan.
During the signing ceremony, IEC Chairman Khaled Al-Kalaldeh said: "This agreement aims to strengthen relations between our two parties and enhance prospects for bilateral cooperation in the fields of electoral knowledge management and exchange of information and experience, consultation and organisation in electoral matters."
In an interview with The Jordan Times following the event, the Romanian ambassador voiced his happiness to such a long term cooperation being embedded, which he said will "be mutually beneficial for both sides".
"Romania has long upheld a tradition in the electoral field, with numerous partnerships in this regard in various parts of the world as well as recurrent electoral observation and monitoring missions," he said, pointing out that the Romania's Permanent Electoral Authority (RPEA) recently took over the chairmanship of Association of World Election Bodiesfor a two-year tenure.
The two parties discussed ways to boost joint work in the field of staff training, production and distribution of materials related to the organisation of the electoral process, voting technology and voter education and awareness.
Talks also focused on the participation of women and people with special needs in the electoral process, as well as security guarantees during electoral periods.
"With this memorandum, we are not only talking about Romanian assistance to Jordan, but more importantly about an exchange of expertise between the IEC, which has a great infrastructure, expertise and knowledge in the electoral field, and has asserted its position as a regional leader in the field," Comanescu noted.
Romania is one of the key partners of the electoral commission, which established the "Jordan Electoral Training and Research Institute" at the end of last year, with the aim of developing Arabised content in the fields of elections, legal instruments and political mechanisms, according to Al Kalaldeh.
As a celebration of the International Women's Day, marked annually on March 8, the signing ceremony was also attended by the personnel of the IEC, where they were praised for their efforts and achievements in all fields.
Related Articles
Mar 05,2018
AMMAN — The Independent Electoral Commission (IEC) on Sunday received a delegation from the US Agency for International Development (U
Sep 02,2018
AMMAN — Independent Election Commission (IEC) Chairman Khaled Kalaldeh on Sunday met with the chairman of the Dutch Electoral Council, Jan K
Feb 06,2017
AMMAN — Independent Election Commission (IEC) President Khaled Kalaldeh on Monday underlined the important role of the media in raising the
Newsletter
Get top stories and blog posts emailed to you each day.