You are here
Royal Decree prorogues Parliament as of May 2
By Raed Omari - Apr 18,2015 - Last updated at Apr 18,2015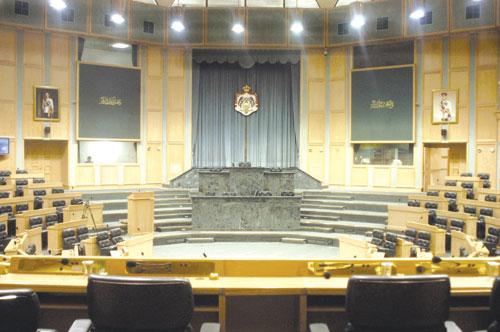 AMMAN — A Royal Decree was issued on Saturday proroguing Parliament's ordinary session as of May 2, the Jordan News Agency, Petra, reported.
On September 30 last year, His Majesty King Abdullah issued a Royal Decree summoning Parliament for an ordinary session as of
November 3, 2014 instead of the beginning of October.
According to Article 78 of the Constitution: "The King shall summon the National Assembly to an ordinary session on the first day of October of each year or, if that day is an official holiday, on the first day following the official holiday, provided that the King may, by Royal Decree published in the Official Gazette, postpone for a period not exceeding two months the meeting of the Assembly to a date to be fixed by the Royal Decree."
During the ordinary session, the Lower House endorsed several laws, including the 2015 state budget law, and discussed tens of memorandums carrying requests by MPs in oversight sessions.
In February, the Lower House passed the 2015 draft budget law in addition to the bill on the budget of independent state agencies, following eight marathon sessions during which 110 MPs took the podium.
Under lawmakers' amendments, the budget deficit was cut to JD468 million, from the JD688 million in the government version of the bill while the size of the budget was trimmed from JD8.09 billion to JD7.876 billion.
MPs also passed the draft income tax law following 14 meetings over two parliamentary sessions dedicated to debating the key economic law in addition to the anti-money laundering and counter-terrorism financing law, under which a five-year prison term with hard labour was imposed on those laundering criminal cash flows as well as money generated by crime.
Also during this session, the Lower House's Legal Committee recommended that the parliamentary immunity of six MPs be lifted so that the judiciary could proceed with lawsuits citizens have filed against them.
All the immunity requests have been frozen either because the lawsuits against MPs have been dropped or because they apologised.
Upon requests by lawmakers, the House also referred Jordan's projected nuclear programme and a draft oil exploration agreement with the Korea Global Energy Corporation and Enegi Oil Plc. that the government approved last year to an already-formed investigation committee examining energy-related cases.
Related Articles
Sep 29,2014
His Majesty King Abdullah on Monday issued a Royal Decree, proroguing Parliament's extraordinary session and putting off the ordinary session to November 3, instead of the beginning of October. 
Sep 21,2015
AMMAN — A Royal Decree was issued on Monday proroguing the current extraordinary session of the Lower House as of the same day.A second Roya
May 03,2018
AMMAN — A Royal Decree was issued on Wednesday, proroguing the Parliament's second ordinary session as of May 12, a statement from the
Newsletter
Get top stories and blog posts emailed to you each day.