You are here
Salary hikes, performance-based evaluation in store for gov't employees
Increased salaries, pensions will be effective as of next month
By Bahaa Al Deen Al Nawas - Dec 06,2019 - Last updated at Dec 06,2019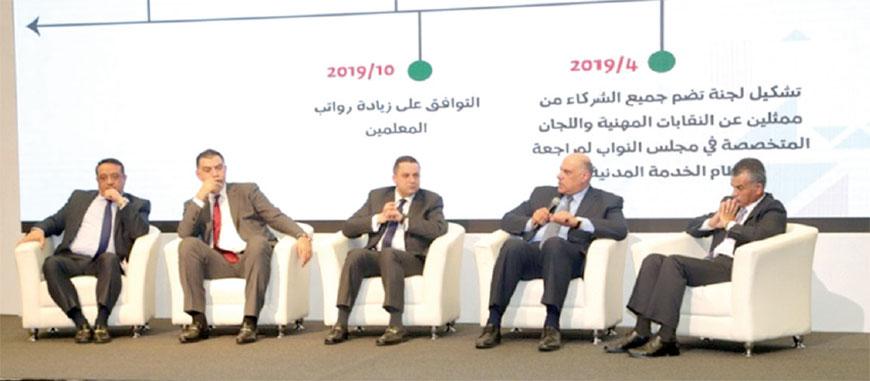 The government announces salary hikes for public servants, military personnel and civil and military retirees during a panel discussion held at the Royal Cultural Centre in Amman on Thursday (Petra photo)
AMMAN — The government on Thursday announced salary hikes for public servants, military personnel and pension increase for civil and military retirees.
The announcement came during a panel discussion held at the Royal Cultural Centre that hosted Secretary General of the Prime Ministry Sami Dawood, Finance Minister Mohamad Al-Ississ, Labour Minister Nidal Bataineh, President of the Civil Service Bureau (CSB) Sameh Nasser and Director of the Retirement and Pensions Department at the Finance Ministry Ali Masri.
The increase in the salaries of public servants will range between 15 and 20 per cent based on technical bonuses for first-, second- and third-tier employees, in addition to bonuses related to vocational fields, according to the CSB president.
The increase will range between JD24 and JD76, covering 100,000 employees; 30,000 for the first tier, 23,000 for the second and 47,000 for the third, according to Nasser.
The CSB president added that the salaries of Jordan Armed Forces-Arab Army (JAF) personnel will increase by a unified amount for all ranks.
As for public sector retirees, they will receive a minimum pension of JD300, while those whose pensions are over JD300 will receive a JD10 increase, Masri said, adding that monthly pensions have been increased by a minimum of JD10 and a maximum of JD80, benefitting around 81,000 public sector retirees.
As for JAF retirees, Masri noted that the first round of pension increases was implemented under Royal directives on October 1 of this year, while the second round announced on Thursday will include all JAF retirees ranked lieutenant colonel and below, who retired after June 1, 2010.
He added that the pension increase will also be passed on to heirs as well.
The first round benefitted 180,000 military retirees, Masri said, noting that in the second round, 70 per cent of the increased salaries are going to lower-paid retirees and only 30 per cent to higher-paid retirees, as the second round benefitted 177,000 JAF retirees, according to Masri.
The increased salaries and pensions will be effective as of next month, Masri noted.
Regarding vocational employment, the government has reached an agreement with professional associations on all details related to bonuses for each profession.
Masri also said that, as of 2021, the increase in pensions will be directly tied to inflation rates.
On a related note, Dawood noted that the government will unify the salaries of all employees hired as of January 1, 2020.
A modern civil service by-law
The new civil service by-law draws on the best international practices and results in a modernised system based on performance, according to Bataineh.
The national committee consists not only of government members, but also of human resources specialists and experts from professional associations who have helped upgrade the by-law in a way that increases benefits based on performance.
He noted that employee evaluations will focus on achievement of job targets, adding that evaluations will be "transparent", and employees will be able to contest their evaluations if they feel that they were unjust.
In regards to the number of days off, Bataineh said that they will be unified for all public servants at 30 days per year, as of 2020.
Better salaries, balanced budget
Al-Ississ said that while drafting the budget, the government ensured that citizens' livelihoods are improved without affecting financial stability, which was achieved by controlling spending, combatting tax and customs evasions and reducing the initial deficit in the budget.
The minister said that "there is compromising when it comes to achieving financial stability while ensuring a secure livelihood for people", reiterating that, as part of this equation, in the 2020 budget there will be no increase in taxes.
Reducing the government's spending, increasing salaries and keeping taxes without increase are components of the formula to achieve financial stability, the minister said, citing His Majesty King Abdullah's Royal directives.
Updates and future visions
For his part, Dawood said that the government's measures, especially in regards to the mergers in the second package, would not affect the rights of employees who still work in merged institutions.
The Legislation and Opinion Bureau has finished preparing the necessary regulations to implement the government's latest packages, which are now proceeding in line with constitutional channels, according to Dawood.
He said that some companies and commissions in the Petra Development and Tourism Region Authority and the Aqaba Special Economic Zone Authority will be suspended.
Also in the Jordan Securities Commission, the number of members on the board of commissioners was reduced to only two members — the president and vice president — according to Dawood.
Newsletter
Get top stories and blog posts emailed to you each day.