You are here
Scholar explores ancient city-state at crossroads of caravan trade
By Saeb Rawashdeh - Oct 24,2019 - Last updated at Oct 24,2019
Copper axes found in the Palace of Batrawy (2500-2300 BCE) (Photo courtesy of La Sapienza University of Rome)
AMMAN — During the fourth millennium BC, a new culture appeared in the southern Levant, with a "pronounced" attitude towards adapting the so-called "Mediterranean diet" based on grapes and olive tree cultivation to different ecological niches, said an Italian archaeologist.
"Shepherd nomads and farmers interact and, towards the beginning of the third millennium BC, under the influx of the Egyptian and Mesopotamian civilisations, develop a small-scale urban model suitable for the environment of this region, where resources are considerably different from those of the great rivers' [Nile, Euphrates and Tigris] urban civilisations," noted Professor Lorenzo Nigro from Sapienza University of Rome.
This "special issue" of the urban model gave birth to several very interesting examples of pristine city-states, among which only a few have been discovered in Jordan.
Batrawy, 25 kilometres north of Amman, was the easternmost city-state, and one of the "most flourishing" between 3000 and 2300 BC, the professor continued, adding that the basis of the economy was the production of olive oil and wool, which were exchanged over long distances, due to Batrawy's role as a crossroad and caravan city guarding the ford across the Zarqa River and the gate to the Zarqa and Jordan valleys.
"The symbol of this urban model is the incredibly strong fortification of the city, with four progressive lines of walls and a huge bastion on the northern site protruding from the main inner wall. These structures, made of huge limestone blocks and boulders, reach an overall thickness of 20 metres and are still preserved after 5,000 years at a height of four metres," he said.
The retrieval of copper axes from the Palace of Batrawy revealed that the city imported this metal from Wadi Faynan and possibly controlled the copper route, reaching the site of Timnah in the Sinai Peninsula, from which Egyptians also procured this metal, he explained, adding that this prompted the socio-political organisation and economy of the early city.
The Palace of Batrawy was a huge building erected on the northernmost terrace of the site just inside the main city gate, Nigro said, adding that the structure was subdivided into different pavilions. Only eleven rooms of it have been fully excavated by the Sapienza University of Rome Expedition from 2005 to 2019.
Related Articles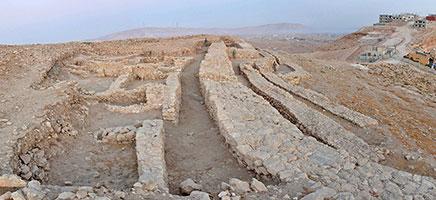 Dec 27,2017
AMMAN — With the aim of excavating an early urban centre, the Italian Sapienza University of Rome has conducted a project in Khirbet Al Batr
May 15,2017
AMMAN — A "fascination" with the practice of archaeology was one of the driving motives for Marta D'Andrea, an Italian archaeologist from Sa
Oct 18,2016
AMMAN — Italian archaeologists have been visiting Jordan since the early 1920s, researchers said on Tuesday, noting that these missions stre